About The Author
Helen Anne Travis
Helen Anne Travis is a journalist and editor currently based in Tampa, FL. For the past ten years she's traveled throughout Europe, North and South America and the Middle East, eating, drinking and taking notes. At her blog, FromWayUpHigh.com, Helen Anne shares photos from the window seat and stories about what she finds when she lands.
Posts by: Helen Anne Travis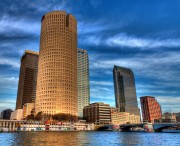 You can get a taste of Tampa's pirate culture when the cab drops you off at Gaspar's Grotto.
Continue Reading

→