About The Author
Peter Marshall
Since he went on his first canoe trip at age sixteen, Pete has paddled over 7500 miles through Canada. In 2005 he and his brother Andrew canoed 2700 miles over the course of 122 days from their home state of Minnesota to the Arctic Ocean. He is currently working on a film and book that recounts his and the other team member's experience on the 2012 expedition.
Posts by: Peter Marshall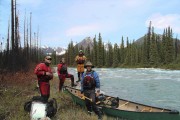 Subscribe to Matador
The best travel articles each week. No spam.
---