About The Author
Robert Rigney
Robert Rigney is an American writer and journalist from Berlin, Germany. He was lived in and traveled widely in Eastern Europe and the Balkans. After living in Prague in the nineties he moved back to Berlin, the city of his birth, from where he embarked on many trips to the former Yugoslavia, ultimately making it to Istanbul, where he spent a year writing and teaching English in 2012. He writes about travel, art, music, Roma and immigration issues for The Washington Post, The Christian Science Monitor, Spiegel Online in addition to a variety of US and UK art and music publications.
Posts by: Robert Rigney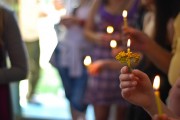 The zurna emitted a dirge-like, screechy, piercing Oriental whine in a 9/8 Gypsy rhythm.
Continue Reading

→