About The Author
Sarah Sekula
When Sarah's not zigzagging around the planet – coming face to face with whitetip reef sharks in the Galapagos, spending time with tribes in Papua New Guinea or roaming the remote jungles of India – she's writing about her adventures. In turn, her writing assignments have taken her to 21 different countries on six continents. As a journalist, she's written for USA Today, ISLANDS, CNN Travel, ShermansTravel.com, Cayman Airways Skies, American Eagle Latitudes, and the Orlando Sentinel, among others. She's also appeared as a travel expert on The Daily Buzz and Daytime TV, both nationally syndicated morning shows. To keep up with her adventures, visit www.sarahsekula.com and follow her on Twitter @wordzilla.
Posts by: Sarah Sekula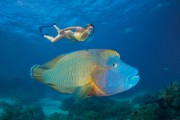 Subscribe to Matador
The best travel articles each week. No spam.
---