About The Author
Tina Antolini
Tina Antolini travels around the US making radio stories as senior producer for NPR's State of the Re:Union. Over the 15+ years she's been in the business, Tina's produced stories on everything from the sex lives of lobsters to Iraqi religious minorities to a secret bunker in the woods of Massachusetts that houses an archive of East German films. Before joining State of the Re:Union, she served as a reporter and host at New England Public Radio, produced for the science and nature program Pulse of the Planet, and for a slew of national NPR and PRI programs. Her radio stories have won numerous awards, including a 2009 Gracie Award from American Women in Radio and Television and first prize for Excellence in Radio from the National Lesbian and Gay Journalists Association in 2011.
Posts by: Tina Antolini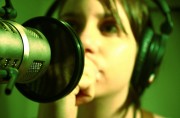 As Ira Glass himself said, we're living in a golden age for audio producers.
Continue Reading

→