Negotiating a Way into Bangladesh's Ship Yards..
The chaos on the roads was due to a Harem, a national strike that had shut down Bangladesh's transport systems for a week.
The dusty Dhaka-Chittagong route was at a standstill for the majority of the day. I wasn't hugely frustrated by this; curled up with a paperback in the back seats (the bumpiest and therefore emptiest, leaving a tall Western chap a little more room to spread at the sacrifice of their spinal column) I was content to be heading to my second Bangladeshi destination a little slower, giving that it's renowned as "the deadliest route on the sub continent."
Spilling off the coach in Chittagong at 3am, I enjoyed the relative cool as a local kindly showed me to one of the cheapest hotels in town. No hostels here – no tourists either.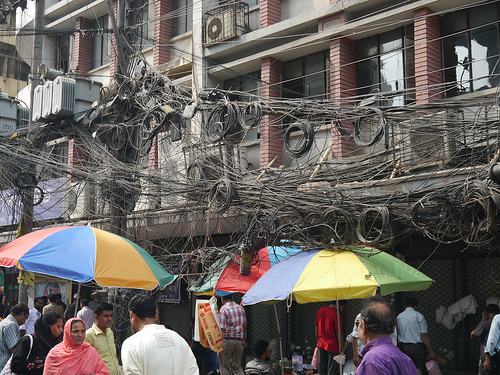 By midday, after a spine-realigning slumber, the mercury was hitting 38 Celsius. Any hope I'd once held that I'd adapt to the Asian climate after 2 months had long since been washed away; I finished my bucket shower and hit the main streets under a slowly dampening shirt.
Chittagong's few roads merge in a kaleidoscope of noise and colour at the central roundabout. The chaos was not at all abnormal for an Asian metropolis, but the swirling mass was reminiscent of a throbbing black hole, sucking in the life blood of the city and pumping it back out to the swarming river, or uphill to the more affluent business district.
Keen to escape Chittagong's oily afternoon humidity, I elected to cram myself into a battered CNG (tuk-tuk), disjointedly describing my desired destination to the dark-faced driver. I was heading to the infamous ship-breaking yards that lay 20km north of Bangladesh's chaotic and dizzying second city.
After my wild and unconvincing gesticulation, the driver narrowed his eyes for a moment before turning around, revving the pitiful engine and tearing off into the smog, trying his best to remove what was left of his flaking green paintwork.
It was with a sigh of relief that I unpacked myself onto a hostile dirt road lined with towering piles of scrap metal and various lumps of naval machinery.I'd arrived in an alien land where the world's supertankers came to die, and here were some of their discarded organs, gathering dust as over-filled buses roared by, bound for Dhaka.
Recently, worker deaths had come to the attention of the international community, and yard owners were becoming increasingly hostile towards prying tourists.
Following this enticing whiff of controversy, I marched seawards down a dubious-looking dirt track. At the end, a flimsy corrugated iron gate announced, in a valiant attempt at English: "SHIP BREKING YARD. PRIVATE."
The gate was ajar.
I pushed through, assuming an air of nonchalance in order to pass the podgy guard stationed to my right. I had to stifle a gasp; the monstrous view before me was jaw dropping. It was at once beautiful and ugly, daunting yet inexplicably alluring.
Shouting broke out behind me. I tentatively turned to find the yard manager striding furiously towards me with two armed guards, shouting back at the pale man at the gate for allowing a muzungu into the yard. Apparently I wasn't allowed to be there.
Hastily slipping my SLR into my satchel, I explained that I had business interests in boats (I don't), and after a nervy period of contemplation the manager allotted me 30 minutes of camera-free snooping. The armed guards on towers were radioed with instructions. I sheepishly proceeded, hoping I hadn't cost the gate guard his job.
Walking back towards the surf, I counted 6 hulking super-tankers. One, to my left, had been chopped clean in half from side to side, the gaping belly yawning out at me mournfully as the waves lapped insignificantly at the rusting hull.
Others to my right rose like toppled skyscrapers from the swell, the sounds of hammering and sawing echoing from within the dark portholes. I couldn't see any workers from where I was, but clearly the boats were in various stages of decay, while a brand new tanker lay up the beach – a Frankenstein hodgepodge of scraps from the countless donor boats that had once graced this stretch of sand.
I stood and gawped in servile awe at these impossibly big juggernauts for the rest of my allotted time, before exiting through the gate (giving my best "I'm sorry" nod to the guard) and sneaking through the bushes on the side of the beach to get a quick photo.
There were no CNGs along the road back into the city, so after adding a layer of dust the existent thick layer of sweat, I eventually flagged down a bus for a few Taka.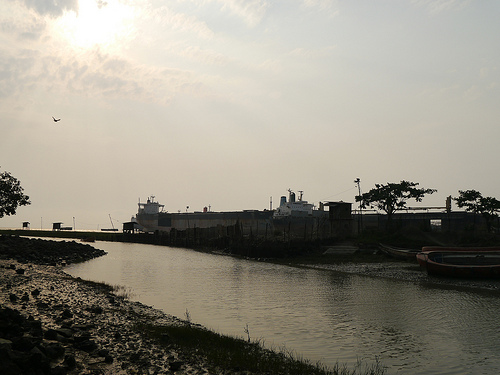 If you fancy taking a look, the yards are visible on Google Maps if you zero in on Chittagong and move a little to the north.