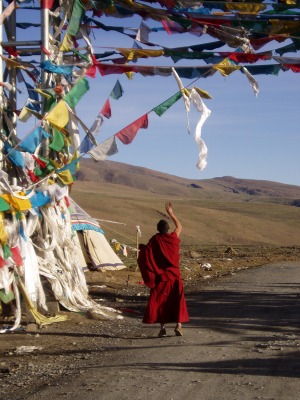 I've found my favorite city in the world so far, Kathmandu! Sure I might have already made up my mind, (I've been looking forward to Nepal for years) but it really is a special place. Maybe after 6 1/2 months of backpacking I just needed a break from my vacation, and Kathmandu is just that.
Tibet was great and the people were the best, but the Chinese government is doing it's best to destroy that great culture. The drive here was absolutely amazing though! We drove through two passes of more than 16,000 feet (with Mt. Everest on our left) and saw the high barren Himalayan landscape turn to green tropical climate within 45 minutes! Approaching Nepal, we saw a huge wall of Himalayan mountains in front of us, with a tidal wave of clouds trying (hopelessly) to crash over them. I can't describe the beauty and the feeling of being there in that moment, so you'll just have to take my word for it, it was beautiful.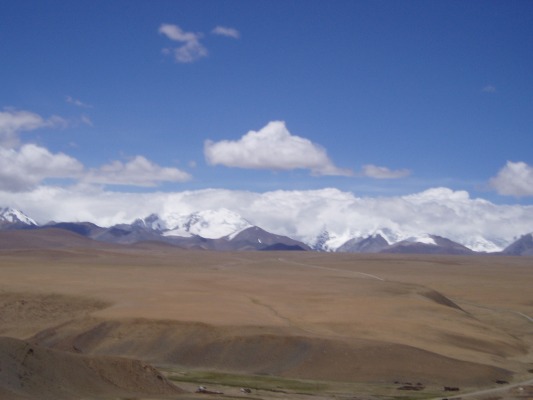 Even after all the great times I had in Tibet and China, I was so excited, I felt like a kid again as I saw the bridge that led to the Nepal boarder. I almost forgot that it is monsoon season here, so Nepal, without asking for anything in return, kindly greeted us (Peter and Dan an English dude) with a total and complete soaking! I was also reminded that Nepal is in the middle of a civil war, by missing three roadside bombings by just hours. I guess I'm loosing it, or maybe it's that A-rab blood in me, but I only got more excited by that news.
Anyway, I've been kickin back in Kathmandu until recently, when I jumped at a volunteer opportunity to teach English at K.E.E.P. Nepal (Kathmandu Environmental Education Center), which I'm doing now. I even have a badge saying "Mr. Bear Falugo, Chief instructor"… it's the chief instructor part that gets me… I've also spent some time at a local orphanage. The kids are great, and a little bit of time and attention goes such a long way, it's amazing how they're able to adapt to such trauma.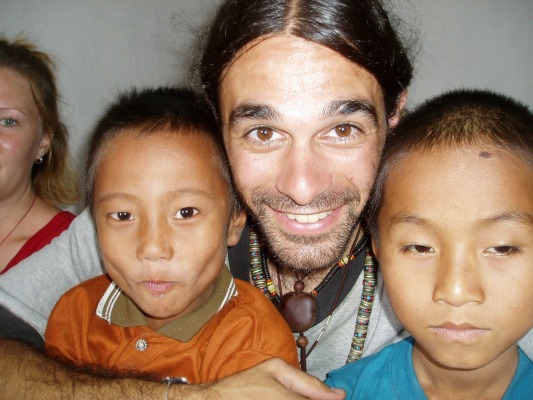 Sooo, It looks like I'll be here for a while, but I'll be busy at the same time. I've had half a year of non-stop travel, so since I love Nepal so much I figured I would stop and help out a little. At least I'll be stoked all over again, when the volunteering ends… I'm still going to wait until Oct. to have a go at Everest (I want the best weather conditions when I go), so it can just sit there sweating for a few more months