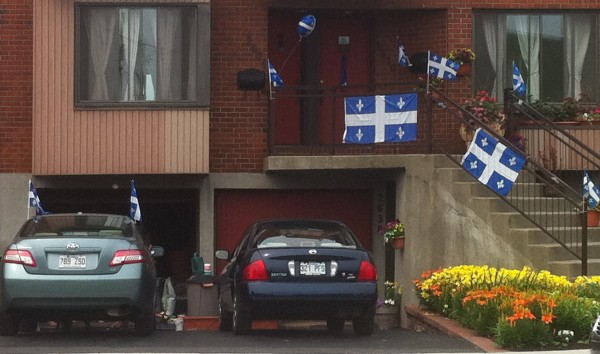 As people in my neck of the woods are busy celebrating 'La Fête Nationale du Québec' AKA Saint-Jean Baptiste, I'm not exactly in the spirit of things. Even though I was born and raised in this province, 'Le Saint-Jean' originating in the 1900s with more religious symbolism now more a celebration of French Canadian culture, mixed with political ideals  has never felt like my holiday. Maybe because I don't really feel like I'm Québécois.
Last week, when an international student asked me where I was from, I answered: "here in Montreal".
"Oh, so you're Québécois." he said. That statement, as always, made me bristle.
"I'm a Montrealer" I specified. He didn't ask what the difference was, but the perplexed look on his face asked for him. I can't blame him for his confusion, because the truth is, being a first generation Anglophone born and raised in Québéc can be confusing. Am I Canadian? Québécois? A Montrealer? Or a displaced West Indian? It depends on who you ask. In Cambodia, a young girl wandering the streets selling everything from guidebooks to hand made flutes told me point blank I couldn't be from Canada because my skin is black. In Japan, Japanese people often assumed I was from New York City and in other parts of the world I've had this conversation ad nauseum:
Stranger:  Where are you from?
Me: Canada.
Stranger: No, where are you really from?
At this point, if I'm in a wicked mood I say Africa which seems to be a satisfactory answer. I see it as a half-truth since someone in my family came from there at some point. If I feel like explaining, then I've got my script down pat: I was born in Montreal, but my parents are from Barbados. And yes, I have a Spanish name and speak Spanish fluently but no, people in Barbados don't speak it. Categorize me as you see fit.
I've had 'disagreements' about exactly what I am here in Montreal as well. According to my friend's boyfriend, it's simple: " If you're born in the province of Québéc, then you're Québécois". End of story.
But If you ask me, I'm a hybrid. A mutant whose power is to switch cultural identities at will. I can fool you with my clearly Canadian English, my 2 variations of French accents (standard and Québécois joual) and even a half decent Bajan twang. It all depends on the day and the environment I find myself in.
Nonetheless in a place where things are divided along language lines in addition to racial ones, it can be hard to define your cultural identity, and harder still to feel Québécois when many of my first generation experiences growing up here told me I'm not. It would have been nice to have seen the racial diversity that surrounded me be reflected on local French television or film for example. But things are definitely changing (though slowly) as I've caught glimpses of difference on French TV in my channel surfing and new kinds of stories are beginning to be told in Québéc film.
Saint- Jean is changing too. Over the last few years, efforts have been made to re-haul the image of the holiday, making it more inclusive.  Anyone can join in, whether you're a white French speaker an Anglophone, First Nation or an immigrant whose first language is neither French nor English.
So though I won't be at a free concert listening to local acts perform in the park while drinking myself stupid, I wish a happy Saint-Jean à un et à tous!