The morning, the mirror and me. No grey, yet. Whiskers are a little long. Beard's growing in a little too much for my liking. I'm rough around the edges. It's time.
I make the long trek even though I now live so far it would make more sense to find somewhere closer. I make the long trek even though it's minus 10,  there's heavy snow falling and brown slush everywhere. I make the long trek not because I have to, but because I want to.
I get off the bus and walk toward the entrance that separates Canada from the Caribbean, fooling myself, as always, that there won't be that many people there, I'll be the next person in the chair, and the whole thing will take half an hour. As always, I'm wrong. The joint is packed which means a long wait, made longer still because I, like most guys, am waiting for a specific barber.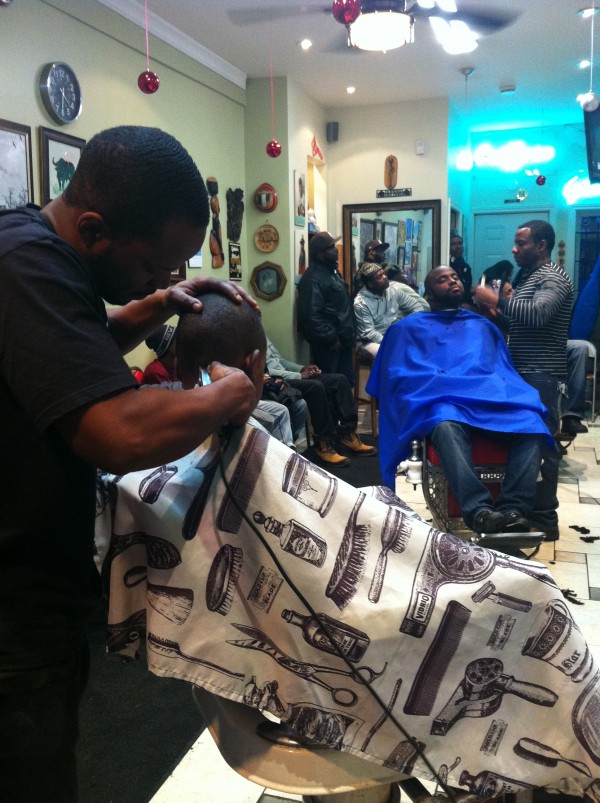 Fifteen  men of colour, some old, some young in a small narrow room, with yellow, green and beige walls decorated with cultural heroes. Boxers, historical figures, signed photos of black celebrities, maps of Africa and Caribbean islands are all there. People pass through, not just for a haircut, but to celebrate birthdays and have a rum, to buy anything from clothing to mixed cds, or play dominoes on the back balcony. Sometimes there's reggae, dancehall or lovers rock, blasting out of invisible speakers; other times there's a dvd of  one of the latest movies in theaters (acquired through nefarious means no doubt) playing on a screen hanging in the upper right corner. And sometimes, there are both at the same time competing with  not only each other but accented voices as well. Today it's an animated movie, most likely in honor of two underage brothers waiting for their turn.
"Artaa "he shouts as I head for an empty seat at the back of the room. 'He' is Gallespie, the man's whose name is on the banner outside. Known by his last name, he calls everyone by theirs. He might also call you by the country you're from or by a nickname. I'm surrounded by street smarts, maturity, and youthful folly. I'm an insider, but an outsider as well. There seems to be tension in the air, no, not in the air, in me. My strategy: make my way to the back of the room with as little fanfare as possible, quietly wait in a chair, make no sudden movements, and not say a word before it's my turn in the chair, lest I draw too much attention to myself. That would be a bad thing. It's a barber shop, but can also be a verbal war zone and not wanting to be caught in the crossfire, I keep quiet. There are loud arguments over sports scores and jersey numbers, debates about what the government is doing wrong and disagreements and discussions about Jamaica being the best team in the Olympics. I can only imagine what a passersby must think. But the heated discussions are misleading. Watch closely and listen carefully, and you sense a certain unity and subtle harmony. Soon all is forgotten, and it's back to the business of cutting hair. The main topic for debate when I enter seems to be life in Canada vs life in Jamaica. An older man, sitting in one of the empty barber chairs claims life in Jamaica is better than life in Canada. Some agree with him, but Gallespie doesn't.
I know better than to give my two cents. Arguments for either side would be met with a "shut up, what do you know, Canadian?"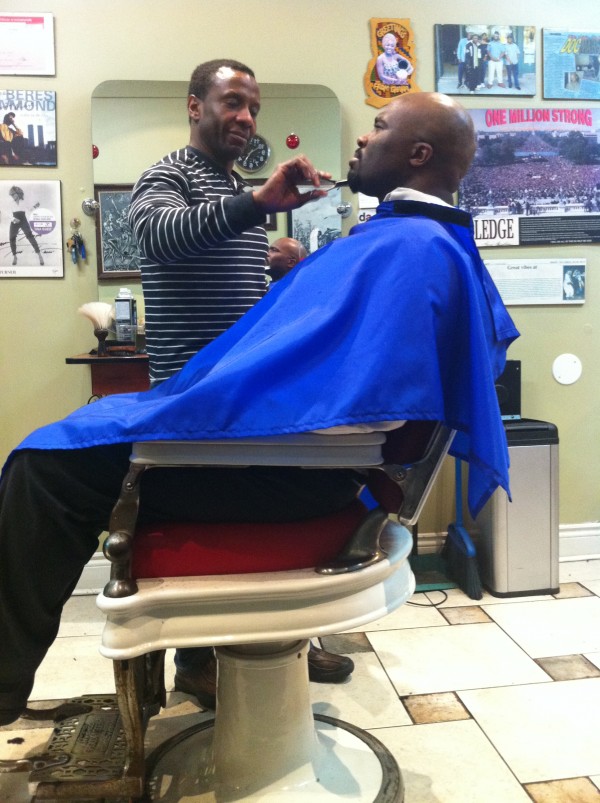 Gallespie is, all at once, barber, sports analyst, health expert, minister, father, uncle teacher, love guru and comedian never short on insults. His zingers sting, but to be in his shop and not be teased would be the real insult.
Just when the voices reach a fever pitch, the little kid sitting in his chair hops out, and I'm up next.
"Come Artaa" Gallespie shouts in his gruff  Jamaican, making me wonder what I did wrong. I sit tentatively in the chair. He he throws a blue drape around me and prepares his instruments, like a surgeon prepares for an operation.
"You cutting or lining?" he asks. Translation: Do you want an actual haircut or just a quick trim around the forehead, temples, mustache and chin, to even out the hair, or line it up?
"Cutting" I say.
"So same as last time den?" he asks.
"You remember what I asked for last time? How can you? You cut so many heads a day and I haven't been here in a while."
"So what?  I rememba." With that, the process begins. He pauses occasionally to add his voice to whatever the new topic is, motioning this way and that, scissors, or razor still in hand. My eyes follow them closely as they swing dangerously close to my ears and cheeks, but not once does he ever cut me. A phone rings. "Hallo Gallespie" he barks into the phone. It amazes me how he can yell at someone on the phone, yell at customers in the shop, bark out orders to his friend  to bring him take out Jamaican from down the street all while giving me the perfect fade. I wait it out, and focus on a laminated picture of the Million Man March behind him.
He works quickly after that, balancing with his eye to ensure evenness. To finish, an intricate design along the temple, like an artist signing his work. The process over, the tension gone, I pay the man what he's owed and head for the door, but not before he quickly gets in a few more jabs about Bajans being cheap, cackling at his own jokes, like Ernie from Sesame Street. Back in Canada, I walk to the 105 stop feeling like a new man, sharp and crisp as the ten and five I gave him. I forget the cold and snow and let the whole experience sink in. Funny, what a simple haircut can do.