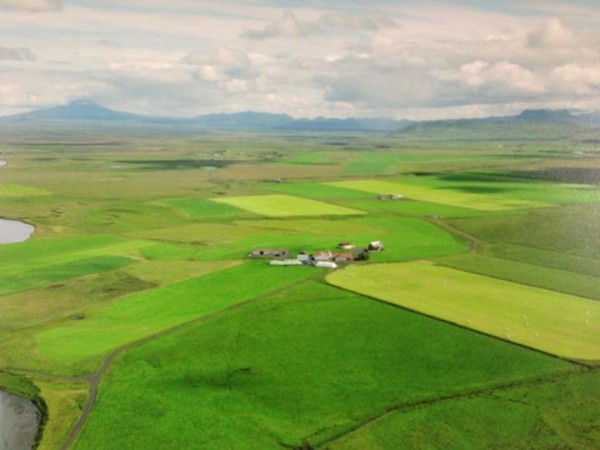 If you got to know me, you would learn that I love maps. In fact, I constantly dream of the day I will own a huge world map so I can just sit there and stare at it! My mind goes off with all the possibilities that are out there. I spent a couple years of my life glancing over at Iceland every time my eyes hit a map. I couldn't help but wonder what would happen if I went there. I pictured myself cycling around the entire coast or trekking into the mountains of Dimmuborgir to join the mischievous lives of the 13 Icelandic Yule Lads. I amounted to neither of those and instead I stumbled upon a host family to put me up and feed me for a month in exchange for helping out on their dairy farm.
I had to travel 65 miles from the capital city of Reykjavík to Hvolsvöllur, a small farming town of less than 900 inhabitants. I spoke English with great confidence to buy my bus ticket and regretted it immediately. The clerk in the gas station had no idea what I said. Eventually I was able to exchange my best Iceland-ish vocabulary and a few kronas for a handful bus tokens that lead me south-east for Hvolsvöllur. The buses came every hour or two so I could get off in a town like Hveragerði , wave to locals, wander over to some hot springs then hop back on another empty bus continuing my journey.
After an overnight flight and a days travel to Hvollsvollur, I met my host family, a mom and dad with 4 kids, 4 cats, 100 horses, 160 cows, 30 sheep and a sheep dog (for the sheep, I assume). It only took a couple days to get into the routine of things. Wake up, play with the kids I can't speak Icelandic with, throw hay into the cows faces, get licked by the ones waiting for hay, squeegee their poop into the floor boards, milk a cow, give the milk to the cats, find the lost cats in the hay stacks, talk to the dog who understands English better than most of the family, wrestle a sheep by its horns while my host mom pulls out its baby lamb (Okay, that only happened on one day) continue building a fence that I don't know how to build, get shocked by the fence I was building, wonder where the entire family went, drink coffee (oh so heavenly tasting coffee) and eat bread, then repeat all the cow steps, drive the tractor to the other cows and repeat the cow steps again, run with horses, bounce on the trampoline, have dinner with the fam (my favorite being the stomach lined sheep meat with extra sheep blood), do dishes then go to my room in the basement and read The Hobbit because it was the only English interaction I had. I stuck to this back breaking routine for a solid 5 days before finding myself shivering naked on the floor of a hot shower with a 102 degree fever.
I was too sick to eat for the next 6 days which was fine by me because eating hurt anyway with all my wisdom teeth coming in. Apparently I wasn't too sick to work and, on the bright side of things, I got to change up my schedule. Wake up with my blankets soaked in sweat, numb my mouth with Oragel, put on all of my clothes, skip breakfast and anti-socializing, take 3 times as long to accomplish cow tasks, give up on playing "lost cats in the hay stacks", find creative reasons not to work on the fence, still get shocked by fence, not care about where the entire family went, nap with horses, nap on the trampoline, nap in the shower then lay awake at night and absorb my blankets in cold sweats. I stuck to that backbreaking routine for 5 more days until the family told me they were all leaving the country in 10 days for a vacation and I should take time to backpack the expensive country of Iceland with all the money I realized I didn't have.
I believe all the signs of the universe were telling me to leave Iceland so I got online and bought a flight for 2 days later. I told the family it left the next day so they drove me to the bus stop and bid me farewell. I took advantage of this time to check out Reykjavik for a day before heading back to America. It was nothing like the little farming town I came from. It was colorful, lively and full of people and good food (yeah, I was starting to eat again at this point). The narrow cobblestone streets were walled with old European buildings. I felt a smile upon my face. It had been days since I felt one. I talked to some couch surfers who were spending their time driving and cycling around the countryside and for a fairly cheap expense. What a mighty fine way to see Iceland, I thought. Good for them.
Expert