How to ride the bus in Belize (and really see the country)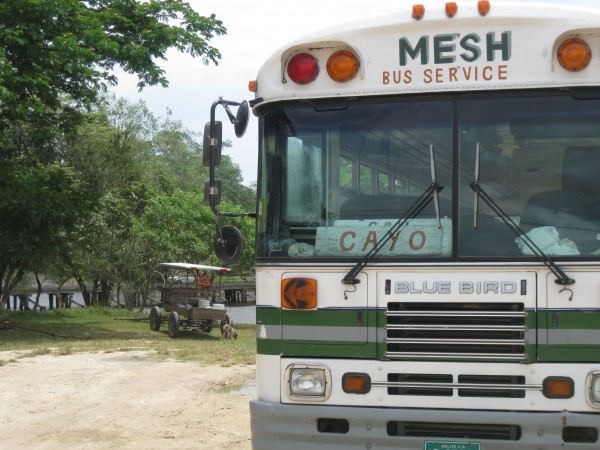 If you're planning a Belize adventure, you may find the most expensive part of getting around this Central American country is, well, getting around. Renting a car or cramming into a puddle jumper plane can run to hundreds of dollars. Looking to un-plan your trip? Try the bus. In May 2012, Holly Edgell and Brian Jarvis boarded separate buses to see Belize. 
Check out our Matador photo gallery: "Get on the bus: On the road in Belize"
Holly hops on
Your journey begins around eight in the morning at the bus terminal in Belize City, which sits beside one of the city's infamous canals—more of an open sewer, now undergoing long overdue repairs.
The piles of sand and miscellaneous construction equipment are no impediment to the taxis and other vehicles that drop passengers off at the depot and the vendors hawking wares at the entrance.
The big room you'll enter seems to promise the opportunity to buy view bus schedules and purchase tickets. But, you'll soon see that the ticket windows are dark and unused, and the boards above them are devoid of timetables.
Passengers don't linger in this space; they know better. Keep walking and you'll find yourself at the departure gates. Don't be fooled by the chaos. Buses leave promptly. At each gate you'll find a conductor who can answer the only questions that really matter:
 "Where is this bus going?"

 Or, "Does this bus go to (insert destination here)?"

 And, "What time does it leave?"
Brian boards
Belizean buses will look very familiar to the American eye, as they tend to be former American school buses repainted in tropical colors. A mere US $10 can take you from one end of the country to another—revealing a rustic panorama that you won't find via any other mode of transport.
I entered the bus terminal at Belize City with no schedule and no route; only a vague idea of traveling south and then east to Placencia, known for its offshore coral reefs that make for spectacular snorkeling & scuba diving. Later I would head back west to Guatemala.
I missed the first bus, but had to wait only 20 minutes for the next one. Given the terminal is loosely organized with few employees on hand, locals are happy to point you to the right place—but know some might ask for a tip!
Three things you need to know
There is no air conditioning on the bus, which is fine when the bus is barreling along on a clear day. When it's raining, everyone closes their windows and the bus becomes a sauna.
The buses themselves have no indoor plumbing; luggage is stored in the back where you would expect to find a stall. The depots do provide restrooms but expect to pay between 50 cents to one U.S. dollar for the privilege.
Pick a seat near the front or in the middle, where the above-referenced motion sickness may be less likely to hit you. If you're among the first to board you can snag a window seat. Test the window to ensure it works to your satisfaction and settle in as best you can.
The lay of the land
Buses in Belize follow three basic routes:
The Northern Highway to the districts of Orange Walk and Corozal, and the Mexican border.
The Western Highway winds its way to the Cayo District and the capital city of Belmopan, where you can change buses and continue westward to the towns of San Ignacio and Benque Viejo del Carmen.
For southern destinations, you first travel to Belmopan and then change buses for the routes along the Hummingbird and Southern highways to the Stann Creek and Toledo Districts.
Your fellow passengers will mostly be regular riders, sharing gossip or making conversation in a mélange of at least three languages: English, Spanish and Creole.  Now that there are new immigrants from Taiwan and Nigeria in the country, you may hear languages from these lands as well.
As the bus pulls out of Belize City, it glides along the Lords Ridge Cemetery flanking the Western Highway. This is something to see, with its grand and humble tombstones and mini-gated grave communities bearing old Belizean family names.
Unless you are riding an express bus, the frequent stops begin in this area and continue all the way to Belmopan. Basically, if the bus driver sees someone flagging him down, he will stop. If someone wants to get off of the bus, she will have let the conductor know ahead of time.
The conductor will collect your fare. Note that both U.S. dollars and Belize dollars are accepted currency. Formerly British Honduras, Belize is the only country in its region with English as the official language. You could therefore structure a Central American trip comfortably speaking English and paying U.S. dollars—as long as you stay in Belize!
Whichever currency you choose, bring small bills, for the restroom facilities and for buying drinks and snacks.
Village views (and more)
Leaving Belize City en route to Belmopan, you'll pass private homes and catch sight of the Caribbean Sea. You'll glimpse Old Belize, too: a marina that also features a restaurant and bar, small museum and gift shop, water slide, beach volleyball and zip lining. Not cheap, but popular with locals and visitors alike.
The Belize Zoo is about 30 minutes outside of the city.  It is charming and worth a visit either now, or on the return trip. Zoo staff can tell you the approximate time the buses pass by the zoo entrance.
The Western Highway carries travelers through a number of villages: Hattieville, built to provide homes for people displaced by the ferocious Hurricane Hattie of 1961, La Democracia, and Gracie Rock.
Villages in Belize are tiny affairs, but–perhaps because the population of the country is so small—hamlets are as well known as larger towns. If you say "Crooked Tree," "Double Head Cabbage," or "Burrell Boom," everyone will know what you are talking about. It's likely their aunt or cousin or grandmother lives there.
In Belmopan you'll find a bustling terminal adjacent to a market that teems with everything from fresh produce to souvenirs. This is worth a browse if you have time between buses.
Belmopan itself offers little in the way of sights and sounds to attract the visitor. It is the seat of government and home to embassies and consulates, a number of businesses, the University of Belize, and a handful of eateries.
Built in 1970, it owes its existence to the frequent hurricanes that strike the coast. The Bull Frog Inn remains the hotel of choice for travellers who do want to spend the night. The main government buildings emulate ancient Maya architecture, but otherwise the architecture is fairly quotidian.
Continuing westward more villages await you after Belmopan: Cotton Tree, Georgeville, and Teakettle to name a few.
The town of San Ignacio will be your next major stop: a few minutes at the open air bus depot here will allow you time to stretch, purchase a snack or cool drink from a a cart on wheels, and even stroll down to view the Macal River.
San Ignacio is worth exploring, and the weary traveler should consider stopping for a night or two in town or at one of the great resorts and inns nearby.
The leg of your journey from San Ignacio to Benque Viejo del Carmen is rich with sights to see. Uniformed school children might wave to bus riders while they enjoy recess in the schoolyard. A Mennonite vendor may be selling watermelons from an old-fashioned horse-and-cart. Look carefully and you'll spot an abandoned American school bus proclaiming, "Praise the Lord."
You'll know you're nearing Benque when the Mopan River appears to your right. Here, you might see small children frolicking in the shallows as their mothers scrub clothes against the rocks.
Soon you can disembark at the ferry to the Xunantunich Maya site, or you can continue to the bus depot and catch a cab to the Guatemalan border.
 Memo to border crossers: if you're looking to get to Guatemala and soak in the majesty of the Mayan empire in Tikal, or the island charm of nearby Flores, head for the border after Benque. Don't forget your passport!
Brian heads south
Instead of continuing west as Holly did, I boarded a bus for the Stann Creek District. The journey southward is a lush feast for the eyes, a breathtaking reel of rolling hills and rivers, exotic animals, old-time churches and brightly colored farmhouses. As with the first leg of the journey, unless you opt for an express bus (which costs a bit more), there will be frequent stops, as drivers pick up and drop off the locals most anywhere they ask.
With so much eye candy along the way, I never once felt the need to plug in my headphones. The journey west and then south formed the perfect bridge between the crowded, gritty streets of urban Belize and the sleepy charm of its oceanfront towns. Even without air conditioning, the bus offered a cool breeze with the windows rolled down that broke up what had been a couple of scorching May days in the tropics.
A sticky situation arose when two female passengers got into a tussle, and one even pulled a knife, but a uniformed police officer on board quickly broke it up. The bus never stopped moving.
Born in Belize, Holly is a journalist and creative writer living in St. Louis. She travels to Belize several times a year, where she spends most of her time with family and friends in Belize City or at Casa Edgell in Placencia. Connect on Facebook!

A native St. Louisan, Brian made his first visit to Belize in May 2012. He's also a writer, and runs his own content strategy firm in San Francisco. Connect on Facebook!
Expert