Well, It has been a long 4 months since my last trip, of stress and frustration in my work and social life in the lovely state of South Carolina. Since my arrival back from Jamaica in early September, work has been hell and taken a nose dive into hell. But only shortly after my arrival from Jamaica, my next trip to the small isolated island of Bermuda was booked for right after the turn of the New Year. Bermuda is famously known for cruise ship voyages and Summer mayhem. As always, I decided to be different and visit the island during low season in the middle of Winter. Although the downside to this time of the year is inability to swim(Unless I'm Canadian), the tourist crowd was low, the beaches were isolated for me to enjoy, the road traffic was light, and the air was beyond perfect coming from 30 degree South Carolina weather!
Most flights fly directly out of Charlotte for Bermuda. However during the Winter months, layovers are the only alternative, unless I wanted to spend $200 more out of Atlanta not including parking. It all began with an early simple 2 hour drive to Charlotte, a short connection to Philly, and finally in the Beautiful island of Bermuda mid-day. Bermuda International Airport does it old school as in walk down stairs, onto the tarmac, and into the building. lol. Immigration was a breeze until being questioned and checked thoroughly with customs for about 30 minutes. The weather wasn't too great as it was fairly cloudy with no sun but still gorgeous. My arranged taxi service picked me up and drove me through the very narrow "roads" of Bermuda, not to forget the left side driving. I called these roads widened sidewalks with vehicle access haha.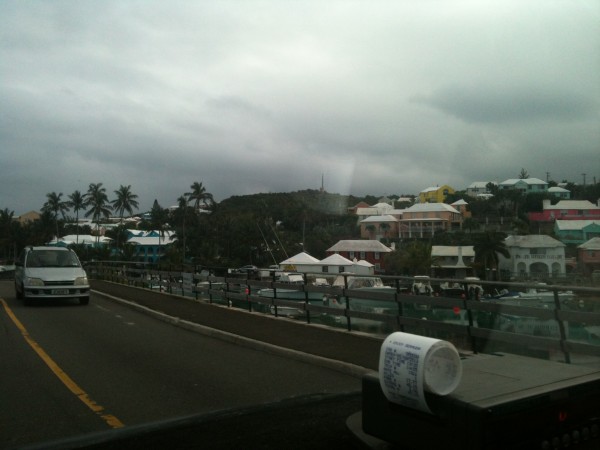 Finally arrived in Warwick at my first guesthouse beautifully colored in pink surrounded by a large garden. The owner showed me around, although unprepared for my arrival, still made me feel very comfortable and at home. The location felt so homey, I constantly called it my home numerous times throughout my trip. Elbow Beach Cycles was my cycle shop of choice for my scooter rental and was the best trip investment in imagination. For a little over $200 plus the $15 in gas, I saw the whole island on my own time. With the confusion of this new environment and opposite driving side, my heart was pounding and nervous levels were extremely high! But my adventurous side kicked in quickly and tested out the roads on my scooter. That day I was on 3 hours of sleep, so exploring wasn't on the agenda. I did take a nice scenic night trek to Hamilton to walk around, grab a beer, and settle in! Ten times more adventurous riding alone at night in the rain letting my instincts take me to where I wanted! I succeeded!
Bright and early next morning, I headed over to the local supermarket to buy things to munch on at "home" for the trip. $15 dollars and change vs. possibly over a hundred? Most definitely! Aunt Jemima's microwavables, ramen noodles, and bread sticks weren't exactly the diet I had in mind, but it was fine. After a decent bite of the night befores leftovers, Fish wrap and fries, I headed over to Elbow Beach to dip my feet in the water. The sand was cold itself and the water temperature was exactly what I expected, about low 60′s. I probably would have dipped in for a bit and ran out but then again that's just the post trip ME talking. From there I rode along South Shore Road for the beautifully breathtaking Horseshoe Bay Beach and Cove where I absolutely fell in love with it's rock formations on the beach and pink sand. YES, the sand is PINK! I climbed up the top of the large rock formation where I discovered "my spot", the place where I would eventually be watching sunsets during my trip later on.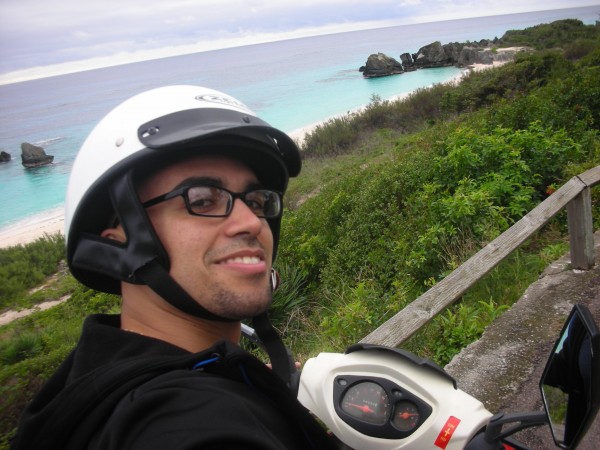 After enjoying the beach, I headed to Gibbs Hill Lighthouse to overlook the whole island in 360 view. The view and cool air was so spectacular and relaxing that I resisted going down once to go back outside. Once again, another benefit of the cool air in January. Next up on my map was Hog Bay park which has a nice long trail to the rocky western coast of Sandys Parish. From there I headed on to two of Bermudas forts: Scaur Hill overlooking the bay and the Royal Naval Dockyard at the very tip of eastern Bermuda. As the sun started to set, I hustled my little scooter back to Horseshoe Beach to catch the sunset for amazing photos. I call this place "my spot" because at some time during the sunset I balled in tears of joy at how happy and grateful I was to be alive, living well, and having the ability to see such a beautiful. I felt that all the problems, stress, and depression I had was lifted from me with the Bermudian breeze in a matter of seconds. From then on until now I have been so happy.
Next day, nice and bright and early, I had my breakfast for champions and trekked on over to Hamilton to walk around. My goal was to find toddler sized pink Bermuda shorts for my wall of travels. After a long hour and a half of photo taking walking around and window shopping, I successfully failed at finding my shorts. Next stop out of Hamilton was up to Admiralty House Park near Spanish Point. On Google Earth sometime last Summer, I came across a photo in this area that was titled "stairs to nowhere" which is just a few concrete steps down to…well what it says, Nowhere. The steps weren't too far from where I started looking and took many epic shots. My gas fill up stop on the way to Tuckers Point was a nail biting $5 dollars!!!! Oh, and I met a friendly government official working the gas station as a second job. Random! Tuckers Point is an area primarily for the rich living in private communities so this area was just a scenic drive overlooking Harrington Sound.
Fortunately for me and my love for history, despite the islands huge reputation for beaches and traditional tourism, Bermuda is rich with ancient geographic history also. Near Tuckers Point and the Airport are the caves where lies two large underground caves formed from many many years ago. Think about it. Rocky coasts. An island practically in the middle of the Atlantic. The Bermuda Rise. Ancient volcanic location. It was purely awesome! After 2 hours in the caves, I ventured north to see St. Davids Lighthouse, ONLY to see it closed. Like everywhere else, It gave amazing views of parts of the island. Nervous about sunset and time, I quickly attempted to venture straight to St. Georges only to make a wrong turn back south. St. Georges is rich in Bermudian history as it was the first established city on the island. Nothing much to see but even smaller, skinnier streets and the Unfinished church on top of the hill. My last random ventures was to the isolated quite rocky coast of Tobacco Bay where wind gusts were strong sending waves crashing at the rocks below me. Last but not least, St Catherine's Fort and Beach at the northernmost tip of Bermuda. Even more nervous about the sunset, I confidently hopped back on my scooter and made a reverse trip back through St. Georges, passed the airport, causeway, Tuckers Point, along South Short road to my spot, Horseshoe Bay Beach and Cove for my last Bermudian sunset. Surprisingly, I successfully made it across half the island with no issues. Unlike the first two days, the sky was clear for a beautiful sunny day and an even more beautiful sunset.
It was very difficult to leave "my spot" as I felt I left a part of myself there. Altogether this location made me very happy and will never forget the power it had over me. It is amazing what some places and atmospheres can do to you. My last night in Bermuda was chill and laid back. I dressed up and had a nice sushi date with a local friend in Hamilton. Exchanged good laughter, kept a good convo, and ate like pigs. Well, I know I did. After we parted, I brought out the nightclub in me and went out to check out the local nightlife at Cosmopolitan and Cairo Nightclub on Front Street. Oddly but realistically, I felt like I was still in the states as one club played down south American rap and the next played top 40 with a touch of house (my music: House).
Altogether, I got a taste of just about everything in Bermuda and saw everything I wanted to see on my little scooter in only 3 days. I started off the New Year right! It was hard leaving my quiet, cozy and, homey guesthouse. Along with my scooter just sitting outside my kitchen window knowing that I spend so much time with it all over the island. I started off intimidated with Bermuda and ended up falling in love with it. Everything about it is just great from a travelers perspective. Just about everyone I saw or met greeted me with a Hello, Good Morning, Good Day or Good Afternoon or responded if I initiated first, which is ethical. Everyone is so kind, warm, welcoming, and friendly on the island that even when I didn't need a helping hand, It was still there. Bermuda culture feels like a twist of British, some American, Caribbean and it own personal culture mashed in one. Although I randomly chose this island as a NEXT DESTINATION, in the end it turned out to be a personal cure from old pains to new gains in my life. Bermuda was surprisingly one of the best trips if not the best trip I have ever had so far!
I love you Bermuda
Expert