Have you ever randomly chatted with somebody about their job and suddenly wanted to jump careers? Even though you have no transferable skills or previous experience?
It happened to me. If I lived in Edmonton, somehow I would need to weasel my way into a job at Alley Kat Brewing Company, in any capacity. When I checked out their website today, I discovered they are hiring. I have a few checkmarks in my favour: a passion for beer and ability to work independently. Can I move kegs up to 150 pounds? Yes! But then, of course, I will have a herniated disc and be on workers' compensation after day one. As for the science background and mechanical aptitude? Well, maybe my job is really just to drink the beer, not help make it.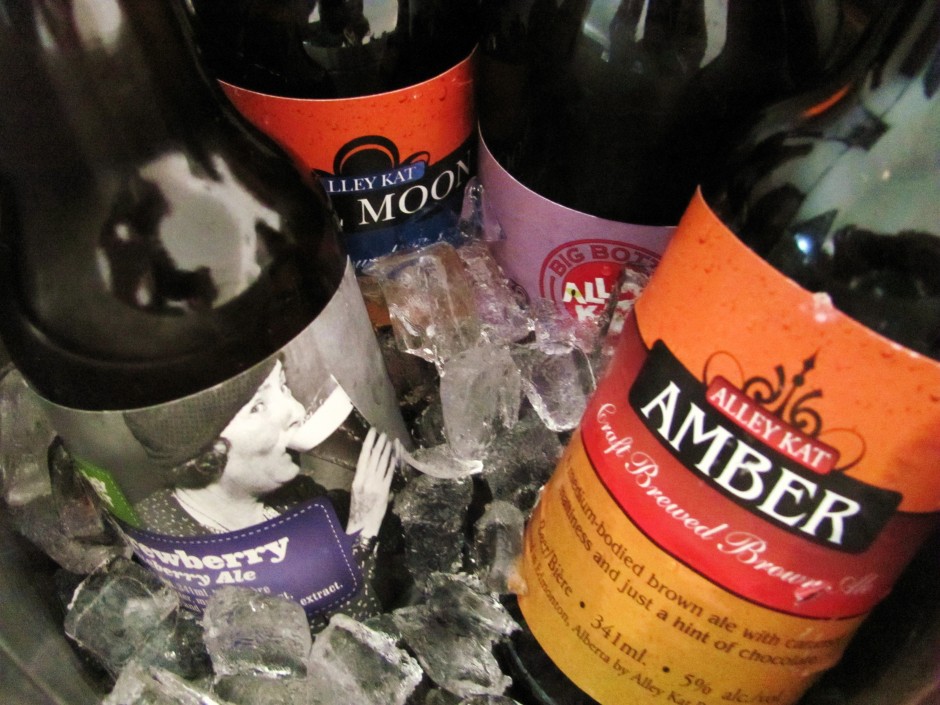 Alley Kat's effervescent gopher-slash–PR girl (malty-tasker, if you will), Kirstin, is so in love with her job, that I want it to. She started working at Alley Kat just six months ago, but has shadowed everyone's position from kegging, off packing and the bottling line. She takes me on an impromptu tour of the humming action zone. There are only a dozen movers and shakers involved from brew to bottle, and half of them are here, scurrying about in overalls, beards and dreads.
In the belly of Alley Kat I am engulfed with the signature aromatic scent of heady hops and barley. Explaining each process from mash tun to bottle capping, Kirstin shares her recent hopiphany with wide eyes. Initially resistant to the not-so-delicate sucker punch of the hops, the old adage "try, try again" made her a believer. Besides, there is an undeniable and unspoken sophistication to those who enjoy IPA's.
Alley Kat has a dedicated following in its Double IPA (India Pale Ale) Dragon series. Every two months they produce a new single hopped Double IPA sold under a different colour of dragon. The sample of Indigo IPA I down after the tour is unlike the Ontario IPA's that seem to always taste like pine sap and new sneakers.
For non-beer drinkers (why are you reading this?) an IPA would be an instant spit-out. They are distinct, bitter and have a reliable kapow! aftertaste. Founder and co-owner Neil Herbst tells me that the flavour profile is determined by where the hops are grown. The Washington hops used in their current series (Cascade and Warrior hops) offer a citrusy bite instead. He`s right, I taste more grapefruit peel than pinecones and Nikes.
We chat about beer, brew school, Belize and beards. I still want to work here.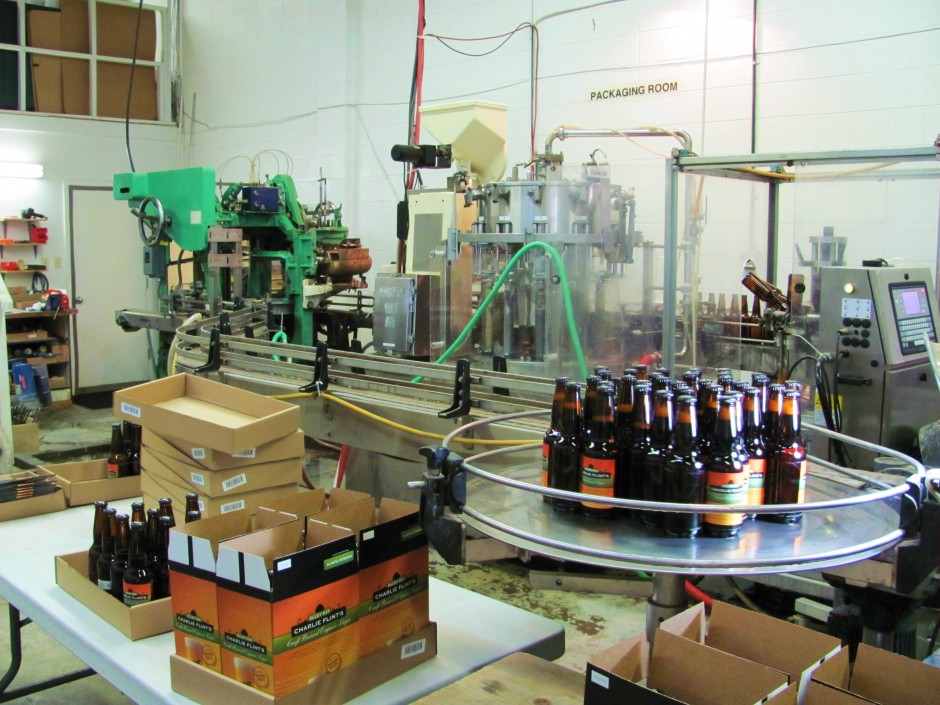 At its inception in 1994, Alley Kat introduced itself with brave brews: an amber brown ale (rare in those light lager loving days) and an apricot wheat ale (Aprikat), long before fruit-infused beers were even spoken of.  The company has expanded its mainstay line to a core four which now includes Charlie Flint`s Lager and the Full Moon pale ale. It's the longest running brewery in Alberta and the fourth oldest for good reason. They kicked open the doors with experimental beers and continue to push the limits while maintaining the mantra "great brews, from scratch."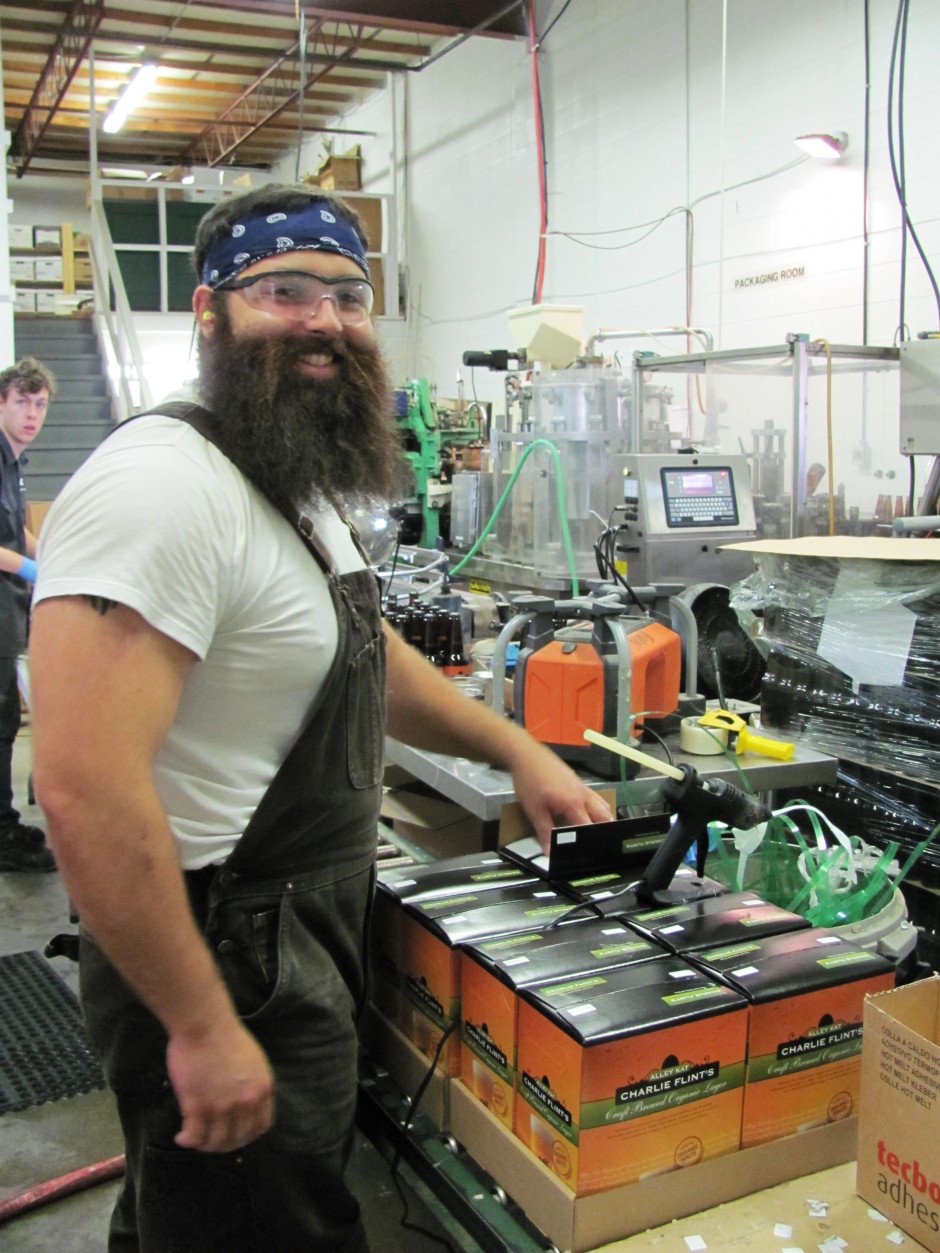 Every other month the brewmasters and staff put on their creative hats and crank out fun small-run seasonal ales like Brewberry Blueberry Ale and Pumpkin Pie.  Better yet, they produce a Big Bottle Series (650ml) and I am privy to the Work of Tart Raspberry Ale which is a sour and smoky favourite.
When Neil is pulled away by a must-take phone call, Kirstin steps back in and tells me about the local fan fare, cask nights and naming contests for the big bottles (like Work of Tart). I learn that the bottles are re-filled over 20 times in eco-conscious measures and that even the spent grains are recycled into cattle feed for local farmers. Is there a link to cow-tipping? I glance at my watch and am shocked when I realize that two hours have passed in total beer bliss.
In 2011 beer sage Stephen Beaumont awarded Alley Kat with a prestigious accolade: Canadian Brewery of the Year. I second that motion, and I'll have another.
*Post written under the influence of Work of Tart raspberry ale rations, in downtown Toronto while updating resume and looking into bench-pressing regime.
Expert