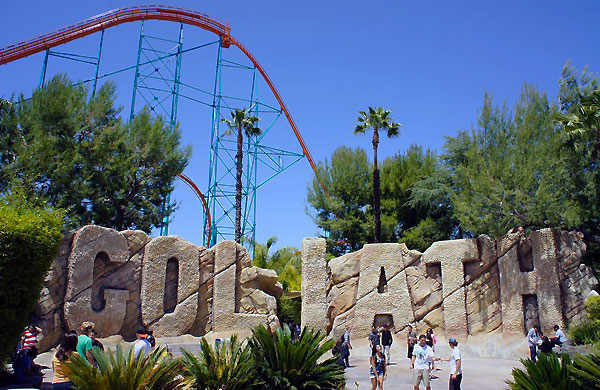 This is definitely not for the faint-hearted. At a 255-foot (78m) drop, The Goliath held briefly the world record for the longest and fastest (85 mph) opening drop on a closed-circuit roller coaster in 2000.
It has been calling Six Flags Magic Mountain in Valencia, California home since 2000.
At the bottom of the ride, I had to crane my neck to see the top of the tracks, and that sent my sweat glands into hyper-motion. I did an internal battle before climbing into one of these cars. I love coasters, the thrill of riding on them gives me an indescribable high. But for some reason, I was apprehensive about The Goliath. Eventually, the curious side of me won out. That and I see ten-year old girls taking on the coaster as though they were riding in a carousel.
After 20 minutes of mind struggling, I joined the queue, and it was another half hour before I find myself in one of the cars. The moment the coaster dispatched from the station, it took a 180 degree right turn and made a slow nerve-wracking ascent to the top, at 255 feet high (72m).
Going up, the combination of the crowd chattering and crackling sounds from chain wheels on tracks distracted me from the impending drop. But nearer to the top, ambient sounds from the people below drifted to soft mumbles, and the gradually slowing crackling sound was all I heard. Followed by silence, except for the soft howl of the bellowing wind. I had reached the top of the drop. I looked around, but only saw blue skies. People below had now become specks. For dramatic purposes, the coaster paused while my heartbeat intensified. Before I could catch my breath, the Goliath descended, rapidly, down 255 feet. The rest of the ride was a blur of twists and turns, and yes, more drops. When the train returned to the station, there was one thing on my mind. I had to ride it again.
Hop over to thegallivantpost.com to read more.
Tip: DO NOT try to lift your hands high while on the Goliath. The G- force is too strong.  You would not want to have your arms broken from riding a coaster.
Where: Six Flags Magic Mountain, Valencia, California