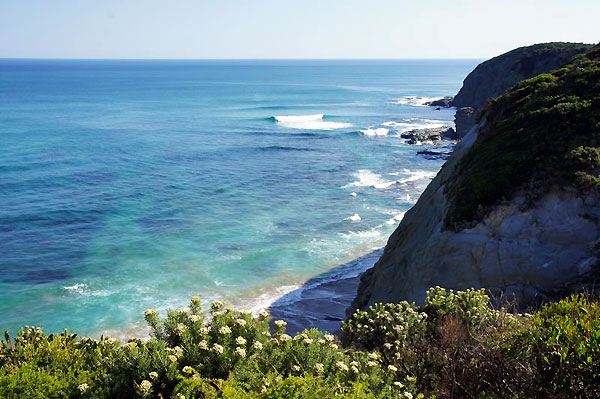 I think this is somewhere between Port Campbell and Peterborough, a stretch of winding road curving around a shoreline of shimmering aquamarine sea and clear blue skies.
And it's only a sampling of what to expect along the Great Ocean Road, a coastal region of south-west Victoria, Australia, all of 243 kilometres long. Originally built for war veterans returning from World War 1, the stretch was completed in 1932. But today, it makes for a popular scenic drive, largely due to its picturesque scenery and thrill of travelling on the winding cliff-top roads.
Most take on the Great Ocean Road from Melbourne, and that would mean driving over 500km of road. Because it covers an expansive area, most visitors would take their time to cruise along and opt to stay for a night or two at the small beach towns along the stretch. But unfortunately, I don't have the luxury of time for a road trip, but I did find a way to still make it to the 12 Apostles on a day trip. This means taking the scenic route there but the inland route back, cutting the return trip by half.
Starting from Torquay, a holiday resort town 95 km from Melbourne, I headed to Bells Beach, where the world's longest-running surfing competition- the Rip Curl Pro Surf & Music Festival was held. Then I traveled along the popular seaside resort town of Lorne and Anglesea and caught sight of its calming beaches. There are also designated lookouts, perfect for gazing into the Pacific Ocean. Then I headed to Apollo Bay at slightly past midday, just in time to tuck in some lunch before heading to the rolling hills towards Port Campbell.
Before long, I came face to face with the imposing 12 Apostles that you've seen on posters all over the Great Ocean Road advertising. Weather and time have crushed some of these amazing rock formations, but they still look impressive despite its battered condition. Along the stretch, I also managed to take in sights of the Loch Ard Gorge, the London Arch and the interesting Grotto.
After my pilgrimage, I realised the thrill of The Great Ocean Road is not just about the 12 Apostles and its nearby attractions. It's about being alongside the ocean, to ride along crashing waves from an endless shimmering blanket of blue-green sea that blends into baby blue heavens. It's about getting away from the bustling city life and enjoying the simple pleasures of nature.
Don't you agree?
Hop over to thegallivantpost.com to read more.
Tip:If you intend to do a day trip out, you have to start off early, so make sure your rental car company is aware of this and will anticipate your late return. If you start off at 8am from Melbourne, you are likely to return at around 8pm.  To make the ride a more enjoyable one, pack lotsa snacks, and great tunes. What's a road trip without good music?
Where: Great Ocean Road, Victoria, Australia