I often catch myself thinking about completely exhilarating things I want to do, fruits I want to eat and places my heart is aiming for, all those holy sites  my feet are impatiently waiting… These thoughts make my soul dance in a way that arriving to the actual place or enjoying the taste of a real coconut would be fulfilling in every sense I could think of. Experiencing the same? Imagining a place and already feeling its taste and smell. Wondering how people look on the other side of the world. How do they smile in Mexico and how in Laos. Making presumptions, daydreaming about little streets you can't wait to get lost in. Wondering about the city maps your eyes will get familiar with, or simply sitting on a bench, allowing yourself to search for a beauty in every passenger, knowing their everyday routine is shaping your life experience. This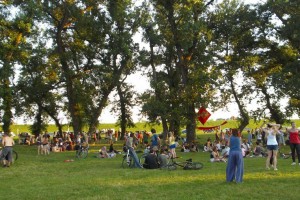 is already something bigger than you've ever expected it to be.
Don't nod ya head now. I know you are somewhere out there and you are just like me. Inpatient. Restless.  An incorrigible dreamer.
Your Bookmark is probably full of web sites for ticket booking and you know every damn discount. A flight for Istanbul? Or would you prefer Bogota, Colombia? You know them all.  And you have probably  'liked' every single traveling page there is on Facebook. Or you're subscribed to  at least two travel magazines. Maybe there is a big map on your wall you've drawn in a moment of madness. I bet your wooden shell is about to scream from the weight of your travel books and cultural guides, but you love to keep 'em that way, covered in dust, like they come from a far away places. You are avoiding to look at them as you know the pages are silently whispering to your fingers to explore them once again. And you will. But it's to painful now as you have to wait. Wait for the journey to begin. Wait for a date. And that's so damn hard. You're trying to let go of the anxiety, but an unknown force is troubling your mind. It's laughing at your face. The same force that will be your survival strength once you set off for a journey, is now your biggest enemy. And it will stay with you till the day you set your foot in the plane again.
Being patient is hard, but it's also hard for people around you. You probably  have a friend, a roommate or a sister whose ears are about to fall off as they cannot longer listening to your complaints. They are confused as your travel plans change on a daily basis.  They are trying to accept your madness and remember the names of all the exotic places you've been talking about the last few weeks. As soon as they learn all those cool expressions, you change a destination leaving them confused and right at the beginning. If could, your friend would ship you to Malaysia in a speed of a light, just to shut your mouth. Well, they would do quite anything to extend that glow in your eyes.
An unknown writer once said: 'Sometimes being patient is worth it and sometimes it's not. I guess only time will tell...' There is no real answer to a question how to be patient if you're a traveler. We are always in a hurry, we cannot simply let go and would like to see, feel, taste and do everything NOW. We know there is really no much time left. That's why we appreciate it much. And although we know we will eventually get what we want, being patient is what kills our inexplicable desire to be everywhere at the same time. That incurable virus, all the travellers sooner or later catch, is simply something we've agreed to. Too bad there is no cure for curiosity. But then again, hey, our diagnosis is what really keeps us moving. And enjoying life to its fullest. And how many people can say that?