Who am I, you may ask.
I am Chintoo. And I could summarize my entire being in a few words but it's best if you just caught me in action along Goa's fabled beaches. The truth is, I am just another puny Indian guy from a conservative small town in India. Like some of my ilk, I too was coaxed into making a trip here by a local tour agent who seduced me with his greasy sales pitch, 'Go to Goa for Live White Skin Show! Meet foreign girls, have FUN and come back with lots of pics'
And so I went. But I haven't returned with lots of pics.
No, I haven't returned at all. Why should I leave this hedonistic heaven? In fact, I landed myself a plum job as a waiter at one of those beach shacks in Calangute. The pay check isn't great but the tips are. What's more! The shack owners don't really get into background checks, I.D Verification Proof, Address Proof and such drivel. In this sense, I love the Goan authorities who almost wait to warmly embrace me and the swarms of my brothers trooping in, squatting wherever we can with zero accountability. Now before you jump onto your moral high horse, remember that this is My Story – my personal story. And I do not represent the rest!
Yet again I've digressed from what I originally wanted to speak of. It's about my new found hobby – Photography! Before setting foot at the Tivim Railway Station in North Goa on 10th December 2009 at 11am, all I had was a change of clothes and a mobile phone VGA camera. But in just 3 months, I earned myself a semi-professional DLSR gifted by an incredibly naive (and stoned) foreigner who was quite impressed by my discourses on the universe, karma, yoga, tantra and the Glorious Ancient Indian Culture.
So anyway, I hear that my name crops up quite a bit when these discriminating white tourists exchange travel stories and tips about the growing menaces on Goan beaches. I suggest you hear it from the horse's mouth. Below is an all-inclusive account of what I do when I'm not waiting tables and peeking down the cleavage of those unwitting females tourists who are too busy moaning collectively at the aromas of sorpotel and chicken xacuti I place before them.
On a Good Day. 7am to 11 am.
I, Chintoo Mahendar Mishra, comb the 7 km coastline from Baga till Sinquerim in the blistering heat with my ill-gotten yet trusty camera snapping away these wanton foreign females in their saucy bikinis. Henceforth I will be referring to them as goris (white females) for simplicity's sake. So if you happen to be a gori reading this, don't take offence please; just take pride in knowing you are a source of intense pleasure and the sole reason why so many Indian males (who I will henceforth refer to as my brothers) slither into this minuscule state of Goa despite an abundance of India's coastline that well exceeds a staggering 7000 kms.
We don't come here for the beaches.
Or the Portuguese colonial architecture.
Or the cheap booze.
Or the nightlife.
None of that!
We are here for You.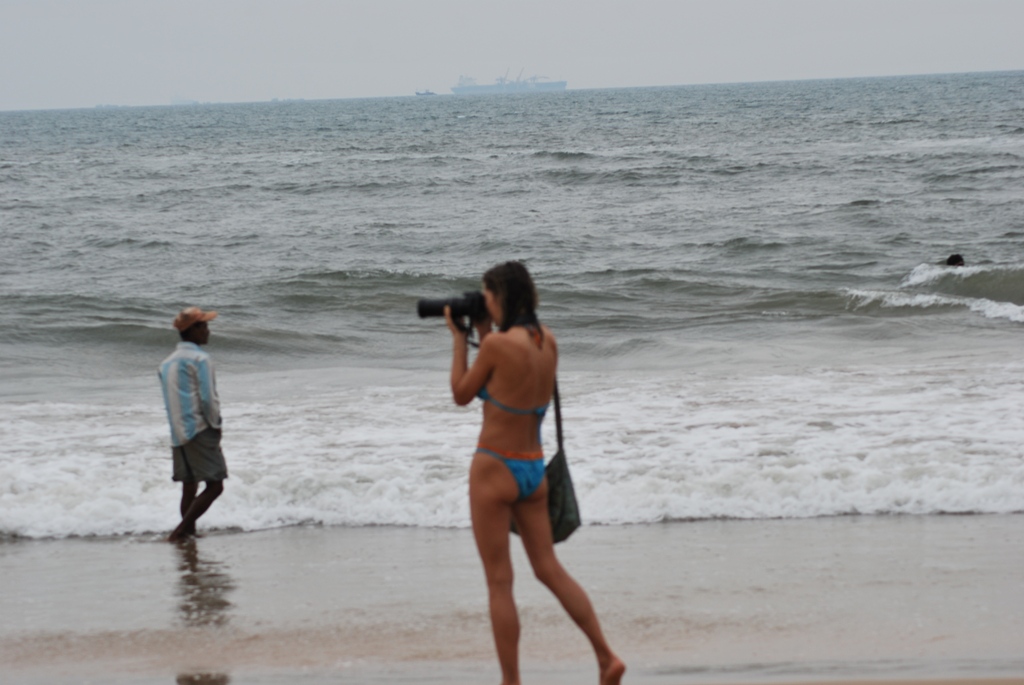 Now, it's likely you will cringe and find my views sexist, racist and patriarchal. But what to do? It's part of my social upbringing!
I've been called a pervert many times. And it hurts my male ego. All I do is take pictures of something that's already out there for public viewing. Which law prohibits this? You tell me, why do foreigners go crazy clicking pictures of cows on our streets? Well it's the same reason my attentive brothers and I take pics of goris in bikinis.
It's a rarity for us in our respective countries for God's sake! (And don't you judge me for comparing a woman to a cow; I hardly think comparing your women to bitches and calling them so even if in a rage, is hardly less offensive!)
Also Indian women sporting 2 piece bikinis on public beaches are unheard of. Haven't you seen them at the Calangute beach, soaked and cavorting in the waves yet fully clothed – sari, blouse and petticoat!
While this appears sensual in Bollywood rain-and-wet sari sequences, it certainly holds no appeal to us boors. We don't understand subtle aesthetics like these but ironically enough, we are also jaded by graphic, in-your-face porn. In fact, watching those muscular alpha white males in action injects a feeling of worthlessness into our inconsequential bodies.
So ….. Goa is the panacea!
Graceful female forms in bikinis bouncing in the surf, jogging along the shoreline or simply splayed out on the corn cob-infested sands in all their glory for all to view. Nothing staged and adulterated about them! Let Baywatch be confined to the Idiot Box!
But the flip side is that sometimes, a handful of incredibly selfish women sense what I am up to and move further into the sea or in the opposite direction. This is when my volleyball comes to the rescue. My brothers and I pretend to indulge in an innocent game of ball and hurtle the ball towards you-know-where. Enough said!
Just last night I met a guy from the neighboring state who said he asked random hot goris if he could have a pic taken with them to show his sister and mother back home. Sounds sweet and harmless no? Hmmm not so much when his real intention is to cop a feel while 'casually' slipping a grubby paw further up her waist. Now did FHM or GQ ever teach you something this ingenuous?
I'll go a step further and call my hobby a more refined form of bird-watching, for I prefer my birds without feathers and beaks. My birds are tanned and voluptuous; some freckled, some lobster-red under the sun, some pale white. Oh these lovely creations come in all shapes, sizes, colors and temperaments!
My most impressive captures are those of the gori sunbathing topless on the beach bed with a magazine neatly spread across her face to block out the suns glare. I approach furtively and only when her dull boyfriend jogs into the sea for a dip. At times like this, it makes sense why professionals advocate higher optical zooms. Standing safely from afar, one gets exactly what one wants with no compromise to quality. Pixelated asses are not worth the effort!
Some of my brothers blatantly stride up to the sunbathing woman while she is fully awake and point the camera at her. This reckless disposition comes from a lack of good photography equipment and a death-wish of sorts. But well, they've paid the price – from being called 'Ugly Indian Perv', to having their camera snatched and the bounty of pics deleted, to even being socked in the jaw by other sunbathers. I don't advocate this blatancy.
I believe in Tact. Tact, Grace and Presence of Mind.
Also at times when these goris do see through my ploys, they hurl the same banal question -
"Would you like if someone did this to your mother or sister??"
Of course not!!
But this one's an absolute no-brainer. As mentioned before, Indian women in bikinis on crowded public beaches do not exist. Well, sometimes you do spot the occasional tattooed and extremely bohemian chicks from Mumbai or Delhi zipping around in a thong. Now contrary to mainstream opinion that Indian males are obsessed with white skin, let me tell you that I was not raised to discriminate against my Indian sisters, so yes, they too feature prominently in my extensive photo collection.
Goris, are you listening? You may soon be obsolete so instead of posting whiny, whistle-blowing complaints on Lonely Planet forums about repressed Indian males clicking pics of unsuspecting white females, I recommend you enjoy this attention while it lasts! Oh, and please, please stop advising other goris planning a trip to India to avoid plunging necklines, shorts and spaghetti tops and instead to wear Salwar Kameezes which cover curves and skin.
It's a filthy conspiracy against us vilified Indian males, and hopefully the other goris won't fall for this racist sexist propaganda. Goa will not be Goa if you girls start turning up to the beaches in these shapeless Indian garments.
We want Bikinis! And 2 Piece Only!
And you Westernized Indian guys reading this, I know that most of you will call me a 'despo' who doesn't get enough. You are spot on I confess!
I cannot fake an American accent like you because I do not even speak English (this has been kindly translated by a Brit diner who frequents the shack where I work).
I do not have the resources to dress sharply, discuss world music, gel my hair, tattoo my skin, slather cologne and visit nightclubs to pick up foreign women who will buy my superman stories of transcendental meditation and such!
I do not have a flashy sedan to take home my foreign conquests in.
But unlike you, I don't have to hide behind the skirts of my pavonine Indian female friends/girlfriends, deceiving them into believing I am taking their pics while I focus and zoom onto the tanned bottom prancing in the background. I just Go For The Kill!
Back home I am a hero in my friends circle. I regularly email across pics of my foreign 'girlfriends'. Hey, I have my arms wrapped intimately around them so it's a perfectly credible story. I am hailed for my photographic prowess and foreign associations.
My wish for 2012 is that more and more of my brothers from across the length and breadth of India come down to experience Goa at least once. We will scourge the beaches (fully-clothed of course) and go home each night (even if alone) to a bounty of bottoms and bosoms.
Culture vultures, don't try to stop us.
Have Camera. Will Click.
No Laws. Will Click.
You Wear Bikini. Will Click.
Much love,
Chintoo.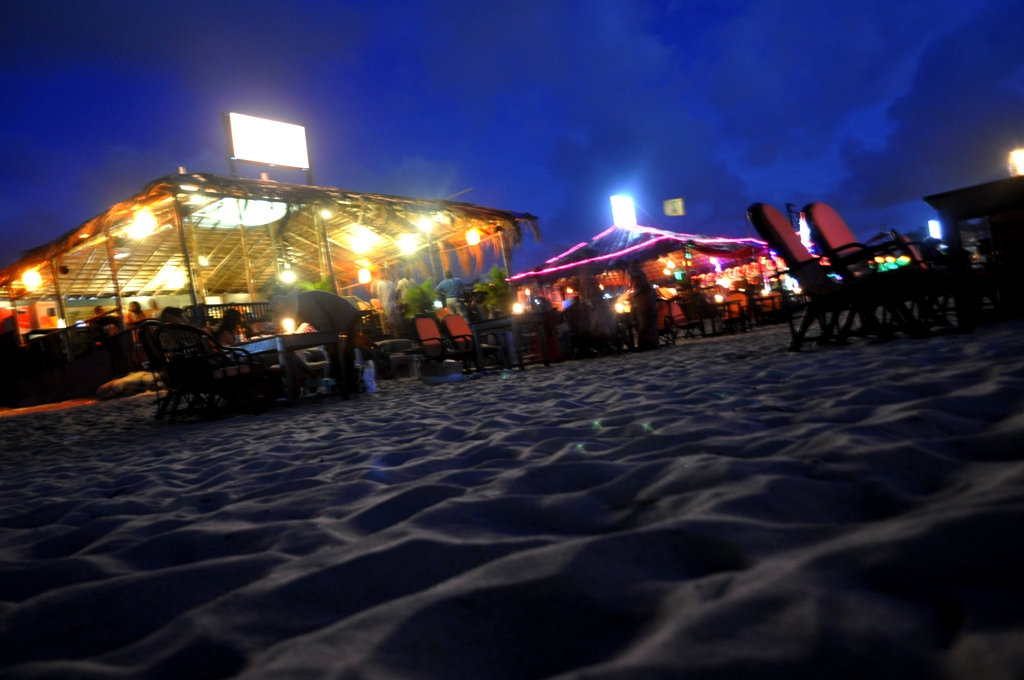 ————————————-
Thanks to Priti for images.