Friday
8:00am and my alarm goes off.  Not a problem.  I went to bed with camp on my mind and woke up without having changed subjects.  First item on the agenda was a meeting between the volunteers, Mudir and Delegue.  I was a little bit on edge because we were still waiting for a number of volunteers and I wanted to make a good impression on the camp's muckety mucks.
I hopped in the showers at the Centre for the first last and only time.  The bathroom was slightly less than sparkling but holding up well as it braced for the onslaught of 130 campers and staff that would transform it into a toxic wasteland.  After some creative towel manipulations to get my clothes back on I ran into Linley bearing a gift.
"Want a cookie?"
"Thanks.  I'll always want a cookie."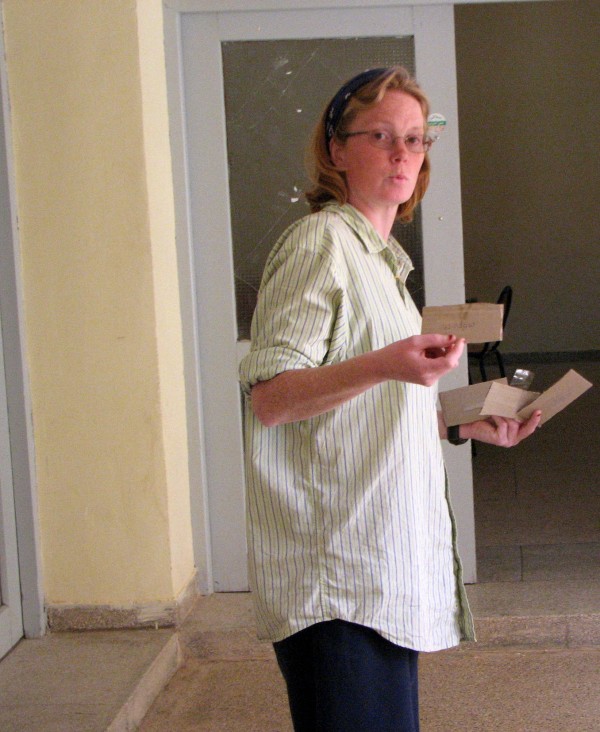 Out of her plastic sack came the biggest, crumbliest, tastiest cookie I had seen in weeks.  Believe me when I say I see a lot of cookies.  Not only was there a cookie but a little baggie of milk too.  Ooooh weee!  Brownie points for Linley.
The meeting time was coming up quickly and we all started gathering our notebooks and pens and assembling in the cafeteria/meeting room.  Five of our 11 volunteers were still MIA.  Oh well.  The Mudir started laying things out for us.  Floyd and I were listening intently the whole time until we looked around and remembered that besides ourselves and Linley, all of the other volunteers were Berber speakers.  Yikes!  They had no idea what the Mudir was saying.  They all had simply been learning a different language.  I took up translating and am pretty sure I got the messages across.  I hope so at least.  The Mudir can be a long-winded fellow.  It was a good meeting and we scheduled ourselves another one for 6:00pm for everyone including volunteers and Moroccan staff.
Back in the room, I picked up For Whom The Bell Tolls.  I had trouble putting the book down for a couple of hours.  In the story, Pilar recounts the sad tale of the capture and execution of fascists by her man Pablo.  Doesn't sound pleasant, but Hemingway was a writer of vast talents.  One day…
As lunch time came around a couple more volunteers came into town.  Caitlin our over-achieving Business Club leader, and Alex, King of the Yuksters and Health Club leader.  While Caitlin came directly to the Centre we decided to meet Alex in the center of town and pick up some Omar sandwiches.  We placed our orders and waited as the chicken and ground beef sizzled on the stove.  Omar knows which side his bread is buttered on and treats the volunteers great.  Almost unlimited french fries will all but ensure repeat business from the Peace Corps crowd.
For a couple of days I had been planning on going home to Goulmima after our afternoon meeting so I could put my now-dry laundry inside, and pick up some things that I had forgotten.  I also thought it would be good to get in one more great night's sleep in my own bed before camp.  As 6:00 came and went with no meeting I felt a bit discouraged.  Apparently the majority of our Moroccan staff was having transportation troubles in a town a couple of hours south.  Whaddayagonnado?  The Mudir handed out some more meal money and told us we would just do the meeting the next morning.
At this point I should have gone back to Goulmima, and even thought to myself "You should really go back to Goulmima now or your'e not going to get another chance."  I had things to do.  Besides the laundry,  I forgot body wash and was already stinking from half a day's exertion.  My camera was blinking and begging for batteries.
So, of course I stuck around Errachidia.  We took the long walk back to the center of town ready for the next feeding.  Half of our crew went to Omar's again.  His food is just so mediocre that I can't really justify going there twice in a day.  The remaining volunteers headed for d'jej and frit.  D'jej and frit gets you a quarter chicken, a big stack of fries, some awful rice, unlimited bread, "l'sauce" and one water glass for your entire party.  Not bad, but I should have gone home.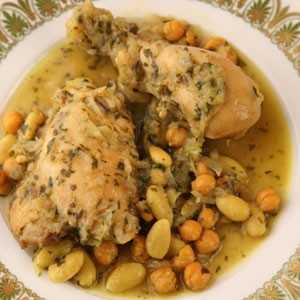 After dinner we all made our way back to the Centre and I tried to give an outline for Saturday even though I wasn't quite sure of the schedule myself.  When I was convinced that everybody was just as unclear on the schedule as I was we popped in an episode of The Sopranos on somebody's laptop.  I hadn't seen a single episode of the last season.  Bobby Baccala really beat the hell out of Tony on this particular night.  As we got ready for bed, my mind was all over the place, but mostly in Goulmima.  I thought that not going home was a bad decision and beat myself up over it.   Sleep was slow to come.
Expert