Saturday
Oh my god.  The kids will be here today.  My first thoughts of the new morning.  My nervous excited butterflies were back.  It was a good feeling.  I felt prepared, but you just never know until real, flesh and blood kids are running around.
Before the kids arrival though was our big staff meeting that had been put-off the day before.  All but two Americans had arrived.  Our Moroccan staff was trickling in slowly as the morning hours ticked away.  At around 10:30 we finally pulled ourselves together for the big meeting.
Too nice is how I would describe most Moroccan meetings.  There is a lot of value placed on ceremony and not enough on substance.  This meeting was shaping up along similar lines.  We spent a long time doing introductions and the Mudir said very nice things about me, and I said very nice things about him.
"We are very happy Charley is the coordinator.  We worked with him last year and he is ready.  And he is a lot better than Mark who was the coordinator last year."
This was an interesting compliment.  I appreciated it but understood that my favor in the eyes of the Moroccan staff was held in a precarious balance.  It would be an important assignment for me to be pleasant enough to stay on good terms but serious enough to get what I wanted without stepping on toes or coming off as disingenuous.  For most of last year my predecessor Mark was on very good terms with the staff.  His Arabic was atrocious which set him back, but for the most part, he was well liked.  Throughout last years camp there were a number of complaints that we as staff had, and in one destructive moment during our celebratory party at the end of camp Mark absolutely ripped the Moroccan staff.  That was the end of Mark.  With that in mind I took the compliment as it was and took it upon myself to indeed be better than Mark.
In return I said, "I am also happy to be working with Si-Ismail.  We have met and prepared and feel good about the schedule and are very happy to have everyone with us."
Floyd and I traded translating jobs for the next hour while we went over certain particulars.  Translating is easy for a few minutes assuming you know the subject.  Translating for an hour is damned difficult.  I kept losing focus and just watched mouths moving without taking in any information.  Mercifully the women from the kitchen waddled in and called us in for lunch.
We ate well and began our wait for young minds to manipulate.  We did not have to wait long.  At around 2:00pm they started showing up.  Some would nervously get out of their cars and walk hand in hand with their parents to the sign-in.  As the parents pulled away the nervous types tried to find corners where they could hide until we pulled them out and got them to play.  Other kids showed up in groups, having travelled from Rissani, Erfoud, Tinjdad, Alnif or some other small village in the region.  These small groups were a little more gregarious, having already said bye to their parents a few hours before.  There were big kids and small kids.  Black kids and tan kids and everything-in-between kids.  Skinny kids and… well… there were a lot of skinny kids.  There were a number of return customers from last year as well.  I am a geek for nicknames and was very excited to see Shakira, Scooby Doo and Michael Jackson had all come back for a second helping of camp.
After throwing a football back and forth trying to make small talk with the kids, we decided we needed a better game.  We decided on Ultimate Football.  This game, as you may have guessed, is a mix between ultimate Frisbee and football.  No tackling, and no running after the catch.  We split the teams up haphazardly making sure that there were a few Americans to each squad.  The playing surface was rough.  No pavement and huge divots and rocks littered the rust-colored gridiron.  Spring camp ultimate aint for sissys.  In short order the kids caught on to the game and we were sprinting up and down the field.  A cool moment during the game was when Big Aaron showed up during the middle of the game.  We don't call him Big Aaron for nothing.  He looks like Suge Knight minus the bad attitude and with an outstanding vocabulary.  Aaron walked in and started completely  dominating the game.  A regular twinkletoes tipping the scales at 300 lbs. plus.  Before I knew it, a very small bespectacled boy named Hicham Hachimi had the ball for us and heaved a hail mary toward the end zone.  No spiral, but a majestic toss none the less.  Guess who was running right under its path too.  That's right baby!  Yours truly.  I caught it in the endzone and did myself a Dieon Sandersesque high step.  I ran over to Floyd and did a big jumping chest bump to get the kids a bit more hyped up (This was the first touchdown for me in 20 months so we had to milk the celebration).  Another little boy named AbdeAli saw the chest bump and wanted in on the action.  We stepped back and then forwards into our jumps.  My stomach hit him high on the chest and AbdeAli went tumbling backwards to the ground.  Kids had never laughed harder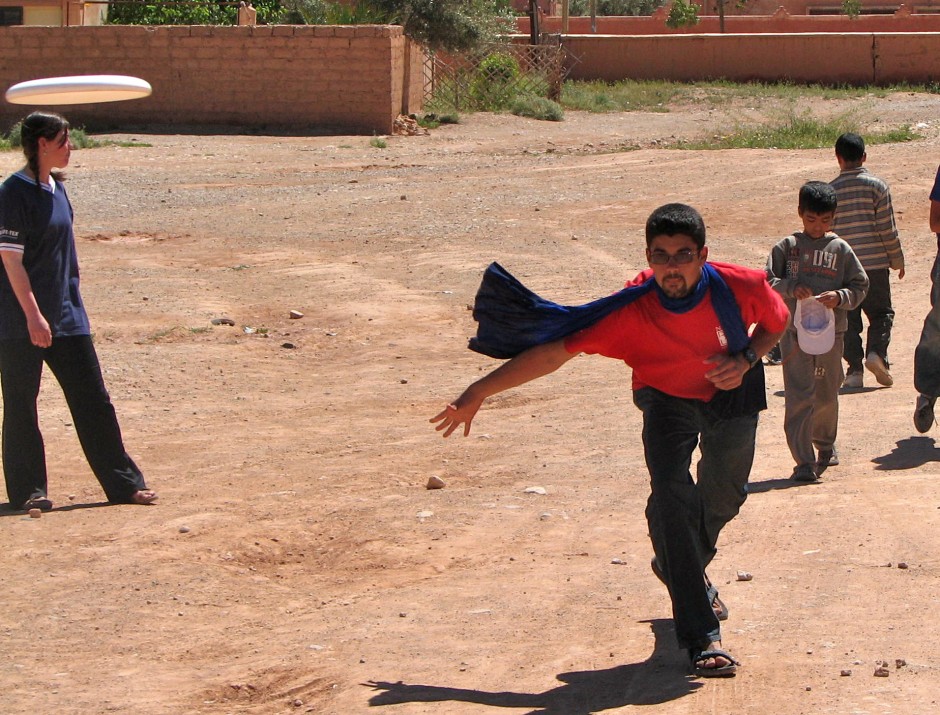 After football, the Mudir brought all camp participants into the big room for a discussion of the rules and the schedule.  Unfortunately for the kids, the Moroccan staff was so geeked up for English week that those who could speak English spoke nothing but.  Oh well.  I was sitting up on the big podium making goofy faces at kids when all of a sudden I heard my name called by the Mudir to introduce the American staff.  I grabbed the mic and didn't know for a second which language was going to come out of my mouth.  I was pretty happy when it came out in Arabic.
"You know Americans are very nice people, but they have a problem.  They can't hear very well.  So, when I say their names you have to clap so they can hear you.  Okay?"  First is Big Aaron….."
Oh man they were eating it up.  I might have a future as an MC for bar-mitzvah parties or as a wedding singer.  Call me.
Tea and croissant break.  You can never have enough tea…  After snack, the night was essentially for the Americans.  We had two things that we wanted to accomplish for the evening.  First was a club rotation.  We wanted the kids to see each of the different clubs for a few minutes so they could choose which one they wanted for the week.  Our five different clubs were Art, Health, Business, Environment, and GGLOW (leadership).  Amazingly there were very few problems getting them into groups and leading them around.
The second objective for the evening was to give the kids English placement exams so we could put them in appropriate English classes.  The six English teachers each grabbed a table and the other volunteers helped funnel kids toward us to gauge their skills.
"Hello."
"Hi."
"How are you?"
"I am fine thanks.  And you?"
That is an answer that never changes.  Just once during these tests I want a kid to say "I'm great.  You know?  Just chillin'.  Life is good baby, but what's good witchu?"  I might not get that response anytime soon, but I am ready to be pleasantly surprised.
We gave the kids a grade on a 1-6 scale with pluses and minuses so that we could more easily distribute them.  A couple of hours later we had finished the club rotation and the test.
Dinner was next and not half bad.  Spaghetti and sauce followed by some meat and taters.  Certainly better than my way way wayyy too regular tuna sandwiches.  This was our first opportunity to eat with the kids.  I have learned through three previous camps in Morocco that if you want to eat well, it is important to sit at a girls' table.  Better believe I nestled in real cozy like with a group of girls and ate more than I should have.
The next thing was the night event which I spaced out for.  I picked a corner in the balcony of the theater and worked on sorting kids into clubs and classes.  It was a very time consuming job and I did not feel like spending all night doing data entry.  At one point I looked up and Floyd was trying to lead a game, or a cheer or something.  Not really sure what he was doing but he kept doing "The Sprinkler" dance.  I think he had fun with it but I am sure some of the kids were questioning his mental stability after that display.
After the event, I went back to the center and started typing up groups and classes with Floyd's help.  My biggest trouble was getting kids into Environment club.  More than 100 kids saw their choices and only two chose Environment.  Poor Scotty Mac.  After about an hour I took the computer and my iPod into the other room to finish around 2:00am.  Straight to bed for Charley make sleepy face.  Zzzzz.
Expert