Exploring Minneapolis One Paddle at a Time via Kayak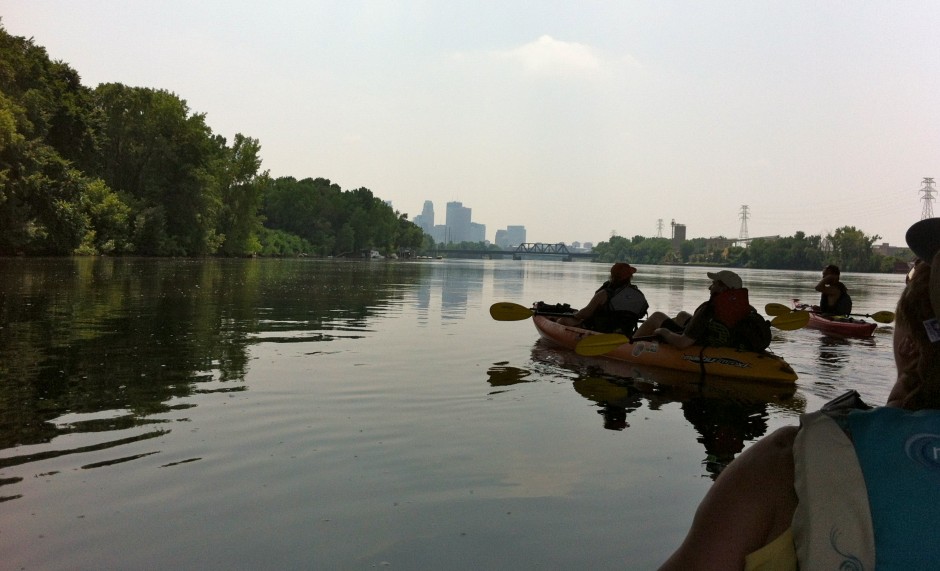 Have you explored Minneapolis, Minnesota yet? If not, get your butt to Minneapolis, it's an adventure lover's dream. By taking advantage of Minneapolis' location right on the waters of the Mighty Mississippi River, you can discover the City by Nature, witnessing eagles, blue herons, and other wildlife, while never leaving the city or its skyline via kayak.  Now, don't be afraid, you don't need to be a seasoned kayaker or adrenaline junkie, just follow my lead and recommendations from my travels to Minneapolis earlier this summer. Get ready to be awed one paddle at a time!
Although, I'm a seasoned kayaker and could have just rented a kayak, I always recommend the first trip in a new location to find an experienced tour company for inside information and safety. I chose a kayak tour and rental company, Above the Falls Sports, which is located right in Downtown Minneapolis. Its owner Robert Schmitz welcomed me and introduced me to our guide for the day, Kalen (a fellow Wisconsinite) who was getting our gear ready. While I prepared for the voyage with sunscreen, bug spray (mosquitoes in the Midwest are terrible), and drinking plenty of water, the other curious travelers trickled in making our group a total of six in three tandem kayaks.
With all gear and kayakers ready, we loaded ourselves into the ATFS vehicle for a short ride up river to Coon Rapids Dam. During this time, we got to know a bit about our other trip members coming to Minneapolis from DC, Georgia, Colorado, and Florida. Most were traveling with a friend or family member, but not me. I was traveling alone. Coincidentally, there was another single traveler who would be my Partner In Crime (PIC). I thought this was a stroke of luck. Why? In all of my time kayaking, I think having someone you don't know in your tandem kayak is actually better. I say this as I nickname tandem kayaks divorce kayaks. For those of you that have kayaked much, you know that many trips in a tandem kayak have sparked many heated fights between couples, friends, and family.
Check out the rest of the Minneapolis One Paddle at a Time