I have never been out west (as they say it).  I am an east coast born and raised adventurer.  I have only ever seen Toronto, Canada down to Florida and then most of Europe.  My first trip to the west was to visit my friend, Casey.  She was residing in a small town, Fraser, Colorado.  She lived in employee housing and worked for Winter Park Resort.  I was there for four days and was ready to explore.
The start of my trip began with me, myself and I.  That's my favorite kind of beginning though to any trip.  When I flew to Ireland over a year ago, I was alone.  It allowed me to collect my thoughts and really reflect on what I wanted to get out of this new adventure and what I hoped to learn from it.  I did the same with this one.  And although I was not crossing a border, it sure felt like a different culture, if not a different world.  The people that Colorado attracts are adventurers, hard workers and people who are constantly looking for something new and refuse to settle at a boring desk job, but would rather work skiing and snowboarding jobs that don't always pay much, but allow them to live on their own, at least for a little while.
My plane landed: "Welcome to Denver, it is 40 degrees outside, dress warmly as you exit off of the plane."  I was meeting my friend in Boulder.  This was roughly an hour bus ride from Denver's airport.  She couldn't pick me up until 3 in the afternoon, and I arrived around 11am.  I had some time to myself.  I lugged my carry-on to a little café stand in the airport terminal.  I bought a coffee and warm, fresh croissant to start my day.  I sat down and pulled out my laptop.  I did some work for my internship from home.  I looked at a map of Boulder and decided to explore Pearl Street, which is a site of many street performers and shops.  There was a bus at 12:50pm that I decided to catch, I walked outside and confided in a couple who sat next to me to make sure I was in the right spot.  They were a German couple that spoke good English.  It always excites me when I run into Germans because that is where my family came from.  They seemed to believe we were both in the right spot, so I waited.
My bus eventually made its way.  I hopped on board, paid my 14-dollar fee and sat alone in my bus seat.  I listened to some music to help pass the time.  The sun was radiating through the dirty, fogged up windows of the bus, so I reached into my bag and put on my sunglasses.  I was the last stop.  When I finally arrived to Boulder, I exited off of the bus and closed my eyes to picture the map that I had mentally photographed for this part of my journey.  Make a left.  That was the next step.
I reached Pearl Street and found a Starbucks.  I ordered another coffee to keep me awake.  Traveling can make you tired especially when you have to lug around a huge backpack with you.  I opened up my laptop, and did some research.  I once again worked on some website updates I had for my internship.  I decided to go for a walk.  I began to get hungry again and knowing that my friend would not have a plethora of food, I decided to make my way to a gyro place not too far up the street, about a block or so.
I ordered a gyro.  The people who worked there were friendly.  I sat down in a booth behind two older ladies.  Since I sat alone, I decided to listened to them.  "What is this kind of food?"  "Oh, I think it is Iranian."  I chuckled to myself.  I finished eating, and my phone began to ring.  My friend said she was approaching Pearl Street and asked me where I was.  I told her what intersection I was near, and she said to begin walking towards her.  So I did.
I sat at a bench, figuring that we might pass one another at this point.  I was near a street performer.  He was drumming on different buckets and pans.  I squinted at his every move as the sun reflected off of his metal instruments.  There was a lady next to him.  She was banging on a single pot and singing gibberish.  I recorded it.  No one seemed to be affected by it.  I liked that.  It was just another day.  People could express themselves (if that's what you want to call it) in whatever way, and no one thought it was weird.  All of a sudden a man came from behind me, dancing graciously down the street.  He danced like a five-year-old girl who wished to be a ballerina one day.  I decided to follow him from behind until I approached my friend, who I assumed to still be on her way towards me.  He kept twirling and twirling, and I kept smiling the whole time.  I started to really like it here.  How often is it that you come across people who do not give one damn of what other people thought.
All of a sudden, I could hear my name being called.  My friend Casey was 50 meters away.  I started running towards her and once we reached one another, I dropped my bag and we hugged.  Finally, I made it.  We walked down to a vintage thrift shop just a couple of blocks away and decided to do some browsing.  I bought a shirt that displayed the word "Coloradical".  But I was about to find out how not so coloradical I really was.
After some shopping, we hopped into Casey's car and started making our way to Fraser, CO.  It was a little under two hours away, but the drive made me wish it was longer.  I couldn't get enough of the Rockies and the stillness that swept the air of the calm, Colorado dusk.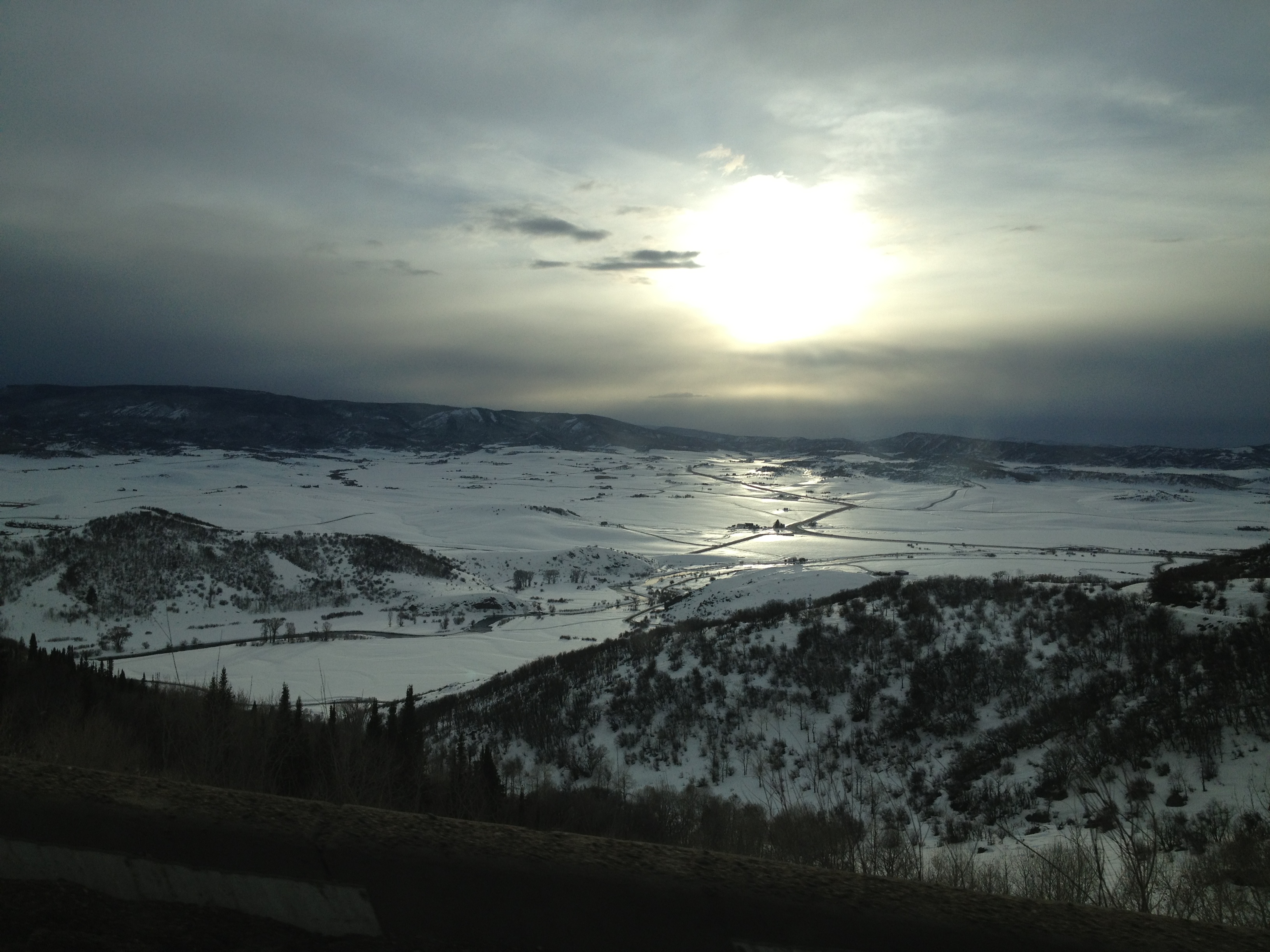 We decided to turn in early that night.  I was a bit tired from traveling, and Casey had been working non-stop for months.  This was the first time she took off in what seemed like forever, so I understood why she was tired.  I woke up early the next day feeling refreshed.  It was also early because of the time difference.  I had yet to feel the altitude difference, but I was sure that once I buckled on my snowboard later, I'd feel it then.
We went to the food store, and later geared up for a night out.  The bars in Colorado were more like my style than any of the clubs in Philly or even Ireland.  I didn't have to put on a miniskirt to fit in and suffer through uncomfortable shoes.  Instead, I wore my favorite flannel with jeans and sanuk shoes, or sandals I should say.  I felt more at home.  We drank a bit at her apartment.  Then I drank a little at her work.  We didn't realize how fast time was flying by.  All of a sudden, I was feeling pretty tipsy.  Casey worked at an extremely nice restaurant.  While we were there, one of her friends asked if we could pretend to be customers to help train a new waitress.  "Of course," I said.  I couldn't wait to test her.  She will have to deal with drunken customers all the time, so here was my chance to be one without the fear of getting kicked out.
She came up to our table.  You could tell she was a little bit nervous and knew that we were making a joke out of all of this.  I looked at the menu.  How could I make this interesting? I know!  Asking a lot of stupid questions.  "So, does the baby artichoke salad come with real babies?"  You get the picture.  What was even worse was the fact that we were hammered, so every question I asked sounded ten times funnier.  I also pretended to have a deeper voice, and I sounded a bit like a transvestite man attempting to sound like a woman.
We decided to leave and make ways to the next bar.  But of course, we used the bathroom beforehand.  I made my way to the sink and decided that I was really thirsty.  My friend was in the middle of telling me that there was a water fountain just outside, however I interrupted her: "I'm gonna Jesus this sink," I told her as I splashed the water into my mouth straight from the faucet.  Yes, ladies and gentlemen, I mimicked what those of Jesus' time would have done from a river.  That's what my sober self defines this moment as at least.  After quenching my thirst, I turned off the water and turned to Casey, "yeah, I just turned Jesus into a verb."  We then made our exit to our next destination.
The next bar we went to was a bit small.  I met more of Casey's friends.  I sat down as Casey and her friend Nicole played a game of pool.  Someone complimented my shirt and I thought, "yes, I'm so Coloradical".  The night ended and we headed back to Casey's apartment to get enough rest for the next day.  We were hitting the slopes in the morning, so we were going to need it.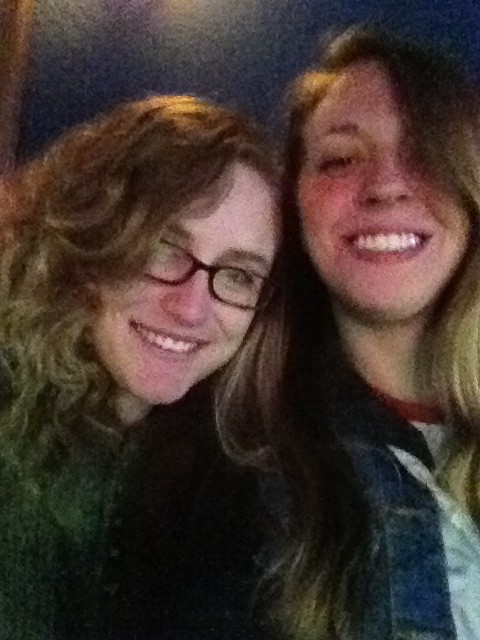 I woke up without a hangover.  Maybe it had something to do with the altitude.  We slowly ate our breakfast and got our snowboarding gear on.  I was ready to "shred the gnar" as they say out here.
Casey took me straight to the beginner hill, "The Goose".  It even sounds scary, I know.  They gave me a helmet to put on when I was renting my board, so you know this was about to get messy.
            She taught me the basics: how to walk with your snowboard on, how to dismount off of the chairlift etc.  I made it through the chairlift and dismounted with grace.  But what was about to follow could be called anything but graceful.  I made it down the hill and could easily do the heel turns but the toe turns were a whole different story.  Every time I tried it, I would wipe out.  I reached the bottom of the hill.  The guy who worked the chairlift told me he saw me plummet face first.  I asked him, "what wipeout? It must have been someone else."  He laughed it off.  I was really the only one on the hill, so it was obviously me.  I went up the chairlift for my second attempt.  This time Casey held my hands and began directing me.  My body kept directing me towards the tree planted in the middle of the beginner hill.  We reached the bottom, and I asked the chairlift guy why they would plant a tree in the middle of the beginner hill?  He laughed once again.  I wasn't laughing.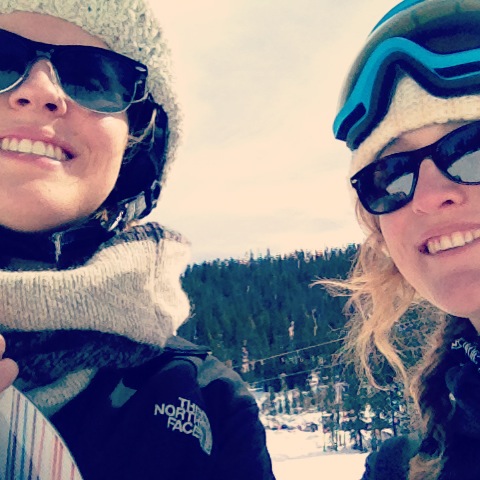 I began to practice on my own as Casey coasted down the hill without any problem.  I almost had the toe turn, but I was too far over on the side of the hill.  I ended up having to fall and stop myself before I fell out of bounds.  I laid there.  I was exhausted.  I had gone down the hill countless times, and was just ready to call it quits.  There were a few guys directly above me on the chairlift, and they attempted to hide their laughter.  I didn't mind.  I called up to them, "I'm fine, this is really fun.  I love snowboarding."  They could tell I was being sarcastic and continued to chuckle.  I met up with Casey at the bottom of the hill.  She told me her friend, Greg, was up in the parking lot chugging a few brews.  We went to meet up with them.  Greg talked about getting hungry, but I was just too full from eating shit all day.  Casey wanted to go on some of the bigger hills, and I decided to go drink.  They have these mugs in the bar at the winter park that you can design and whenever you have a drink there, it is a bit cheaper than the price it would've been.  Casey told me I could use her mug.  So I did.
I had good ole blue moon.  I may or may not have also had three slices of sausage pizza.  I kept drinking, and I started to feel warmer and happier.  Three guys in their early 20s walked into the bar.  They sat down next to me and all ordered a beer and a slice of pizza.  I heard them talking with the bartender.  They were visiting from Georgia and were here for the music festival.  They had never snowboarded before, so they only rode the beginner hill.  Then it dawned on me.  These were the guys I interacted with from the chairlift as I laid half dead on the hill.  I joined into their conversation, "yeah same here. I was just visiting my friend, and this was my first time out there snowboarding."  "Yeah, we saw you out there."  "Yeah I hope I didn't intimidate you.  I'm pretty good."  They laughed.  They left the bar, and I ordered another beer, waiting for Casey to be back.
When she finally arrived, I was feeling pretty happy you could say.  She sat down with two of her friends and they all ordered a beer and a slice of pizza.  They started talking about there favorite slopes, and I obviously didn't know anything on the subject.  I had only been on "The Goose".  After they were discussing how one slope is better than the other and how this one is great when the snow is powder, I interrupted, "I'm gonna have to go with the Goose, I feel like it is enjoyable but still allows room to challenge it's riders."  They all stared at me, and then they laughed.  It had been a long day.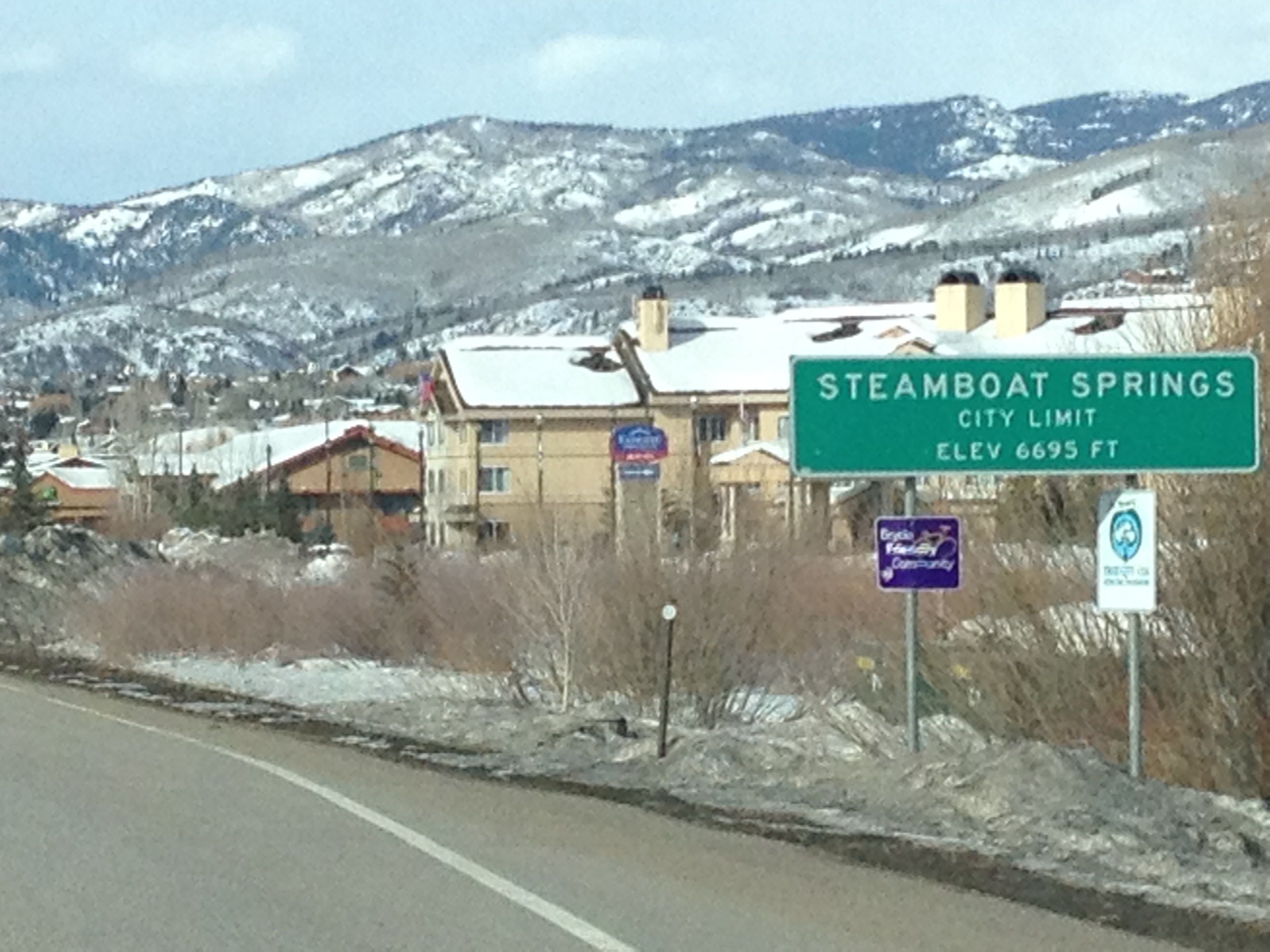 We went back and relaxed.  I was exhausted.  We took a long drive to Steamboat Springs and explored other parts of Colorado.  We went out the next night.  It was ladies night.  So, there were a lot of ladies as you could imagine.  I played some pool, and talked with some random people.  I started to think that I could move here one day.  These are my kind of people.  I felt like I fitted right in.  I could see myself exploring the Colorado wilderness pretending to not have a care in the world.  This could be my home.  But that day I went snowboarding, I was certain of one thing: I was not so coloradical.
Expert