Bangkok, Thailand: Scorpions, Suits, and Sapphires by Sarah Welsh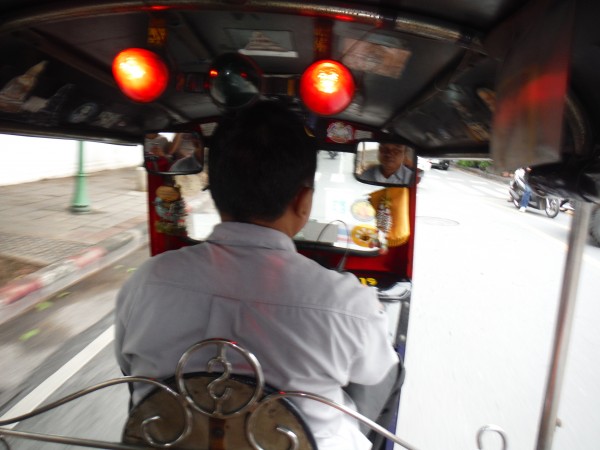 When I think of Bangkok a few words come to mind, calm, peaceful, and predictable are not some of them, but dizzying, exhilarating, and chaotic are. I arrived on Khao San Road around midnight on a Saturday night expecting it to be madness after everything I read in preparation for the trip and let's just say it didn't disappoint. Instantly, my body went into sensory overload, intense smells took my breath away (more bad then good) and they changed and evolved with each step I took. After an exhausting, mind-numbing, seventeen hour flight I was all the sudden feeling rejuvenated. My eyes quickly looked left to right and I remember thinking, people, lots of people, cars, pollution, and man was it hot.
After I passed my first pad Thai cart and a lady selling scorpions on a stick a grin instantly formed on my face— this is why I am here. I'm here to get my fill of Thai food which I can't seem to get enough of back home. I'm here to shop for ridiculously cheap goods, and of course I'm here to experience the culture and maybe even learn more about Buddhism beyond what I know which sadly is not very much.
Next, I checked into my hotel, Rikka Inn, a no frills budget hotel smack dab in the middle of Khao San Road. The location was an excellent base for exploring the riverside area and within walking distance to the major wat's. The rooftop pool was a godsend after walking around in the sweltering heat and knowing full well what was outside to greet me, I decided to call it a night and start fresh the next morning.
I started my day with an iced mocha which in retrospect was a terrible idea (travel rule number one: don't drink the local water) and headed out with no plans other than to get lost, learn the lay of the land, and see what I stumbled into. Within a matter of seconds, I was approached by a friendly, middle-aged Thai man who told me that he was a teacher and that today was a special holiday, Buddha's birthday. Being the trusting, gullible person I am, I believed him and he went on to tell me that since it's a holiday all "government" employed tuk tuk drivers aren't charging because the government will give them fuel vouchers. He then proceeded to mark several places on my map that he insisted I visit and he even went as far as to flag down a blue and white tuk tuk with a yellow license plate for me.
Amazed by the fact that I managed to align my trip with Buddha's birthday unknowingly, I happily climbed in the tuk tuk and handed over my marked map to the driver. He smiled and nodded and then we were off. I visited several temples, Standing Buddha, Big Buddha, Lucky Buddha, Reclining Buddha (not the real one at Wat Pho) and so on until all the sudden I started to feel sharp pains in my stomach. I thought well maybe I'm just hungry and asked the driver to take me to a good Thai restaurant.
He took me to a small street side stand, most likely a relatives, and I ordered arguably one of the best dishes I ate while I was there, spicy Thai basil with chicken, green beans, and a fried egg served with a side of rice. The heat from the chili sauce burned my mouth— it was much more flavorful than the more mild "westernized" food served on Khao San Road. With my stomach feeling only slightly better, I decided to ignore it and continued on with my exploration.
It seemed every temple I went to there was a man waiting to teach me nothing about Buddhism, but only to reiterate the fact that it was Buddha's birthday and also, it just so happened to be the last day to buy gems and get away without having to pay tax or something like that. I started to get suspicious the third time this was mentioned and felt stupid for falling prey to an infamous Bangkok scam. It was easy to do in such a disorientating city especially when you're approached by a nice person who speaks good English, and besides aren't they all Buddhists?
My driver told me he needed to collect his first "fuel" voucher at a place called Bobe Collection. I was skeptical, but went along with it and upon arrival it turned out to be a custom tailor shop and after being led upstairs by two men who placed several picture books in my lap I swiftly declined. I felt bamboozled, ticked off that this was happening. My husband on the other hand felt like splurging a little maybe because it was his birthday (literally) and still clinging on to the fact that he and Buddha shared the same birthday was talked into buying a $300 custom jacket and silk shirt which albeit they did deliver a good product in the end that would have cost an exorbitant amount back home.
Disenchanted, I was ready to go back to the hotel and relax, my stomach feeling even worse now, the tuk tuk driver promised us one last stop. He needed to collect his final voucher and he said it with such a desperate look in his eyes that convinced me. I agreed to go and reminded myself if he adds one more stop I can always jump out or run— anything to not get pressured into buying something I didn't want.
A short ride down a congested street and we arrived at our last stop, Color Gems on New Rama 6th Road. I shook my head in disbelief, a gem shop— I knew this was coming. He encouraged us to go in, "Just look you don't have to buy anything." A pushy older woman followed me closely around the store. I told her that I was just looking, but she was persistent, "You don't see nothing?" she repeated over and over. I walked the two floors quickly. I didn't need any jewelry. I rarely buy expensive frivolous things it's just not in my nature, plus I'm too stubborn and pressure tactics don't work on me, if anything they produce the opposite reaction.
Moving on, I had no problem telling her no, but on my way out I was struck by the realization that I recently lost one of the hand cut sapphires from my engagement ring and that it might be cheaper for me to buy the stone here and have a jeweler replace it when I got home. Needless to say, I am now the proud owner of two loose stone sapphires approximately one carat which cost me 3,000 baht, a little less than $100 USD. I left feeling happy with a questionable certificate of guarantee from an accredited gemologist in my hand and I asked the tuk tuk driver to take me back to Khao San Road. He obliged and as promised by the so called "teacher" I met earlier I wasn't charged for being driven around all day. Despite knowing full well I was in the midst of a sham I made the best of it and even enjoyed myself at some points.
In Bangkok you have to be a good student and learn quickly, don't eat the ice, or ride in a tuk tuk, and if you grow weary of fending off tailors on Khao San Road then walk behind the stalls along the sidewalk they mostly hound people out in the street. Also, don't grab a table closest to the street thinking you're going to enjoy yourself or the view– you will only be hassled the entire time. Once you learn the basic ins and outs you'll finally be able to start enjoying yourself and despite being delivered lies quicker than a side of rice it all starts to grow on you, the lies become more endearing, a way of life in a city with so much competition they do what any of us would do given their circumstance.
Bangkok and all its madness quickly grew on me– the reflection of lights on the Chao Phraya River, the glittering temples, and bottomless bargain shopping. When it came time to leave there was a part of me that was sad and not ready to go. I didn't get to do and see everything I wanted to.  It's an electrifying place to be and if you're looking for some place to make you feel alive again a place to challenge your will and patience then look no further. I'm not going to sugar coat it— it's not a city for the faint of heart, but if you can get past all the noxious smells, the choking exhaust, and the frequent trips to the bathroom you might just find that you enjoy it scorpions, suits, sapphires, and everything in between that is Bangkok, Venice of the East.
Oh, and FYI, for those of you who don't know this year Buddha's birthday in Thailand is on May 13th.
"Chaos is inherent in all compounded things. Strive on with diligence." –Buddha 
Rikka Inn 
http://rikkainn.com/index_pc.php
Address:  Khao San Rd, Talat Yot, Phra Nakhon, Bangkok 10200, Thailand
Phone: +66 2 282 7511
Standard Double from $30 USD
http://serialwritersanonymous.wordpress.com/