The Chosen Village – An Italian Mystery/Romance by Sarah Welsh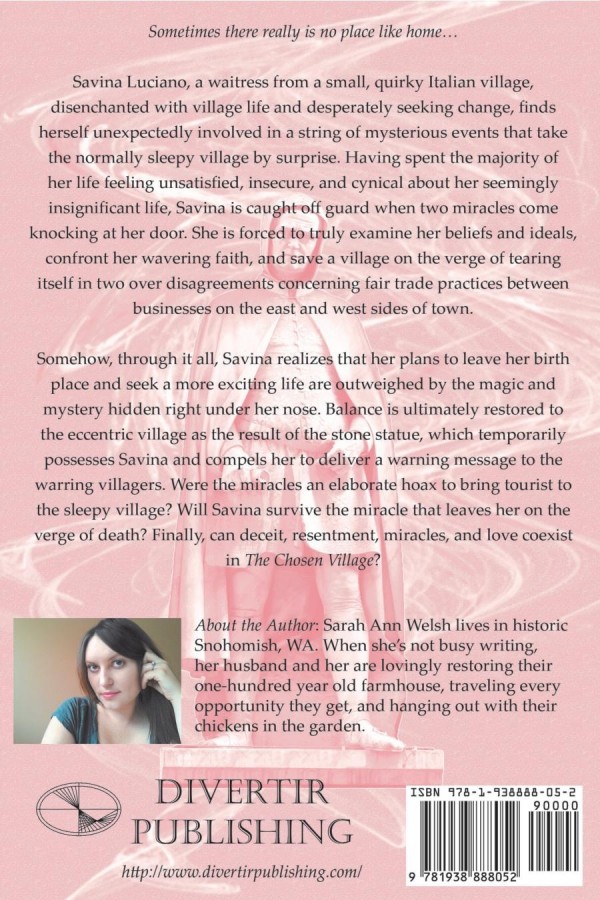 After much anticipation I am pleased to announce the release of my novel The Chosen Village, published by Divertir Publishing, LLC. Enchanted and inspired by my own travels around Italy this story had been brewing inside of me for some time and started to force its way out one cold and rainy January day in Washington Sate. That was three years ago and I'm blown away everyday with the rate at which time flies. The Chosen Village is a mixture of travel, romance, and mystery. It has some GREAT twists that are not predictable and makes you think about what is truly important in life. It is my hope that you will be entertained and inspired and forget about work and that to-do list as you flip through the pages while slow sipping a glass of red wine.
Here are the links to The Chosen Village:
Amazon: http://www.amazon.com/The-Chosen-Village-Sarah-Welsh/dp/1938888057/ref=sr_1_2?ie=UTF8&qid=1389655837&sr=8-2&keywords=The+Chosen+Village
Barnes and Noble: http://www.barnesandnoble.com/w/the-chosen-village-sarah-welsh/1118045188?ean=9781938888052
Now available on Kindle.
Thank you for your time and support of my dream,
Sincerely,
Sarah Ann Welsh
http://serialwritersanonymous.wordpress.com/