UP IN SMOKE: Incense Around the World by Sarah Welsh
The use of incense goes back further than written history itself and is used globally for different reasons be it spiritual, cleansing, healing, etc. Man has been heating resins, oils, and parts of plants for over a millennium and there are even several references in the bible that refer to it, "For from the rising of the sun to its setting my name will be great among the nations, and in every place incense will be offered to my name, and a pure offering." -Malachi 1:11
There are over five million receptor cells in the human nose and smell plays a huge role in our physical, emotional, and mental health on both conscious and subconscious levels. Smell cells are linked to the limbic system, a complex system of nerves that lie on both sides of the thalamus governing our emotions, memory, and even our behavior. Smells can even effect our dreams, arouse us, calm us in times of stress, and oddly enough, effect our purchases when we shop! A recent study at Chicago University discovered that people found new shoes more attractive when displayed in a room with a pleasing aroma, and they also valued the shoes significantly higher.
So when and why did humans start utilizing incense?
North and South America: It's well known that Native Americans have long burned sage, tobacco, and pine as part of their rituals and in South America, the Maya's and Zapotec's ceremonially burned copal, a resin from tropical trees. The Inca's burned the fragrant Palo Santo Wood, a mystical tree that grows on the coast of South America- it's name translated literally means "Holy Wood."
Egypt: The burning of incense was central to the worship of the gods in Ancient Egypt, certain gods were associated with certain incenses. The Egyptians favored exotic imported fragrances such as frankincense and myrrh. Kapet was one of the most popular varieties and was burned in the temples in the evening for religious and medicinal purposes.  The first reference to Kapet was in the Pyramid Text which dates to the fifth and sixth dynasties in Ancient Egypt. It is also listed as one of the many possessions that a king would enjoy in the afterlife.
India: The Vedas, text from Ancient India, discusses using incense for both medicine and pleasure. The first step in Ayurveda medicine uses incense as a tool for healing. With India's access to an abundance of base materials, it not surprising to hear that they have developed a huge variety of incenses. Incense sticks originated in India, a bamboo stick would be rolled in a paste mixture made of charcoal dust and perfumed ingredients. This type of incense was the first to become popular in the west.
China:  Incense is used in China for a variety of reasons, religious ceremonies, medicine, and ancestor veneration to name just a few. During the Song Dynasty the nobles built rooms specifically for the purpose of burning incense. Buddhist monks brought the art of incense making to China around 200 AD where they fine tuned it and turned its production into an art. Like with tea and calligraphy, they used many utensils and molds placed on a special table.
Tibet: Tibetan incense has remained unchanged for centuries. Mostly used for treating sickness, Tibetan incenses are describe as being "earthy" in scent and are typically comprised of thirty or more ingredients! One must be careful when buying Tibetan incense, it has become highly commercialized and the linage of the originator has become untraceable. Typically, authentic Tibetan incense originates from traditional monasteries and/or hospitals.
Europe: Europe has a long history of incense use, but mainly for magical ritual and herbalism using the local flora.
After learning about the importance of smell and it's affect on our life and health, I tried out a variety of incenses and fell in love with ApotheKara's Egyptian Kapet. She crafts her products by hand in small batches using organic and sustainable ingredients and has recreated the exotic scent burned in the temples of Egypt. It comes in pellet form and is meant to be burned on a charcoal. Her attention to quality and detail is unparalleled, she's even gone as far as traveling to Giza to pick up ingredients!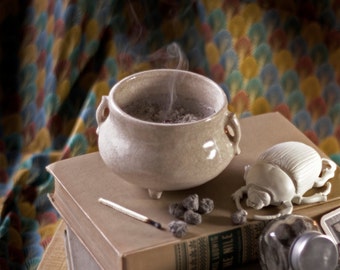 The scent is intoxicating as it slowly burns- the smoke swirls up towards the heavens. You realize you feel more calm and serene and wonder why you've waited so long to incorporate incense into your daily life like the times past.
Visit ApotheKara's Shop on Etsy:
https://www.etsy.com/shop/ApotheKara
Visit My Blog: http://www.sarahannwelsh.com
http://serialwritersanonymous.wordpress.com/