What I Didn't Plan For On My San Juan River Trip in Bluff, Utah by Sarah Welsh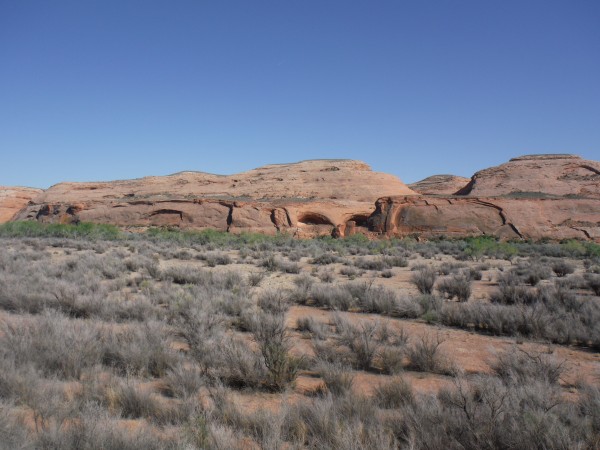 From intense sunny days to chilly starry nights, from extreme wind to extreme calm, my one week rafting trip down the San Juan River in southern Utah ruffled my feathers and eased my mind simultaneously. How could I feel so many different ways at the same time I wondered as I gazed up in awe at the curvy red canyon walls that constantly changed in color, size, and texture.
At the Sand Island put-in, our group of nine ranging in age from three to sixty had just put-in. All but three, myself and the two youngest, were experienced rafters. With a freshly opened can of beer in hand I excitedly sat down in the raft near the back.
I had never camped more than two nights anywhere in my life, let alone somewhere where you had to carry around what the experienced rafters called a "groover". Basically it's an old ammo can with a plastic toilet seat that sits atop it. I was told that it got its name from the days before they had the toilet seat fashioned to it and the ammo can would leaves grooves— well you get the idea.
I had my own personal ammo can for toiletries and things that I needed access to on the raft (i.e. sunscreen, waterproof camera, journal, etc.) A weeks worth and then some of clothes had been transferred to a dry bag and tied down with everything else on the back of the rafts. I was prepared— at least I thought I was based off of the many online river trip checklists and blogs I read beforehand.
There was a high wind advisory our first day. It churned up the light colored sand, blasting us in the face as we slowly floated down the river at a snail's pace. Sometimes the wind blew so strong we started to move upstream. Even though my eyes felt like they were on fire, I couldn't help but push the feeling aside as we passed by herds of desert bighorn sheep with their young grazing by the water's edge. We continued to spot a multitude of birds (wild turkey, blue heron, geese, ducks, and white-faced ibis). We also ran into donkeys, lizards, tarantulas, and luckily no snakes, only their trails.
We set up camp in a beautiful location on a cliff right off the river. We didn't have a fire that night which was disappointing seeing as I had been looking forward to sitting around the campfire for weeks, but my discontent quickly turned into delight as soon as I glanced up at the stunning night's sky. I can honestly say that I have never seen that many stars with such sparkling intensity, it made me realize how far outside of any major city we truly were.
Five of us passed around a bottle of whiskey exchanging stories in between pointing out shooting stars and satellites. Warmth still radiated off the smooth canyon walls even though the sun had set several hours ago.
Now deep inside my sleeping bag, I reflected on the day thus far. It had some highs and lows, but after a couple shots of whiskey, twelve shooting stars, and the prospect of a less windy day I was starting to feel much better— that is everything except my wind burnt and sandblasted eyes.
I woke up feeling optimistic. I knew today consisted of a short float, approximately forty-five minutes to our next campsite and a hike approximately three miles roundtrip. We were to see the Sand Island Petroglyph Panel, over one hundred yards of Anasazi rock art spanning from archaic to modern times and the River House Ruins, a Puebloan stone-walled cliff dwelling occupied between AD 900 and the 1200s.
You can still walk around the ruins, be in awe of the etched rock art, and examine the few remaining bits of pottery, corn cobs, and stone tools left behind by the prehistoric farmers. Both the Petroglyph Panel and River House Ruins exceeded my expectations.
Halfway between the two sites we hiked up the bluff where we saw more remarkable petroglyphs including one of my favorites, a group of fourteen natives standing in the exact spot we were and looking off the same bluff. It really made me feel connected to the area and the past.
The view was absolutely breathtaking. I could see why the natives chose to live there, 360 degree views of the most serene desert landscape reminding me of images I studied as a child of the Australian Outback. Not a cell phone tower, building, or human being in sight. The day couldn't have been more perfect. It ended with cold margaritas and the campfire I had long been waiting for.
Each morning started with breakfast, sometimes whole wheat pancakes and bacon or eggs and chorizo served with a hot cup of instant coffee. I was pleasantly surprised with what we ate. I expected MRE's, but instead got home cooked soups and curries, even a chicken salad (it pays to travel with experienced rafters). I was starting to get a hang of this river trip thing, groover and all.
By now I had lost track of the days. Time seemed irrelevant and each day I was blown away by the awe inspiring surroundings and wildlife sightings. Parts of the canyon looked like Lego blocks perfectly chiseled and stacked a mile high while other parts were the exact opposite. The sedimentary rock layers varied in color from light beige, peach, red, and grey. We passed through a couple of small rapids, Four Foot and Eight Foot, quite tame for whitewater standards. Other than that the water was mostly placid.
Our last day of the trip was bitter sweet. I was ready to take a hot shower and sleep in my own bed, but at the same time I felt like I could keep going. Being away from the hustle and bustle of modern life and not stopping once the entire trip to check the time was one of the most freeing feelings I have ever experienced. I found myself wearing the same outfit, one piece bathing suit, cut-off shorts, straw hat, and a long sleeve jean shirt when needed to block the sun— I didn't use half the things I brought along.
Yes, parts of the trip had been demanding both physically and mentally. It pushed me out of my comfort zone, but I found myself in a much more relaxed state then when we first started out. You can't help but come back from a trip like this not feeling a small part of you had changed in one way or another.
Our party of nine sat inside the Old Bridge Grill in Mexican Hat, Utah eating Navajo Taco's after just taking out of the river. We laughed and joked about the funny and not so funny things that had happened during the trip. I thought at first I was doing this for the spectacular scenery and the never ending starry skies, but what I didn't realize as I looked around the table at everyone's smiling, sun burnt faces was that there was something more to the trip that I didn't plan on. Something that an online checklist couldn't prepare me for and that was the bonds that we formed with one another and that will be the part of the trip that sticks with me forever.
Want to go, but have no one experienced to go with? Contact Wild River Expeditions– they have been doing San Juan River journeys since 1957.
http://www.riversandruins.com/
101 Main St
P.O. Box 118
Bluff, Utah 84512-0118
Toll Free (800) 422-7654
http://www.sarahannwelsh.com
http://serialwritersanonymous.wordpress.com/