Where is Kuala Lumpur and WTF is Chicken Floss? by Sarah Welsh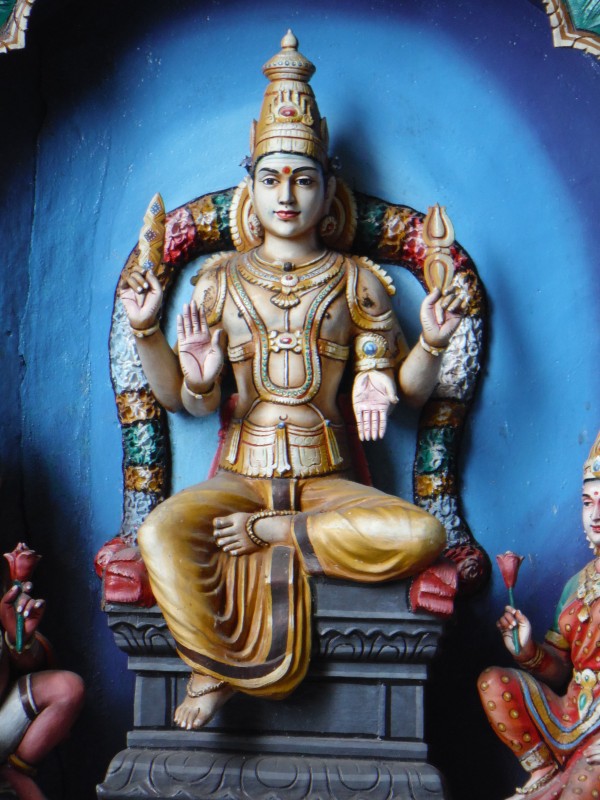 Where is Malaysia? Is it near India? China? Maybe it's in the Middle East. Ask the average American to point to where Malaysia is on a map and you could almost see the question mark form on their face. I sympathize with them, years ago I didn't know until I watched an episode of The Amazing Race and then I saw it for the first time, the Batu Caves. I didn't blink. My eyes feasted on the television it looked so mystical and instantly I knew, a guttural feeling deep inside told me that I would one day be greeted by the large 140 foot statue of Lord Murugan and climb up the steep 272 steps to reach the opening of the 400 million year old cave, but it would have to wait. It wasn't until recently I finally had the opportunity to go.
I flew into Kuala Lumpur via Bangkok, Thailand. Beforehand I made a point not to over research like I tend to do for everywhere else I go. I wanted it to be a surprise- there's nothing worse then building something up in your head to mythical proportions only to be let down by the real thing. As the plane was preparing for its decent, looking out the window I could have been anywhere. I saw bright green palm trees every which way I looked and sand that reminded me of the desert.
"Where am I?" I asked as I went in search of a taxi to take me into the city center which was annoyingly too far from the airport (surprise #1, if I had done my research I would have known this fact). I finally arrived at Geo Hotel. It was centrally located, my room was big, clean, and modern. The attached balcony had a great view of the Sri Mahamariamman Temple and I could almost throw a stone at Central Market and Chinatown. Not knowing what to expect I hit the streets with no plan like always other than to get lost.
Walking around Kuala Lumpur was refreshing after being in Thailand. Sure people would try to sell you their goods, but they took your refusal with an unexpected grace.
 (If shopping in the heat is too much for you, the air conditioned Central Market has mainly fixed prices so for us westerners not use to haggling you can go there to buy souvenirs mostly hawker free. The second floor is mainly a food court with a mix of multi-cultural food. Stop into Ginger and order a lime juice to go. It was the only thing I found that would instantly quench my thirst. Malaysia is hot and humid all the time and you can become dehydrated very quickly if you're not careful.)
 After an early morning flight and a long day of shopping I felt like a nice relaxing evening in my air conditioned room. I walked across the street from my hotel to a 7-11 type establishment and bought a couple of Tiger beers. I was a little sticker shocked- beer is more expensive in Malaysia compared to other countries in Southeast Asia (surprise #2), but no matter the price my mind was set on hanging out on my balcony throwing back a few cold ones and admiring the view with room service for dinner. I was ready for some comfort food. Something to remind me of home. I was craving something bland, no spice and for God's sake no more rice. Seeing as I was a little over 8,000 miles away nothing said home to me more then a club sandwich.
 Thirty minutes later there was a knock on my door. I was hungry and my mouth drooled in anticipation of sinking my teeth into the perfectly quartered, multi-layered,  slice of home consisting of turkey, bacon, lettuce, tomato, and mayonnaise. I opened the door and a nice smiley man handed me my dinner. My jaw dropped, it looked nothing like a club sandwich, but in order to "save face" I took it and closed the door. I immediately started to dissect it, the bread was white, check, but upon inspection everything else was wrong. There was no bacon, no lettuce, not even a slice of tomato, just a chunk of what appeared to be Spam slathered with ketchup, egg salad, and some brown shredded dry bits that I couldn't place. I forgot one very import fact- I'm in Malaysia. Malaysians do Malaysian food. I didn't bother to read the ingredient list on the menu when I ordered it. My eyes saw the word "club sandwich" and that's all I needed to see. Surprise #3, the brown dried bits ended up being chicken floss and if you're anything like me those words struck fear in me instantly.
 "WTF is chicken floss? Meat wool, meat floss, pork floss, flossy pork or pork sung…" I read from google off my tablet.
 Basically, it's teased apart stewed meat that has been dried in an oven. Not so bad right? Typically made with pork and seeing as the majority of Malaysians are Muslim chicken was used in place of it. Once I got over the initial shock of eating something with the word "floss" in its name I went ahead and tried it. Hands down, without a doubt, the worst meal I have ever eaten in my entire life and I learned quickly to stick to eating what they're good at, Malaysian food which truly is incredible.
 The next day I had a private tour planned with MM Adventure Travel and Discovery to finally see the Batu Caves with the addition of a firefly tour. Malaysia has one of the largest firefly colonies in the world and when I found out that I would be taking a non-motorized boat upstream in total darkness to view the scintillating trees lit up by thousands of fireflies I was in. I quickly returned to my tablet and googled pictures of it. Looking back I wish I wouldn't have because like I said earlier it kind of ruins the surprise and makes it less special when you're actually there experiencing it.
 Micheal, the owner of MM Adventure picked me up in the lobby of my hotel and in no time we were at the caves. I spent about an hour there really taking my time to admire the shrines, temples, and plethora of vibrantly colored religious figures.  The actual size of the cave was much bigger then I imagined it with the highest point being somewhere around 400 feet. I have to admit I couldn't help myself from focusing on the dozens of monkeys that hung around on the steps. I was advised not to touch them seeing as some of them were infected with rabies, but being an animal lover I had to get as close to them as I could without touching. I stood at the entrance of the cave then look back towards Kuala Lumpur. I finally made it and it was every bit as good I imagined it to be.
Next, we continued on to Kampung Kuantan driving through villages and plantations stopping briefly at a one hundred year old Malay house built completely with no nails. A kind older women let us in her home and we wandered around freely. It smelt musky, there wasn't a lot of furnishing, but the property her home sat on was beautiful. Micheal sliced into a latex tree and I finally learned where rubber came from. I was also introduced to a palm oil tree and was able to use the only word I know in Malay upon leaving the old woman's house which was, "terima kasih," thank you.
I ate a delicious seafood dinner at Restoran Hai Ung while watching the sun set over the Selangor river before heading off for what was suppose to be the highlight of the tour, the firefly portion. I regret to say for me it wasn't. After looking at the photos online I expected to be blown away by a kaleidoscope of color, but sadly it was somewhat of a let down. It was still amazing to be there out on the water, but the boat ride was short and you share it with other people. Two Chinese women on my boat in particular found it not an opportunity to tune into nature, but a chance to loudly chit chat the entire time rendering anyone incapable of enjoying themselves.
 Later that night I parted ways with Micheal and thought about how I was really fortunate to have meet him. He was funny, friendly, and very informative. I could tell he really loved what he was doing and genuinely interested in his customers well being. He spoke very good English and his attention to detail did not go unnoticed, from the ice cold bottles of water on the van to the fresh hands wipes, even organic bug spray was provided for the firefly portion of the tour! He had a love for nature and the environment which surpassed any other tour group that I've come across thus far.
 Of course no trip to Kuala Lumpur would be complete without seeing the view from the top of the KL tower, aka Menara tower. Reaching a staggering 1,381 feet above the ground it's well worth every penny you have to fork over to get up to the roof deck. It's a 360 degree view of the city which should only be visited during sunset hours. This was one of my favorite moments from Kuala Lumpur. There was only a handful of people up there and I got to just relax, watch the sun set and listen to the Islamic call to prayer. It was magical to be there in that moment and I watched for at least another hour as the sun conceded to the moon and the dazzling lights of the Petronas Tower lite up the city like the Griswold's Christmas Vacation.
I continued to gaze reflecting on my brief, but highly enjoyable trip to this beautiful cultural hub of Asia and was so thankful that I got to see some of its charms. The people were friendly, the food was great, the shopping excellent, and its close proximity to nature's wonders is hard to beat. I really couldn't ask for anything more from a city. For those of you who are considering going I highly recommend it- don't hesitate any longer. There's more to Kuala Lumpur then what meets the eye like for instance, the bottle of Beaujolais that I'm drinking while I write this it's not only for Thanksgiving people. KL has a lot to offer the unknowing traveler. Like any good women she presents herself like an open book, yet throws you a curve ball every once in awhile to keep you on your toes.
"Something is worth doing that is worth doing well. If you choose to hold a burning ember in your hand, hold fast until it turns to ashes. So too, should you decide to plunge your hand into a pot of pickles, go in all the way up to your elbow." -Malay proverb
Hotel Geo
 http://www.geohotelkl.com/
 No 7 Jalan Hang Kasturi, Kuala Lumpur, Malaysia
 011 60 3-2032 2288
 Standard Room from $40 USD
MM Adventure Travel and Discovery
 mmadventure@gmail.com
 Restaurant Recommendation:
Restoran Jalal Yusof
 No1 Jalan 4/109F Taman Danau Desa, Kuala Lumpur, Malaysia
 (Across From Central Market)
http://www.sarahannwelsh.com
http://serialwritersanonymous.wordpress.com/