The dual schedules and endless days permitted some wonderful scenery from outside my 'office' window.  Everyday would bring a new cloud or fog formation wrapping the bases of the mountains across the bay, leaving just little pointy blue tips floating above the white billows.  Patiently I'd monitor the progress of our sun rising behind the jagged peaks, or setting into the fluorescent pink swirling haze on the western mouth of the bay.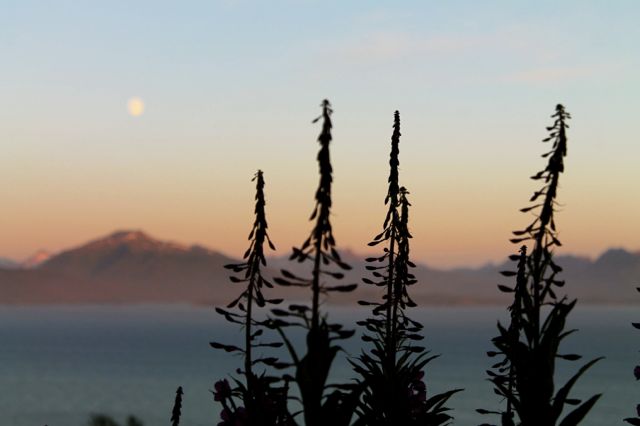 "Does everyone else come in wearing robes and sneakers since everything else is in the wash?"  Spending eight or more hours a day in a laundry facility, I did manage to witness people in a unique, slightly vulnerable state.  Dirty, desperate for clean clothes, road-worn. Whatever wasn't important enough to get in the laundry was what I saw: shorts, pyjamas, sweats and other last-resort articles of clothing.
Welcome to Homer, Alaska "the halibut fishing capital of the world," or also known as, "a  small drinking town with a fishing problem."
By the end of the summer, I had two jobs both at RV parks and was wearing five different hats.  At one job, located on the zoo of the Homer Spit, I attended the laundry/shower room keeping it tidy and helping the customers as needed, while getting the occasional call into the main building to make espresso drinks at the little cafeteria area as per request.  At my other job, downtown, I managed the front desk checking in RV guests, while helping do retail in the gift shop.  And when the owner was short-staffed at the ice cream shop next door, I would dish out scoops and sprinkles to late-night sweet-tooths.
"God Bless America" spelt out on the patriotic baseball caps worn by grey-haired seniors, often ex-military, presumably conservative right-winged southern folks.  On too many occasions I just couldn't see eye to eye with the people I worked with and for.  At my busiest week, I got up to 72 hours between jobs.  Although it sounds bad, I was honestly just doing it for the cash.
Unavoidably, every twenty minutes my eyes could not help but skim the little metal collection bucket of the change machine for stray quarters.  Or shift back and drop into the empty clear Tips jar, knowing that never again would I get a one hundred dollar bill, or even a twenty.  The early days when I scrubbed every surface and cranny in between helping guests with the finicky washing machines or wiping down the shower stalls between each user while keeping a chipper attitude, eventually slowed down to a slow trickle of guests in the park and a much lower level of regard for the work.
In general there were three significant responses when people heard that I was going to get my Masters degree this year.  As it goes, in small towns where tourism plays a big part in the industry, people often wondered about people's lifestyles and consequently asked me about mine.   Many wanted to know if I lived in Alaska year-round, since a lot of the tourism workers were just young people from elsewhere working to fund their own summer trip to Alaska.  My response was that while I had grown up in Anchorage and Homer, I had actually been living abroad for the majority of the past six years.  Most of the people just raised their eyebrows and smiled politely accepting "abroad" as some singular place confused people go to when they want to get away from Americans.  I usually followed up by mentioning that I was planning to re-enter University this fall to get a Masters degree in Scotland.
The folks that got that far, inevitably had to ask about which field I would study.  At this point I looked them straight in the eye and let it roll off my tongue, "International Development", waiting and watching for which reaction this one would give me.
Confusion – blank wonder as to what in the heck "International Development" meant or involved
Restrained Anger -  probably flashing images of me assisting turban-wrapped terrorists plan out attacks against their beloved country.  Or  just plain inability to understand why I would want to help other countries.  How will developing other nations keep Americans on top?
Intimidation – these were probably the people who had never traveled outside of the US or their home town, who had never completed much in terms of formal academics.  Why and how is this girl cleaning my showers going to develop the world on an international scale?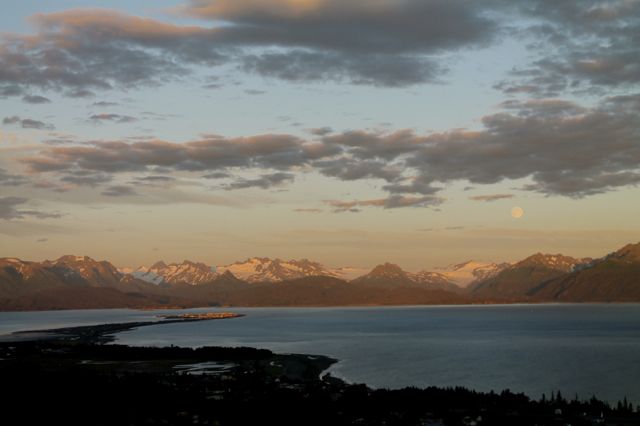 On one hand, I did manage to make one hundred and twenty dollars in tips one day, but on the other hand it was no wonder I had no time for any sort of social life.  Nor was it a mystery why my body felt perpetually exhausted for two months straight.
It felt like much longer than two months, but summer is now over for me; the chilling rains have set in, and the tourists have disappeared.  I hope to never return to either of my work places, except maybe to stop in and say hello.  And I am excitedly looking forward to a year of hopefully something more productive than my most recent ones, one that will leave me satisfied and feeling that I'm not just floating around or at a standstill in my life.  Graduate school in Scotland, here I come.
Expert