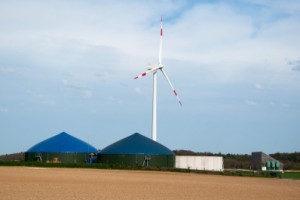 Developed countries are reaching a key point in their power development strategy. Between old production modes that are no longer industrially viable and future systems which are yet to be operational, the West is stuck with a power generating system it is no longer very fond of: nuclear fission. England has decided to launch an innovating system, based on biomass.
Biomass energy production has a two-sided background. It was initially thought to absorb biological refuse and produce with it clean, renewable and cheap (if not free) energy.  Amongst such installations, some have shown remarkable efficiency levels, both on cost and environment levels.  However, as such plants emulated, the model turned out to be much less profitable, on a large scale.
The reason why the profitable market was not scalable came from supply.  As long as the biomass plants was feeding on extra refuse from other industries, such as wood and lumber factories, the business model was particularly efficient and profitable.  But when bark and chips and sawdust were all absorbed, more had to be produced to feed the new plants.  And that part wasn't free, far from it.  So the model couldn't be reproduced as such, beyond a certain limit.
It is on the basis of this scenario that CNIM developed its biomass cogeneration technology.  Only use what refuse there is, and not produce more, for fear of being less efficient.  They also decided to resort to cogeneration (producing both electricity and heat, in one single operation).  Because manufactures have to heat water for certain processes, they are on the lookout for cheaper alternatives to electric or thermic heating solutions.  Simply distributing water which has already been heated turns out to be a local, but effective solution.
This jointly allows the Ridham Dock plant, the last one of the kind built by CNIM, to reach high levels of efficiency.
The Ridham Dock plant will absorb over 170 000 tonnes of wood debris and refuse, every year, from surrounding industries and housing areas.  The wood come either come in the form of chips, bark or sawdust, if it comes from factories, or from old furniture thrown away by residents.  The wood can be slightly "contaminated", in the latter case, and still be used (treated wood surfaces).  That's for the input.
The output is double : on the one hand, the plant will produce just under 200 000 million kW/h in one year.  On the other, all of the surrounding industrial facilities will be receiving hot water from the biomass plant which will have produced steam for its electricity production.   The process is known as CHP (combined heat and power).
The plant will be delivered to the operator MVV Energie (Germany), in 2015, upon completion.  MVV already operates 3 similar plants in Germany, with larger capacities.
CNIM has specialized in these high-tech plants, which do require a sophisticated level of know-how. Georg Müller, the CEO of the client company, MVV Energie, says "The plant will have a high energy efficiency rate, absolutely state-of-the-art technology and make a valuable contribution towards ecological energy generation."  The whole challenge of biomass energy production is to raise its efficiency level to par with the other electrical production means we have.
In other words, there are many ways for biomass energy production to go wrong.  First, the quality of the steam can be insufficient, which will greatly decrease the efficiency of the plant.  Then, given that such a plant is necessarily close by to the people and factories it is supplying in electricity and homes it is supplying, the matter of air saturation must be dealt with.  Especially in the case of plants which burn contaminated wood, the fumes can be a nuisance to the local inhabitants in addition to damage to the environment.
CNIM has therefore built its own industrial triumvirat. It is specialized in engineering specific industrial systems.  Because the electricity production system is steam-driven, CNIM acquired Babcock Wanson in 1989.  Babcock Wanson is specialized in high-grade industrial boilers and therefore provides and integrates the latest model the market has to provide, at a competitive cost.
Also, CNIM acquireds the smoke-treatment company LAB, S.A. . It is specialized in filtering fumes and steam, before releasing them back into the air.  Whichever plant CNIM is building, it has an integrated partner available to install the air filtration system. Finally, CNIM has tens of years of experience in electrical production from other fields.  The company intervenes as an engineering contractor on nuclear plants, wind and thermodynamic solar power farms.  The knowledge accumulated through all those contracts can be, to some extent, capitalized on biomass production constructions.
England knows that renewable energy is not only economically viable, but also economically interesting, if and only if the contract is awarded to companies who a have strong expertise in the field.  Given how young the technology is, the risk for misconception or low return on investment is substantial.  And just like with any other project, the more third parties there are (such as subcontractors) the higher the risk of glitches. Entrusting the project to proven companies with the right internal organization and toolset is therefore the only way to clean, profitable and reliable energy.