In much of West Africa, where traffic stops, a market begins.
Markets spring up at transport hubs – transport hubs spring up at markets. Border crossings and police checkpoints are more impromptu shopping areas than portals of officialdom. Sometimes, markets spring up at large pot-holes. I came upon a fresh market outside Lagos and wondered if the two crippled beggars dragging their way down the middle of the road had taken advantage of the market, or if the market had taken advantage of them.
Markets outside towns are satellites to the commercial hubs. Some even become the hubs. Staying outside the town of Porto Novo in Benin, I asked a moto-taxi rider to take me to "centre-ville." He turned around and took me in the opposite direction to the real "centre".
This is one kilometre of that roadside market.
 
2 Meters wax printed fabric: $7

High heels: $15

Flip flops: $2

Not for sale

Status and freedom: $520

Even greater status $700

Moto-taxi ride: $1.50 (for two)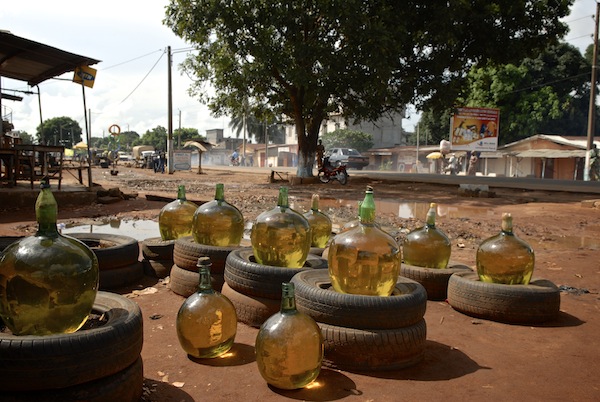 1 gallon fuel: $2

Bespoke threads: $21

Price for photo of pretty woman: A meeting with her dad

Cut and shave: $0.50

1 game of foosball $0.10

Getting beaten at foosball by a one-eyed man: Devastating

Pay-as-you-go sim card: $3

8watt energy efficient bulb: $2

Dancing in the street: Free

I didn't ask the price
Expert