A prolonged teeth-sucking noise emanated from his lips as he hesitated, ruminating on the best way to respond to a concern he clearly didn't feel qualified to answer with confidence. "Shit," was all my laconic and softly spoken driver, Sharif, could muster, smilingly emphasising the trailing T to add to the theatre of it all.
As we tore down a poorly lit desert highway in the midst of the "worst sandstorm I'd ever seen," according to a talk-back radio caller, I had asked whether it was safe to "bash" dunes despite such low visibility. Clearly, this kind of phenomenon doesn't happen so often in the thriving UAE – its safe, skyscraper-dotted twin cities populated by the rich and playful.
Before leaving the central business district I watched with undivided attention as men in traditional robes battled manfully to keep a window cleaner's scaffolding from collapsing to street level. Women scurried along footpaths with hands on heads in search of a safe haven. I wondered with guilty anticipation if it was wrong to hope to be witness to the denuding of a hijab, and the shameful yet fruitless pursuit that would ensue. Expatriates, either coddled and safe in their high-rise apartment complexes or climate controlled shopping malls, were nowhere to be seen.
As a cheesy modern American pop song tarnished the delicious silence of anticipation, and in the case of my car-mates – a middle aged Chinese man and elderly father, and an Indian mother and wide-eyed child – fear of the unknown, I turned my focus to the fifty metres of visible bitumen ahead while the first microdose of adrenaline was gradually released. This was going to be just as fun as the world's fastest roller coaster I had yesterday subjected myself to at Ferrari World!
The first stop as per the itinerary was a camel farm – an isolated and almost ramshackle outpost surrounded by dunes. The animals were remarkably placid and composed, in enviable harmony to their natural habitat, while we wretched humans turned our heads away from the brunt of the wind and steadfastly withdrew our lips to keep our teeth grit-free. Yet we laugh when people feed camels peanut butter (myself, admittedly among them.)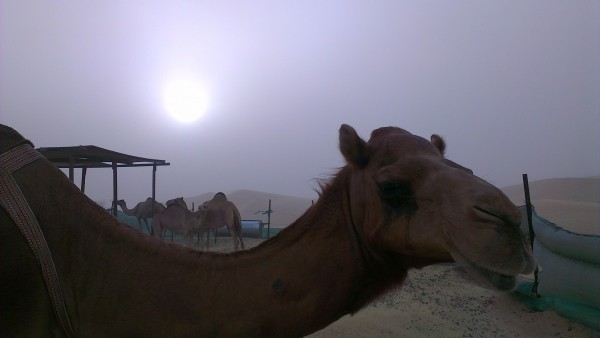 Here an entire crowd of six 4x4s and their passengers gathered, the drivers nervously waiting for the winds to die down before proceeding with the challenging episode of our adventure safari. By some twist of fate, the desert gods responded. Peaks and ridges became defined and we all loaded ourselves into the comfort of our vehicles with eager anticipation. Tyre pressure greatly reduced to increase traction on shifting surfaces our convoy began powering over small mounds with ease. Sharif giggled like a novice and the toddler squealed with joy as the manoeuvres became gradually more complex, our assured pilot in complete control with every spin of the wheel.
The angry, red desert sun lorded over us through a shroud of sand and dust, growing so large and painlessly visible as it gradually neared the horizon that I became convinced it had miraculously changed places with the moon. Our drivers became daring, tackling angled slopes with sharp drops in an engine screaming first gear, satisfying my itch for both unique adventurous experiences and scenic photo opportunities. Upon asking Sharif whether he was experienced in such conditions, he hinted at some trepidation approaching shifting peaks that were clearly affected by the recent storm. Though judging by his easy smile and calm demeanour, I suspect it was all a modest bravado.
After at least half an hour of bouncing up and down dunes a stunning fort revealed itself to us in a sheltered valley. This was to be our oasis for the next couple of hours, from where we could watch the sun's glorious departure and see the glittering stars spring forth in its wake. My appetite for adrenaline temporarily sated, my thoughts turned to the delicious feast being laid before our eyes, which was to be enjoyed lounging over luxurious Arabian cushions.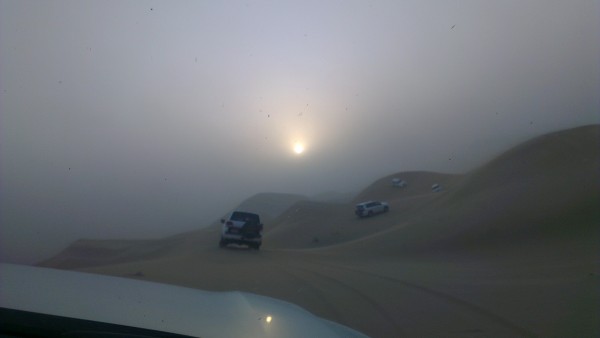 I coincidentally happened across a pleasant couple originally from not only my country, but from my humble neighborhood in suburban Melbourne. En route back to Australia following an extended residency in North America, we were effectively trading places. Together with some Frenchmen who had lived at times in Quebec we ate, drank, smoked the shisha pipe and spoke of travel experiences and foreign cultures. A graceful bellydancer mesmerised the crowd with a variety of performances, at one point boring a hole in my forehead with noticeably sustained eye contact. To conclude this spectacle, everybody was invited to the stage to partake in what surely would have been an awkward moment back in the routine of our home environment. Yet here under the desert night sky flushed with relaxed contentment and surrounded by new friends, standard rules no longer applied.
Abu Dhabi marked the point in my journey at which I finally set off alone to toward my destination in Canada, from where I intended to live, work and temporarily be a part of their society. Any doubts or hesitations I harboured until that night were quickly dispelled by the amazing words of encouragement from the people I met within the fort. As we replaced our shoes and headed back toward our rides, one of the French guys implored me to seek out the bellydancer. He was convinced she was broadcasting much more than confident showmanship to me. But alas, by that time she had vanished as quickly as she had appeared.
Still nothing could wipe the smile from my face as I drowsed in the front seat of the car. Booking in the desert safari day tour had turned out to be one of the best decisions of the trip.
Over the following two days, Hurricane Sandy kept herself busy terrorizing the US Eastern seaboard. Coincidence for two such extreme weather phenomena to work in tandem?  
- Andy