Goa is a kinky destination as far as honeymoon goes. You can enjoy a trip out here during any part of your life. But a Goa honeymoon tour is something what we would like to call as exotic, exquisite and erotic. Yes, there are beaches where you can run in your innerwear and even get touchy-feely (though if you intend to get more than just touchy-feely, we would say 'go, get a room guys'). Yes, there are spa parlors where you will guiltily discover that the masseur can give you greater physical pleasure than your spouse does.
Yes, there are restaurants where you can enjoy a cozy romantic dinner and sip on wine until you are high enough to get into that 'naughty' mode. Yes, there are casinos too where you can let your wife indulge in games which are played on tables and machines (and for a change, not on the bed). Yes, there are wildlife sanctuaries too where you can learn from the cats and apes how to go au natural and do it the right way (wink). Yes, there are waterfalls (like the Dudhsagar Falls) where you may spend some romantic time with your wife and imagine her as the transparently-clad Mandakini from the good old 'Ram Teri Ganga Maili' days. Yes, there are decadent forts (like the Chapora Fort and the Aguada Fort) which you can find out through any Goa travel guide and which will leave you in nostalgia, an essential precursor to Elizabethan romance. Yes, there are legendary spots like the Dona Paula Beach where you can take a stroll and recollect the story of Lady Dona (who committed suicide with her lover after a social whiplash).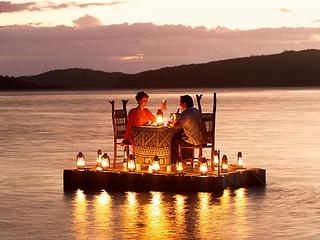 Yes, there is the Old Goa where you can just saunter through rows and rows of old buildings and quiet churches whose romance can fill you up with a very chaste kind of happiness (the Basilica of Bom Jesus is a prime example of one such place).
Yes there are the flea markets like the Anjuna Flea Market or the Saturday Night Bazaar where you can experience the more fun-filled and leisurely side of your Goa honeymoon tour. Yes, there are those glitzy bars and snazzy discs where you can have a wild nightlife and then head back to your luxurious resort during the wee hours. Yes, there is everything in Goa which can make your honeymoon a really memorable affair. And yes, there are the boisterous carnivals and festivals to relish if you choose to plan the honeymoon during New Year's Eve.