They say Bangkok is the Mecca for a shopaholic. We won't contest that, since this is one city where you can find whatever you want and at a price you want. With Thailand packages, sightseeing often takes a backseat since the tourists (read 'women tourists') are more eager to fill up their bags with anything they can take home at cheap rates, which accounts for nearly everything.
One of the more popular items which people buy in the city is Thai silk. Now, Thai silk is not just high on finesse but it also comes cheap. So, even if shoppers don't have any urgent need for it, they go ahead and buy some. It also makes for a souvenir and you may try knitting something out of it during your lonely days.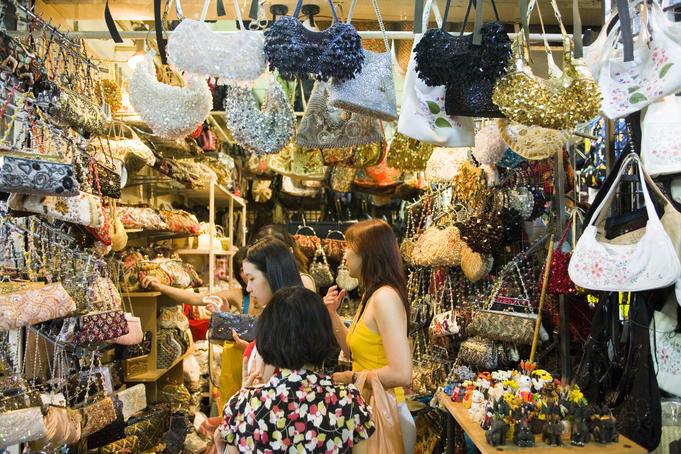 Clothes and jewelry are the women's favorite things to buy when they are in Thailand. In fact, they are women's favorite things to buy when they are on any part of the planet. The only difference is that Bangkok's cheap bazaars give them a guilt-free license to splurge. Of course, there are retail shops as well in malls like MBK and Siam Paragon, but if you are looking for casual everyday clothes, you may be more interested in picking them up from Chinatown. The stalls there will sell you everything at a rather shoestring price, though you should be able to bargain the price down to your favor.
Ceramics of Thailand are also considered exquisite and if you don't mind carrying back a few, they can help you refill your kitchen in a beautiful and economic way. There are many traditional Thai products as well and they always make for delightful souvenirs. Try to look for mats, carpets, sculpture and fruit bowls of Thai origin. The prices will depend on the quality but you're like to get them fairly cheap. Plus, they are practical items and can be put to use back at home.
If women are more into apparels, men make sure that they buy at least a couple of DVDs to satisfy their cravings. Thailand is notorious for selling pirated DVDs at throwaway prices but then you can also get the genuine ones at fairly low prices, which is a good thing since we don't want our readers to run away with the idea that we are promoting counterfeit goods.
While Bangkok is any shopper's eye-candy, we tell you that shopping is also amongst the top things to do in Phuket, another touristy town. So, do check that out too!