Questions and Absolutes on the Cumberland Trail
Dad's way of walking isn't the walk of an elderly man out ambling. It isn't the walk of an athlete out to cover ground either. His steps are louder than the steps of an experienced hunter out stalking game. Yet they are quieter than my own dragging leaf-rustling ones.
His walk, the walk of a botanist, involves constant downward glances at both sides of the trail, scanning for interesting sights. In the winter it can be an astonishingly quick walk. I found myself running to catch up with him today as we walked in the gorge above Deep Creek.
"You're really rustling the leaves," he said to me, observing my low steps. I knew he was trying to help me out. Animals had become my thing just like plants had become his, and leaf dragging didn't help. I tried picking up my feet more above the leaf-bed.
"Now I'm more quiet than you are," I said.
"What was that?" asked Dad.
I said it louder.
"You don't need to be so self-conscious," said Dad.
It was easy for him to say. For him consciousness was unconscious. Every minute was a new moment to explore the forest. Oddly though I'd seen him do the same style of downward glancing even when walking on roads in our neighborhoods.
Glancing does not do justice to Dad's method. He can ponder what he sees if he wants to. For him, eyes are tools. He doesn't have to look at something for a long time for it to register. He only takes long gazes at mysteries.
Here on the Cumberland Plateau in East Tennessee, December means bare trees and dead leaves covering every hiking trail. Beyond the bare tree limbs, we could see the town of Soddy Daisy in the haze. As we had driven through it, there was nothing mysterious there.
Dad's eyes turned instead to a patch of white in the river that ran through the gorge.
"What do you think that is," he asked. "Ice or whitewater?" It was too far below us for us to see for sure. The trail did not head down that way and we would not be looking at it today.
He stopped later to examine a plant that seemed to be springing early or possibly wilting late. He wasn't sure.
His methods could not be further from my own. I hiked to get pictures, videos and ideas in my head. Yet I could learn from him. Curiosity for its own sake is rarely wrong.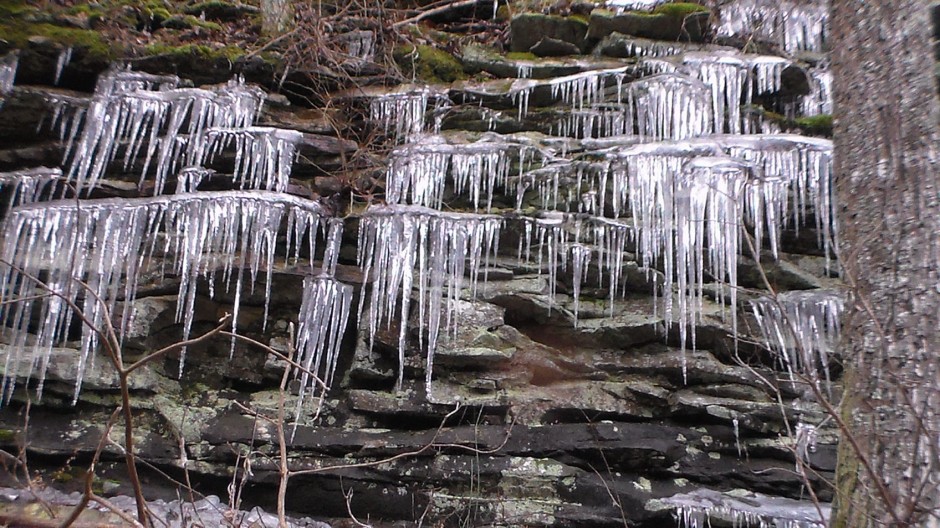 Expert