It was January of 2012 and I was in the middle of a 2-month trip to 5 countries across 3 continents when I landed here in Cambodia.
This was still the beginning of my rebellion against the traditional working model – one of being shackled by 50-hour workweeks for 48 to 50 weeks a year. The idea of taking a 2-month hiatus felt foreign and to be honest, I didn't have a damn clue what I was doing. The longest I had ever been on vacation up until that point was maybe 10 days, so taking 2 months to see 5 countries felt completely rational at the time. However, as the trip went on, I found myself wishing I could slow down.
But damn it – I had already booked my ticket back to Australia, a non-refundable live-aboard scuba-diving trip in Thailand, and flights from Japan to Cambodia which would have incurred a hefty change fee. I was able to cut out one or two stops here and there, but I was more or less locked in.
Everyone knows that when it's your first time, you're never as capable as you hoped and it never lasts as long as you thought it would (yes, I'm still talking about traveling).
If I could redo that 2-month trip back in 2012 – and apply some of this travel "wisdom" I've accumulated over the last couple of years – my plans (or more accurately, perhaps lack thereof) would look drastically different. But, even with that being said, there are some things that I just wouldn't change.

1 – Do visit Angkor. This is one of the most unique sites in Southeast Asia and not visiting it should made be illegal. If you tell me that you went to Cambodia without seeing Angkor, I will find you, punch you in the face, and burn your passport. It may be crawling with tourists, but as a backpacking friend once said, "Awesome places are awesome and touristy for awesome reasons – it's because they're fucking awesome." He might not have been the most articulate speaker in the hostel but he made perfect sense. Yes, there are unique experiences and amazing people on the unbeaten track, but that doesn't mean the culture icons that dawn the cover of travel guide books should be missed just because they are on that crowded, beaten track.
2- Don't be a cheapskate and only get the 1-day pass to Angkor – the 3-day pass is only marginally more expensive. Angkor covers about 1,000 square kilometers (390 square miles). So imagine a plot of land that is 30 km x 30 xm (or 20 mi x 20 mi) – which is to say that it's… BIG. Besides, if you went all the day to Orlando, Florida – the mecca of theme parks – would you try to conquer Disney, MGM, Universal Studios, and Islands of Adventure all in one day? I think not. Besides, don't you want to feel like Indian Jones / Lara Croft for more than just one day?
3- Do mix it up at Angkor. Hire a guide and tuk tuk one day and rent a bicycle to get around on your own the next. Pedaling around (and potentially getting lost while misplacing your bicycle – not that that would ever happen to me) is only part of the adventure. However, you may not want to pedal/walk/jog around everyday, especially if you're traveling solo. Having human companionship (even if it's paid for) is always nice, especially if they have interesting stories to share. And to be clear, I'm talking about guides – not the other type of "paid companion." But, if you did manage to find one that could wear both "hats"… well, who am I to judge.
4- Don't pee, poop, vomit, or fornicate on the trees. I'm not speaking from experience or anything, but I hear it is highly frowned upon.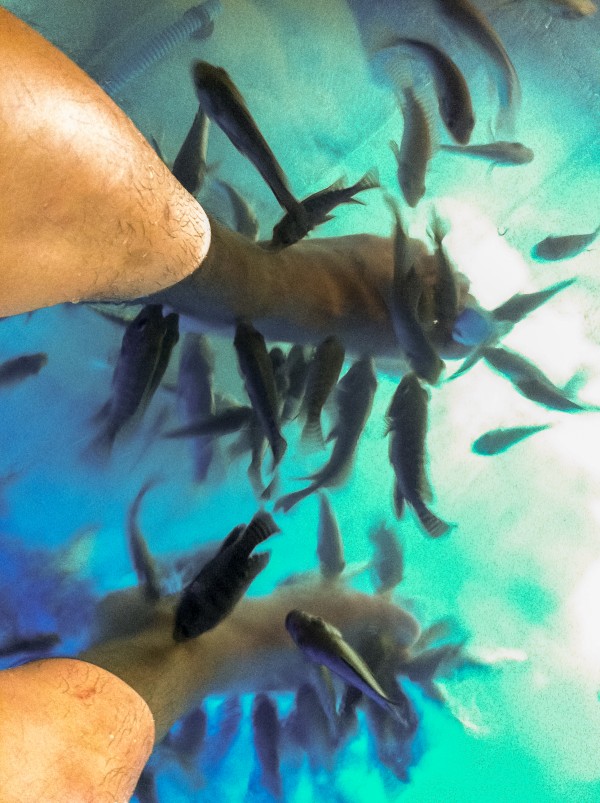 5 – Do get a fish foot massage when cruising around at night, perhaps after an authentic Cambodian dinner and before drinking (way too much) alcoholic punch at the local watering holes. Having a couple dozen of these little guys gnawing on your feet is a very unique sensation, to say the least. However, a foot massage is all they will allow – no happy endings here (not that we asked).
6- Do take a day-trip to visit the Kompong Phluk floating villages in-between your multi-day visits to Angkor. It will cleanse your palette and get you ready for more temples, stone statues, and mutant-size trees.
7 – Do discuss prices before getting in the boat. Be aware that not only will you need to take (and pay) for a boat taxi to get you from Siem Reap to Kompong Phluk, but then to cruise around the forest and other parts of the village that the larger boat taxis can't navigate to, you will need to take (and pay for) a separate, smaller paddle boat. People who organize the tours at hostels, as well as the boat taxi operators tend to overlook this little nuisance every time. It must be an honest mistake. Every. Time.
8 – Don't get into a shouting match with the guy paddling the little boat, or the guy driving the bigger boat over their negligence to inform you of this extra fee. They won't understand you anyways. Or at least, they will pretend not to. Secondly, they then won't give you a tour around the village in the paddle boat, which is really the best part of the trip. And if you really outdo yourself, you may not even have a ride back to town via the boat taxi. I'm guessing the locals won't be all that thrilled about paddling you all the way back to Siem Reap and then home again just because you managed to alienate everyone around you.
9 – Do visit the Tuol Sleng museum. Most people associate traveling in southeast Asia with heavy drinking, white sand beaches, ladyboys, and massages – possibly from aforementioned ladyboys. Or is that just me? And a trip to SEA should definitely include some/all of those things, but one should also attempt to understand its history in order to truly appreciate and understand how, and why the government, people, traditions, etc are the way that they are.
10 – Do read up on the history of the Cambodian Holocaust and visit the Tuol Sleng museum, as well as the Killing Fields to better understand the gravity of what occurred during that period and to have a sense of appreciation for what this country has endured.
11 – Do take a stroll through the Royal Palace. The architecture and art are absolutely beautiful – probably unlike anything you may have experienced in Western cultures, unless you happen to frequent Benihana.
12 – Do take your time getting to know these palace grounds. It's very well cared for, and despite being a "touristy" destination, it is very quiet and a perfect place for a stroll to relax and reflect.

13 – Do take an ATV tour through the countryside. Or don't. This was a tough one. On one hand, it's a great way to see the tiny villages on the outskirts of Phnom Penh while going for a countryside cruise. However, on the other hand, it seemed at least somewhat debatable on the topic of "ethical tourism." But, having done it, I would personally say it's a do. The residents of the various villages we rode through all smiled and waved at us – especially the children, who often ran out of their homes and alongside our ATV's just to shake our hands or to give us a high-five.
14 – Don't drink the roadside coca-cola. Because it's gasoline. This was a close call.
15 – Do enjoy the lunch break in the huts on the riverbank during your ATV tour. And do buy some fruits and snacks from the local vendors to support the local community. Also, try the snails. Or maybe not.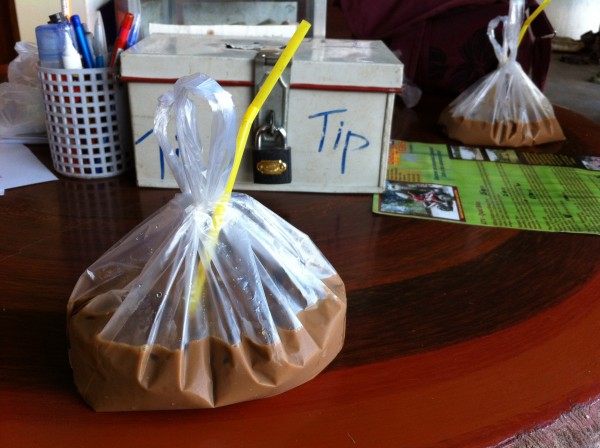 16 – Do drink iced coffee from a plastic bag. It's better than you think it would be.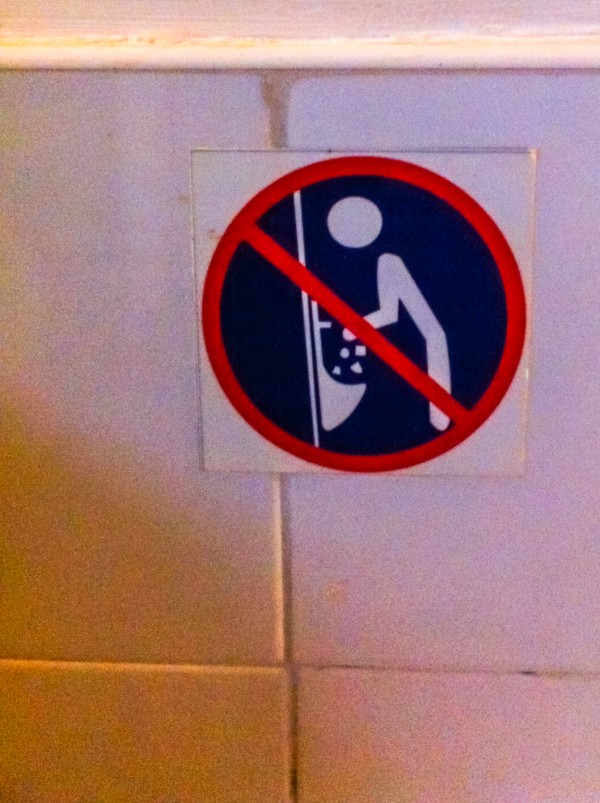 17 – Most importantly, no matter what, do not, under any circumstance, wash your hands in the urinals. Your hands will never be the same again.