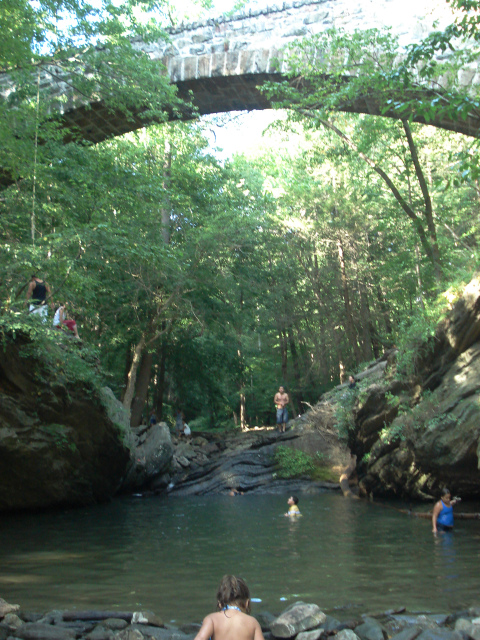 http://matadornetwork.com/community/citiesinpixiedust/an-urban-swimming-hole-in-philadelphia/attachment/4/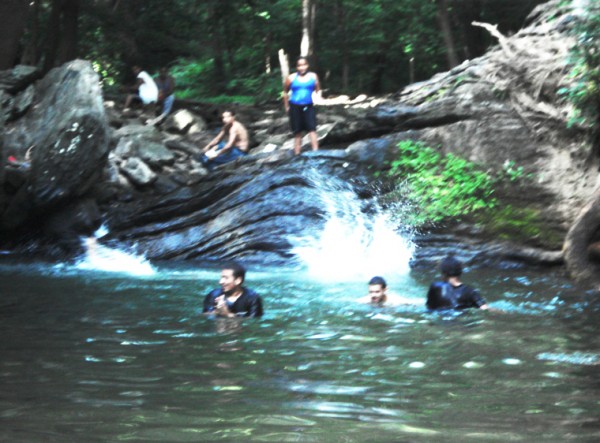 http://matadornetwork.com/community/citiesinpixiedust/an-urban-swimming-hole-in-philadelphia/attachment/5/
As a child, I spent some of my best summer days getting lost in the trails and wading in the waters of Philadelphia's Wissahickon Creek. We always knew it was a special day if my aunt took us to the swimming hole known as Devil's Pool, or occasonally, Devil's Hole. While there are plenty of places within the park where you can wade and cool off, Devil's Pool is definitely the best.
The Wissahickon Gorge and park is a forest-like area in the northwest part of Philadelphia, and runs alongside the communities of Roxborough, Chestnut Hill, Mount Airy, Germantown and East Falls. It's part of the Fairmount Park system, which with 9,200 acres of parkspace is one of the largest urban park systems in the world.
The thick layers of leaves provide a great shade from the hot sun, and the high grasses, ferns, mossy rocks and trees help keep it breezy when hot asphalt surrounds you and radiates heat everywhere else in the city. I never did any official temperature comparison readings but could swear it feels ten degrees cooler inside the park.
Devil's Pool, a questionably-legal spot in the Wissahickon valley, where the water is waist high and higher, is one of Philadelphia's best-kept secrets among the locals for beating the heat. The pool is formed where the Cresheim Creek runs down through Mount Airy and Germantown and spills into the Wissahickon Creek. Some people say that local Native Americans, the Lenape, used these waters and areas as a spiritual gathering area, that it's haunted, or that it's a churning pool where good spirits captured evil ones in the never-ending battle.
Hiking to Devil's Pool can be exhilarating, especially when approaching from the Kitchen's Lane area and walking over the Fingerspan bridge, down the stone staircase, past the Livezey House and its small waterfall formerly used as a mill, and descending through the rocky terrain right nearby. The other common (and shorter) approach starts at Valley Green.
As a location, it's a scenic spot which is beautiful all year round, and located along some of the more challenging trails on the Northwest side of the park. It's also one of the most dangerous parts of the park if you don't use caution when enjoying it. Whichever way you choose to approach Devil's Pool will involve walking on sometimes slippery surfaces – distances of 15-30 minutes from the closest park access points. It's definitely not handicap-accessible. Yet the distance and rugged terrain do not deter those who are serious about enjoying its bounty. I've seen parades of visitors walking by, each bringing something for their party. Coolers of food and drink, bags of charcoal, and barbeques were all carefully carried through rocky terrain for a day spent grilling and chilling by the water. Technically these items are illegal back in the woods, and if you got caught by park rangers, they would issue a heavy fine. But that doesn't stop the determined recreationists who are just thankful their loads on the return trip will be much lighter.
In the warm months of late Spring through early Fall, the main attraction to Devil's Pool is the swimming (although a small group of exceptionally rabid fans dip in these waters year-round). The deepest parts of the swimming hole run 4-7 feet deep during a good season with average rainfall. There are also shallower areas of the pool where younger and shorter folks can also enjoy the refreshing waters of the Wissahickon Creek. The scene sometimes conjures up videos of "Just say no to Peer Pressure," and those who are either more adventurous or less cautious/intelligent (depending on how you see things) line up to jump off rocky abuts and into the center of the pool. Then they shake themselves off, race around and up the carved rock steps and do it over again. Although jumping feet first is usually a relatively injury-free venture, this is an incredibly stupid place to try any fancy diving or high jumps. Parkgoers have been injured and paralyzed by diving head-first into water which is not deep enough to handle such acts. In addition, sharp and jaggedy rocks surround and line the bottom of the otherwise calm and serene waters of the pool. (Shoes are generally recommended for first-time swimmers here.) To add insult to injury, the remoteness of this area really makes it difficult to get an injured person out and to a doctor or hospital to receive proper treatment.
Sometimes the waters in the Wissahickon Creek and Devil's Pool are not safe for swimming, due to high levels of bacteria or pollutants collecting in the contibuting creeks and streams. Be sure to always bathe or shower when you get home, and do not drink or swallow the water.
Despite all the warnings, Devil's Pool is really a unique and wonderful place that should be experienced by visitors to the Wissahickon gorge. If you are in Philadelphia on a hot day, and need to escape to somewhere cool and refreshing, Devil's Pool is a great spot to hike off to and sneak a soak. But be careful and use caution when enjoying the waters. Please respect the park and take your trash out with you… this can be one of the most beautiful sections of the Wissahickon Creek Park, and can also be one of the dirtiest and hardest to maintain.