Cowboy eats and drinks at the Last Chance Saloon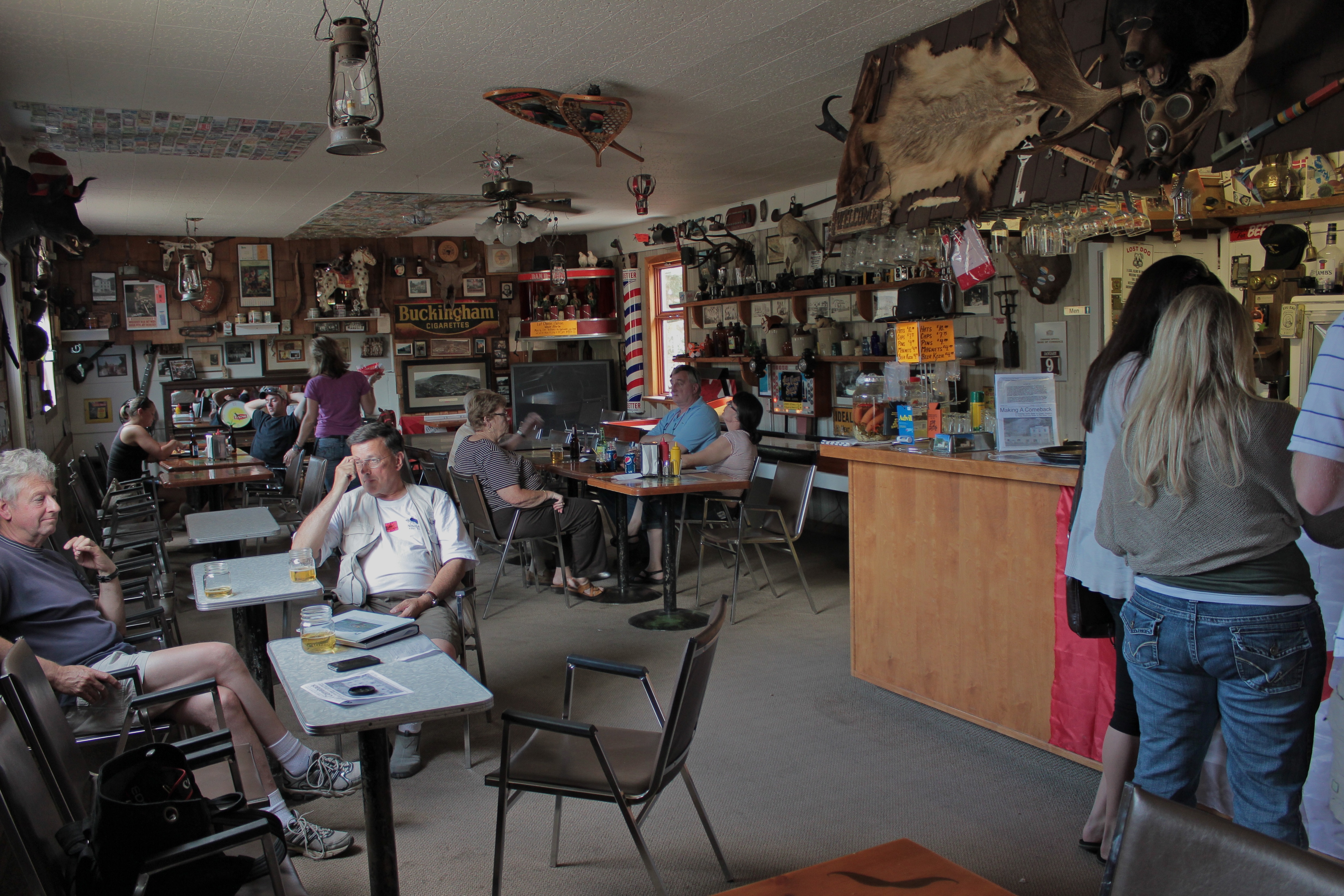 The waitress plodded over to my table in her worn-out shit kickers, the darkened leather faded away at the toes, her hips swaying side to side. My eyes focused on the glimmering buckle at her waist, and then at the pearl snaps on her shirt. She tossed her hair back and then asked, "So, you here for the bison burger, or you gonna cook up your own steak?"
After a long day of touring the Atlas Coal Mine and hiking through Alberta's badlands in search of hoodoos, I'd returned to the Rosedeer Hotel to kick up my boots and get a warm meal in my belly. I'd been told earlier in the week by a bartender in nearby Drumheller that the Last Chance Saloon, a part of the Rosedeer, served up buffalo and provided a cowboy atmosphere reminiscent of the olden, wilder days. She said no badlands experience is complete without going there.
And so I found myself sitting at a tiny Formica-topped table, sipping cold Black Label beer from decades-old mason jars, staring at walls riddled with bullet holes and adorned with animal pelts, old mining lanterns and photographs of cowboys, ordering a bison burger and a shot of Crown Royal. (It was the only Canadian whiskey I could think of.)
While the food was mediocre, the atmosphere was exactly what had been promised. Chatting up the hotel and saloon's owner, Fred Dayman (the place has been owned by his family since the 1940s), I learned of grisly murders and at least one shootout that occurred on the property. He also told me a story that's often talked about around town, of a cranky old bartender in the 1970s, who fired three shots above the heads of three drunk patrons who'd refused to pay their bar tab.
Over the course of three hours there I drank multiple jars of Black Label, the only beer the joint has on tap, as well as two grotesque shots I was coerced into taking with two young cattlemen. They called it a prairie fire, and it was comprised of bottom-shelf tequila and a generous dash of Tabasco Sauce. "This is what'll keep ya warm at night," one said. The waitress with the pearl snaps assured me she'd served many before, but added that she didn't believe it was any sort of cowboy tradition.
What is tradition, however, is cooking your own steak. I opted for the path of least resistance and ordered a bison burger prepared by the kitchen, but I saw many tending to steaks on the barbecue out back, seasoning their beef slabs with salt, pepper and an array of sauces, poking at them with forks to see if they were done. I watched one old cowboy, dressed in Wrangler attire and a tan ten-gallon hat, sear his steak just until black lines appeared on both sides. When he cut into it, I saw blood ooze out and pool on his plate. The damn thing, save for the outside, was no more cooked than it was when he began.
Expert