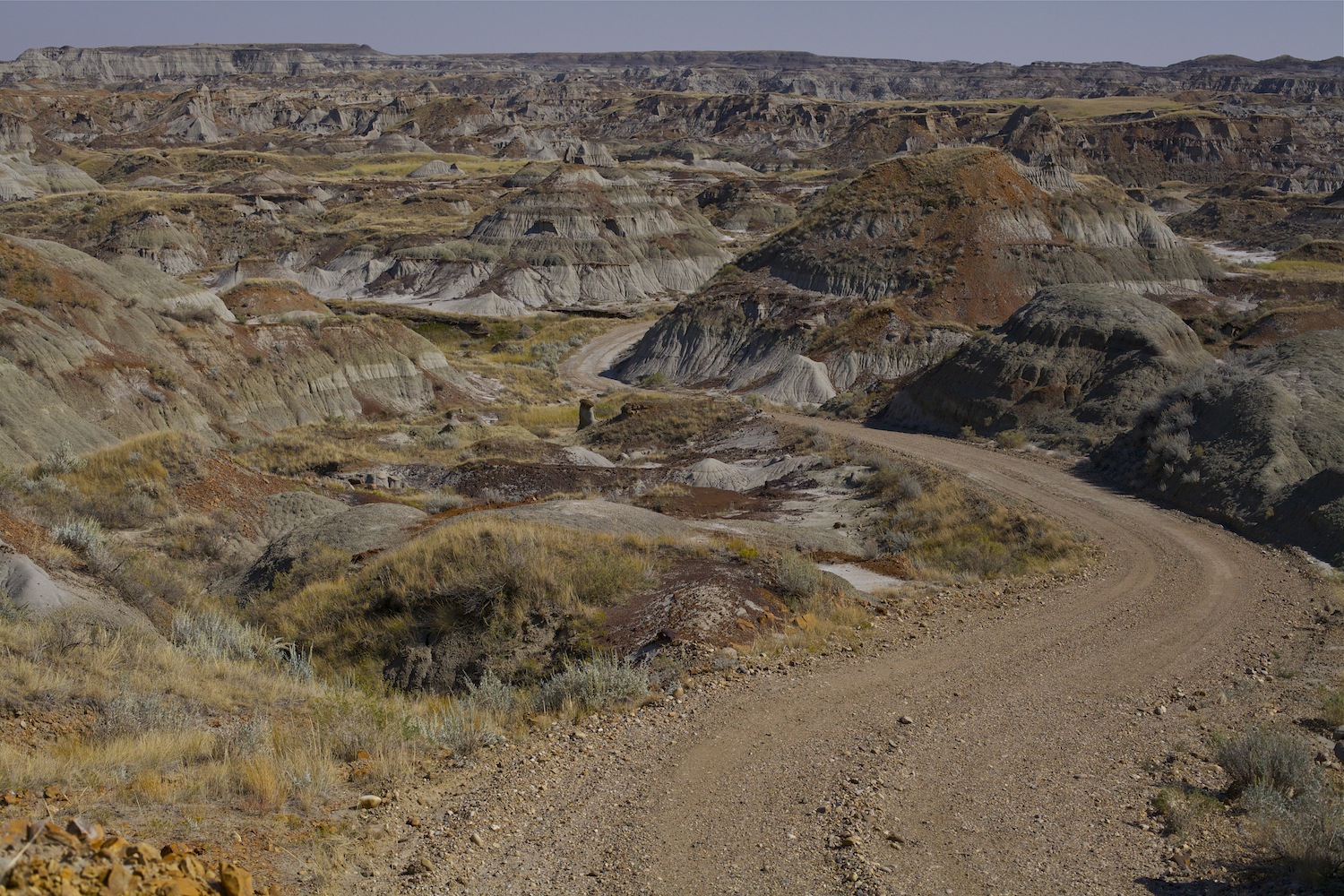 This post is part of Matador's partnership with Canada, where journalists show how to explore Canada like a local.
Today, the area, known as Red Deer River Valley, spanning 19,980 acres and more than 31 square miles, is an arid plateau region made up of vast prairies, twisted rivers and deep canyons carved out by glaciers. A designated part of it is Dinosaur Provincial Park, which was established by the government of Alberta on June 27, 1955. Home to a diversity of wildlife, as well as fossils of more than 40 different species of dinosaurs from the Late Cretaceous Period (75 million years ago), it's also an U.N.E.S.C.O. World Heritage Site.
On a trip there this fall, I was given a private tour of the area by Brad Tucker, the park's visitor services team leader. Dressed in a safari hat, dark shades and hiking attire, and with his boisterous personality, Tucker could be an Animal Planet or Travel Channel personality. He's one of those people who's so knowledgeable of his area of specialization – in this case, the park's past and present history, including the dinosaurs and geology – that sometimes it's hard to keep up when he's speaking about it. He also talks as much with his hands as he does with his mouth.
As we wound our way through the park in a dusty Jeep 4×4, Tucker explained what makes the area a hotbed of prehistoric bones that account for about 5% of all the known dinosaur species in the world.
"Seventy-five to 76 million years ago, this was the perfect habitat for dinosaurs," he said. "Extremely dense, rich forests, rivers and an inland sea made it an ideal place for herbivores, which meant it was a great place for carnivores. They had everything they needed here."
Peering out my window at the landscape as we rode on, I couldn't help but ponder aloud what it might have been like back then, and what might have wiped the dinosaurs off the map. Scientists have many theories, including climate change and volcanoes. But Tucker said he sides with a majority of scientists who believe it was an asteroid impact that caused the extinction.
Whatever happened, today the park is a paleontologist's fantasy. More than 500 specimens have been removed and exhibited across the globe, including at the Royal Tyrrell Museum in Drumheller, an hour and a half drive northwest.
Paleontological excavations are still going on, and not only by experts. Some of the park's most popular programs are its guided dinosaur digs, during which people aged 14 and older can spend one, two or three days helping the park's paleontologists.
Tucker gave me a taste of what one of those digs would be like, leading me to a recently uncovered area with large fossilized leg bones and vertebrae protruding from gritty sandstone. Some pieces fit in my hand, while others stretched nearly the length of my body. Due to minerals absorbed over the years, such as manganese, which can turn the fossils black, the bones can weigh maybe twice or three times what they would otherwise. So many bones and fragments of bones can be found in parts of the park that just scraping around the surface, picking up a handful of the dusty sandstone will yield two or three each time.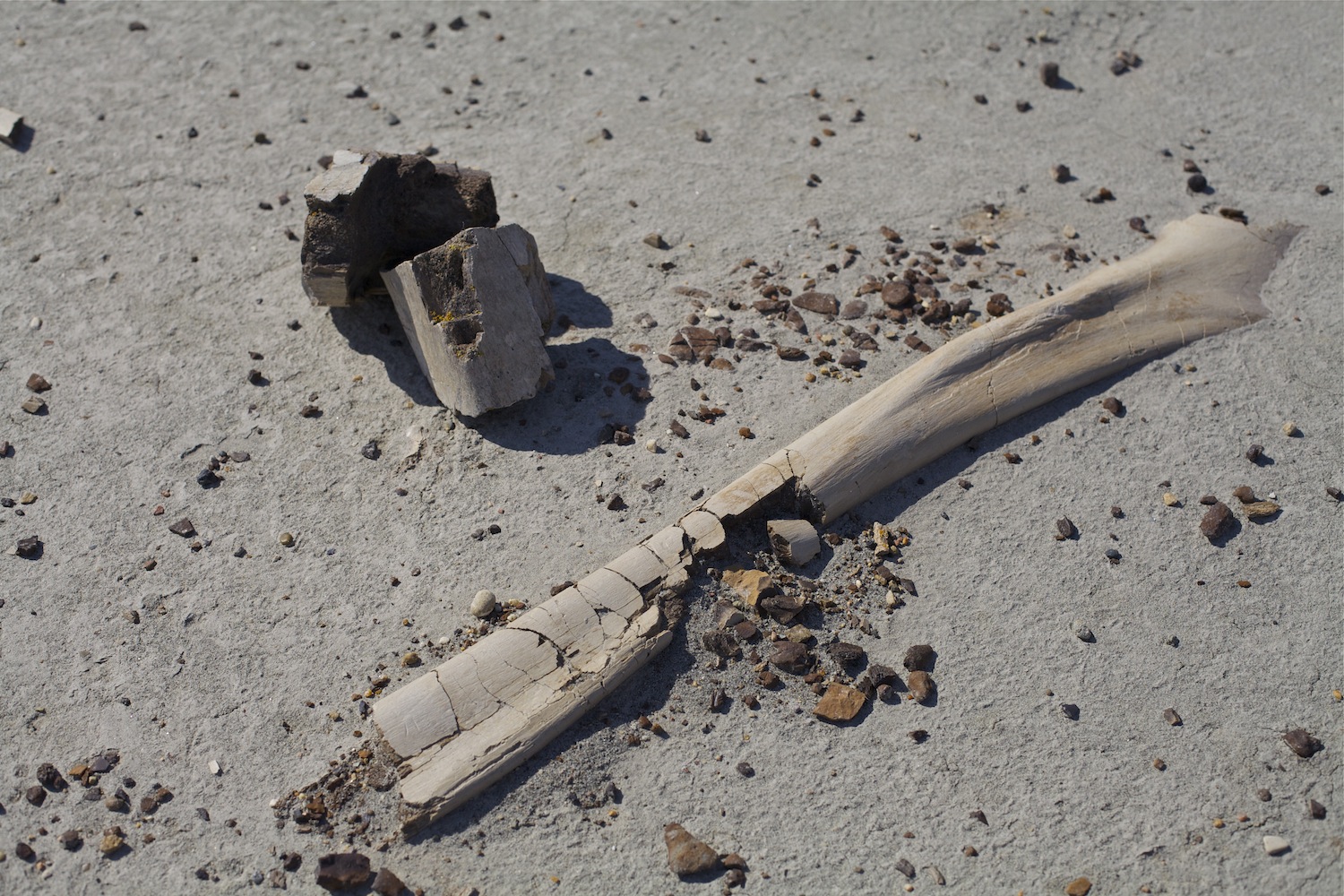 Continuing on into the coulees, we passed dozens of eerie hoodoos and eroding sandstone formations that resembled something closer to the landscape in Mars rover photos than anything else. When I mentioned this to Tucker, he told me I wasn't the only one who thought so.
"We get a lot of requests from studios wanting to film here." He said. "They like to use [the park] as a backdrop for sci-fi movies, for lunar or space-like landscapes."
As the afternoon wound down, Tucker offered up some suggestions for an evening hike. There are more than half a dozen trails worth taking, some with views of canyons and grasslands, and others that follow the river. Some areas people are allowed to wander through freely, without following paths.
After saying goodbye to my guide, with camera and water in tow, I trudged through the brush, toward another area of the park, where I sifted through sandstone and waited for the sun to meet the horizon. In more than an hour there, I never saw another person, but watched the grass sway. I heard nothing but the rustling of the wind and the thud of the sandstone clods against the canyon walls. I wondered what might have surrounded me had I been there 75 million years ago.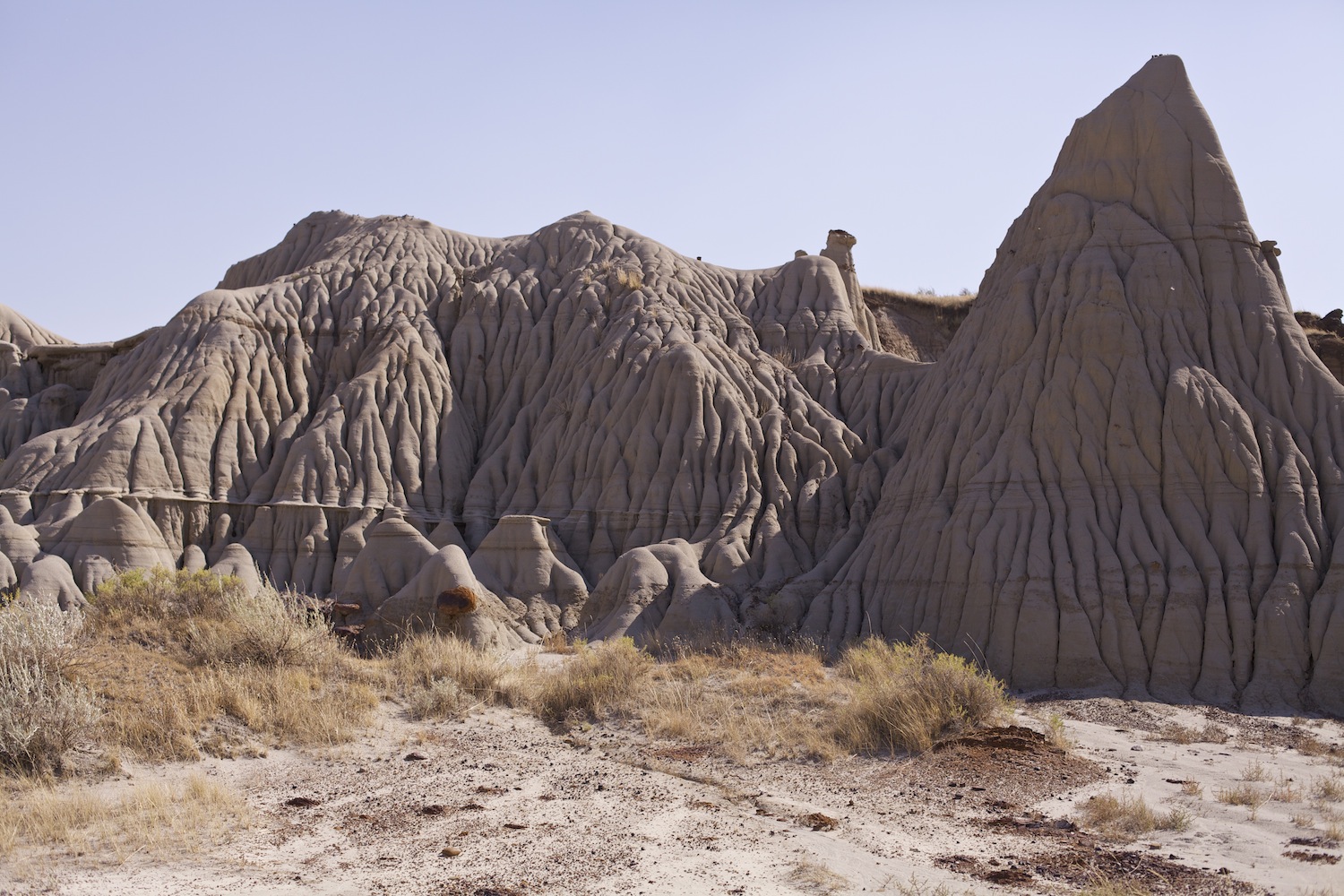 If you go:
Dinosaur Provincial Park is located about two hours 48 kilometers (30 miles) southeast of Calgary, Alberta, Canada. Plan on spending at least a full day there, if not a weekend. You'll need at least that to see half the park and really get a sense of the place.
Summer and early autumn are the best times to visit. Camping, glamping, hiking, swimming, digging and more are offered at the park.
The visitor services team put together some helpful videos on YouTube that highlight the park's beauty and programs and give information about how to get there.
Expert