It's not easy to pack to camp out for one month. The tent didn't take much space, but the mattress did. That, plus the air pump took almost half the space of my bag. It took a lot of concessions, I was finally ready to go.
My first flight left Lisbon at the end of the afternoon, and arrived Milan about two hours later, about 10pm local time. My second flight left Milan at 6am, which meant that I had to spend the night at the airport. This, for anyone, can be a little scary, but specially for a 19 year-old girl who was travelling by herself for the first time.
I was decided on not falling asleep – what if I did, and woke up without my documents – so I walked around the little terminal trying to find a place to seat and read my book. That proved to be not so easy, as there were a lot of flights leaving at 6am and there was a stupidly short amount of sitting places in the terminal. Plus, a lot of people were lying down occupying three or four spaces, which was also very annoyingly.
I finally found a spot near a morrocan family of nearly 10. It was also right next to the communal check in counters (which meant that I avoided the large queu when morning came).
The night was peaceful enough. There was coffee and food around, so I was entertained. On one of my walks to get coffee I saw various muslim people praying on the floor. Most of them were not turning to the same side, ups.
Finally in Zakynthos, I had scribbled complex directions into my notebook, on how to get to my organization's basecamp. They were not needed, as as soon as I entered the taxi and told him "Archelon" he knew where to take me.
I've just recently grown accustumed to catch a taxi ride by myself in Lisbon, and now I was more than a little nervous to be taking one abroad. These concerns were only amplified when I started noticing that my taxi driver was driving me away from the sea, instead of in direction to. All of this time, I was convinced that our basecamp was at the beach, so I was naturally concerned. However, moments later, the taxi cab driver was pulling over and there was a sign that eased all my worries. To this day, the very sight of this sign still evokes a sentiment of home in me. After an hard shift, when all you wanted to do was to get some sleep in a hammock, the walk to the basecamp was quite grueling.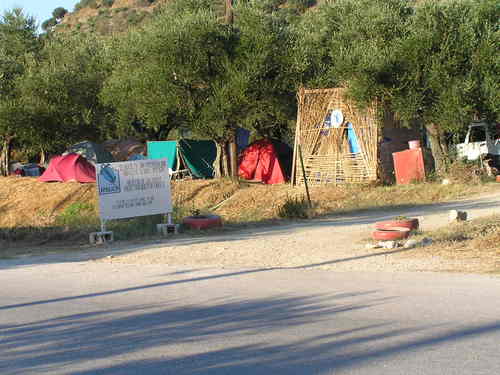 Expert