In the summer of 2011, I realized one of my life-long dreams of going on a cruise in the beautiful Greek Islands.
I'm only 20 years old nowadays, but I've been lucky enough to travel to my share bit, and I've been a self-professed travel addict for as long as I can remember. My entire life revolves about traveling: I have have set up a cardboard with a series of postcards from my travel adventures in front of my study desk in order to keep me motivated.
It was this cardboard, that, in someway, got me to Zakynthos.
While I was Island hopping in the summer of 2011, I made a point of buying some postcards in each one of them, to add to my ever-growing collection. It was on our last stop, in Athens, that, while postcard shopping, I found a beautiful image of the famous Navaggio Beach, in Zakynthos. (pictured bellow)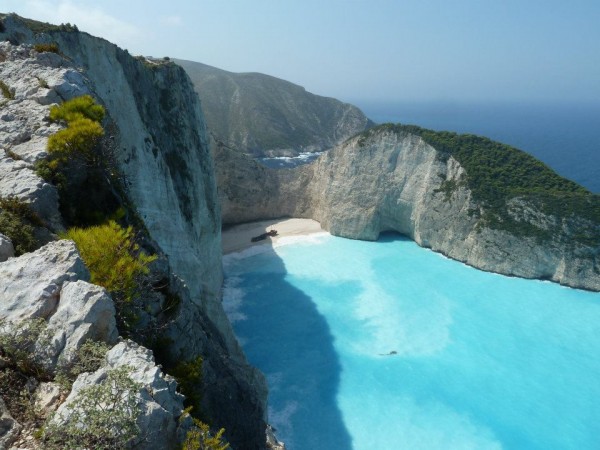 Immediatly, I felt the type of fascination I don't remember ever feeling before, and, in the few days that followed, I had decided:
Whatever it took, by next summer, I had to reach that beach.
You see, back then I was only 18 years old and I was moving away to start college. It was the beggining of my adulthood, and I didn't quite know how I was going to handle it. In way, this challenge was going to show me how much of my future I can control.
I started doing my research. As a broke College student, regular turism was not an option. Even if I starved for the entire year, I would certainly be going there by myself (no one I would like to go with could afford it), and that didn't seem much fun to me. I search for jobs there, but I was 18, unexperienced, and I didn't speak any Greek.
And then it hit me: International Volunteering!
My brother had done it, the previous summer, in India. The idea of her little girl going to India by herself would certainly send my mother to an early grave (plus, after hearing my brother's stories, I wasn't very found of the idea of going there, to begin with), but- hey! Greece is close, it's safe and it's really beautiful!
After some more research, I found an organization: Archelon, and they worked for sea turtle conservation. PERFECT! Working at the beach, and with turtles! Who doesn't like turtles?
I applied and immediately got a response, confirming that they would be waiting for me from the 1st of July until the 1st of August, 2012.
It seemed like, afterall, I was getting to that damn beach!
Expert