Small town in Cambodia: Evening life with gays and foreigners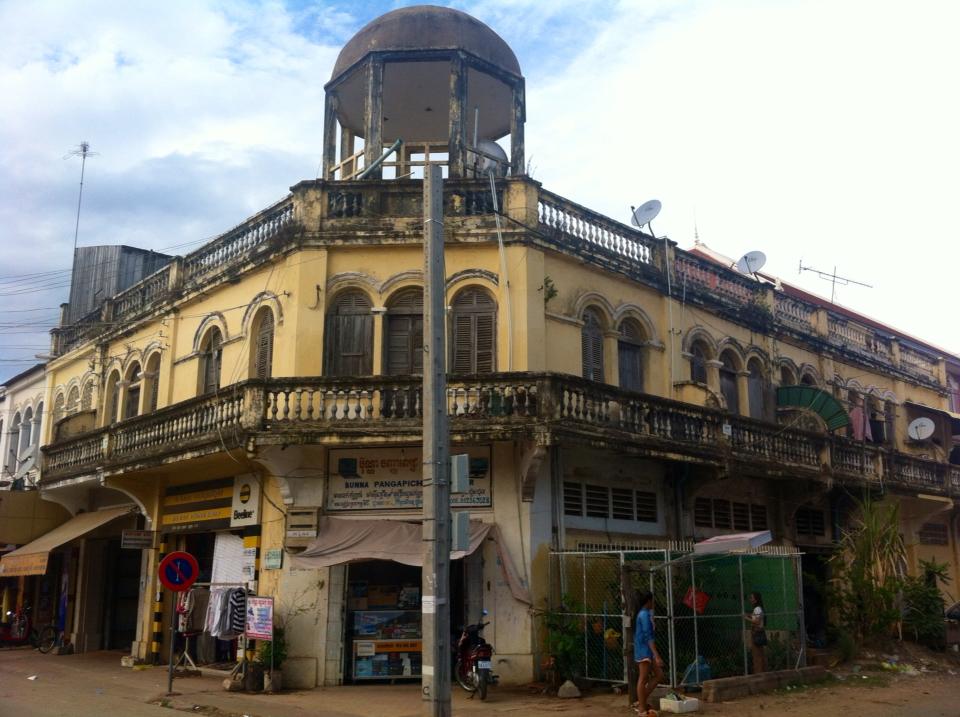 Although I have always been good-humoured in facing any misfortune in this school, the recent development of certain events that resulted in the full-scale breakdown of the Internet is surly a joke being carried too far. Considering this is a town where a person found wandering on the streets after 8pm is bound to be either a duckling-egg peddler or a local ladyboy, or, if neither of the above, a foreigner, I have to take to the pub in passing the late hours of an uneventful day. If any wiseman has ever said that there is a place of essence for each city or town, where one can observe its beauty and follies all at one spot, I should say that he is absolutely right, and the riverside bar is precisely such a place.
The bar owner is a Cambodian man that speaks many European languages and has a pregnant wife. He likes to talk about North Korean politics and greatly enjoys the female company despite the wifely surveillance from behind the counter. Viewing me as a chap of idleness, he is particularly keen on subjecting me to advocations of the karaoke industry. (Karaoke as an unspeakably joyful activity for the male society is examined in previous notes.) He is the sort of chap whose name my mother would readily include in her keep-off-my-son list. One evening, he assumed the topic again, wishing to know whether I was interested in visiting a newly opened karaoke of which his sister is the owner, while his wife was seated right next to me at the same table. I couldn't help but notice that she had to turn her face away looking as if she had swallowed in an uncooked cockroach by mistake at a dignitaries' banquet.
The bar boy is a cheerful bloke. He studies English at a local school and spends the majority of his sober life greeting foreigners by shaking them by the hand, or, when it comes to female foreigners, shaking them more than by the hand, if he deems timing suits. He addresses me by my occupation, teacher, consequently, so I him, waiter. Both are unsatisfied, but neither managed to remember the other's name, so it goes on rather delicately. Mr. Waiter has a dream known to all foreigners. He wishes to continue to study for a college degree in law, in which I see great potential in him, of course in spite of his obsessive fondness of blond tall European ladies.
Among the customers, most remarkable is one Mr. Black-gown, or should we call him Miss Black-gown as I have always anticipated he secretly wishes to be so called. Mr. Black-gown is about 50 years of age, perfumed, routinely appears in the bar at about 7pm, invariably wearing a black gown that most commonly would belong to a dignified lady of slightly advanced age. The silky gown drapes down nearly to the knees, partly due to its own length, partly, I regret to say, due to the lack of length in his legs. Until now, one might easily be under the false impression that this is a somewhat unpleasant figure we are talking about. On the contrary, Mr. Black-gown is amicable, good-mannered and a great friend of Mr. Waiter's. He is sincere and open about his homosexual nature, and pleasantly willing to be engaged in conversations of all subjects.
Compared to Mr. Black-gown, other customers seem rather lacking colourfulness. I, being the most frequent regular, am constantly on the Wifi usually quiet as an oyster. Other non-Mr. Black-gown tables are worse. The most common scene is a crowd of foreigners of diverse nationalities talking nothing but absolute rot. I once sat next to a group made of a Chinese, a Korean, and a few Europeans with various accents. I plugged in my earphones at the beginning of their conversation, an hour later when the music stopped, I found them still asking one another "where are you from?" I suppose this is why many an old boy say old friends are better than new ones, you don't get to spend hours talking rot before anything substantial pops up. Of course that is unless you have Mr. Black-gown at your table. He cuts off all nonsense ruthlessly right into feminine fashion, world politics, and profound subjects of such level, in unstoppable beauty, raising the conversation from the banal and the absurd.
Expert