Hot Springs GF Getaway (Part III): Crystal Digging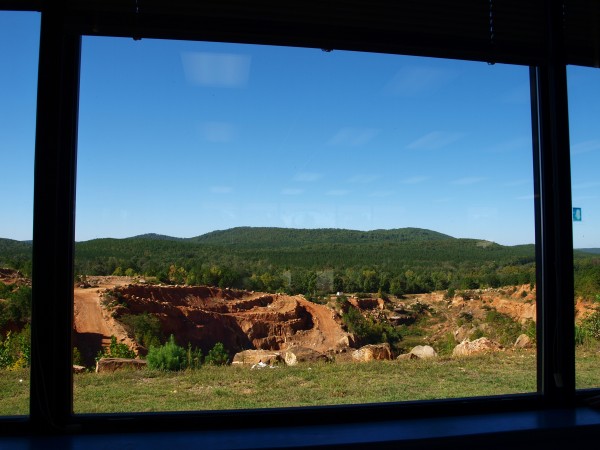 There was still a chill in the air when we woke up this morning to get ready for our last Hot Springs adventure: digging for quartz crystals.
Now, you might wonder, why on Earth would you want to spend the day outside in the heat and sun, digging through piles of red-clay dirt for stones you'll have to soak in acid overnight anyway? And pay money for the privilege?
Because if you go to Hot Springs, it's just what you do. So, on this lovely October day, with temps in the mid-70s and the ground soft after last night's rains, we drove to Coleman's Crystal Mine in Jesseville (just north of Hot Springs; most of the other crystal mines are in Mt. Ida, about 30 miles west of Hot Springs). Of course we had to stop at Family Dollar for gardening gloves because not one of us remembered to pack anything for crystal digging.
Coleman's gift shop is "impressive," according to F.: not just huge, but with a functional air conditioner; clean, uncluttered shelves; and no smell of mold or mildew. In other words, exactly the opposite of most of the other funky shops we've been inside this weekend.
We were greeted by a lovely woman named Judy, who had the most creative eye-makeup I've ever seen (and Hot Springs seems to have more than its fair share of, shall we say, creative fashions. Let's just say that in one weekend, I've seen more rhinestones, leopard print, and leggings than I did throughout the entire '80s). She, like us, has a passion for rocks, and chatted us up for the better part of an hour, but wouldn't let me or J. take her picture, much to our disappointment.
After a few hours of digging, we mostly had milky, barely-formed clusters and broken crystals, along with a handful of "micro-points." Basically, yard rocks. Thankfully, Coleman's has a "happiness guarantee," so we each got to pick out $20 worth of *nice* crystals out of their shop for our trouble. Which was I would have done in the first place, and skipped the dirt and sunburn.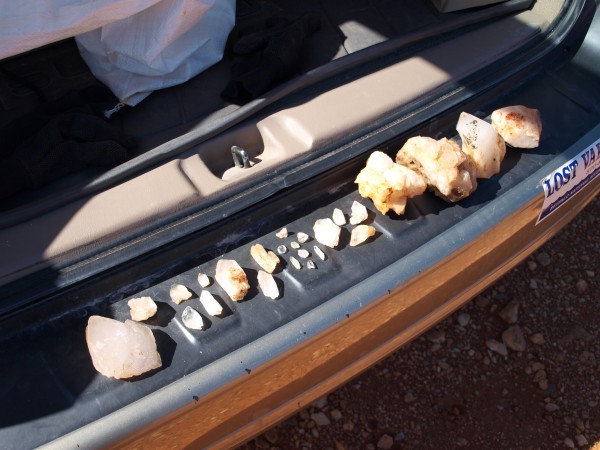 Back in town, we three enjoyed a final meal together for the weekend; the Park Island hosts international dinners and breakfasts every month, and this evening was Greek night. The vegetarian entree was delicious, but honestly, for three hungry gals like us, we could have used more of it for the price ($10).
Then my gals packed up and left; I'm staying one more night so I can do some research for a story tomorrow. So, a lonely night for me tonight. I took a long soak in the room's luxuriously deep bathtub – both the water temperature and pressure are shockingly high – and now I'm listing to my Al Green station on Pandora.
So, until next time, this is your faithful correspondent signing off.
Expert