My girlfriend Carin and I pulled into the Dash Point State Park, outside of Federal Way, Washington, nestled up the the southern flanks of the beautiful Puget Sound. The day was set to be clear, one of the warmest and purest of the 2013 year. This half marathon race we were about to engage in would be test for the both of us, but in different ways. Though we have disparate motivations, we have a similar goal. We want to run, and we want to travel around this continent running; finding new environments to explore and interesting races to enter.
Last month I ran my first ultra-marathon, a 31 mile race up and down hills, through mud and creeks, and across rocks and grass. Of the 65 silly people who entered the race, I finished 10th silliest, exhausted but quite proud of myself. I was now entering my second trail race, only a 1/2 marathon this time, the Dash Point 1/2 Marathon, a part of the Evergreen Trail Running Series.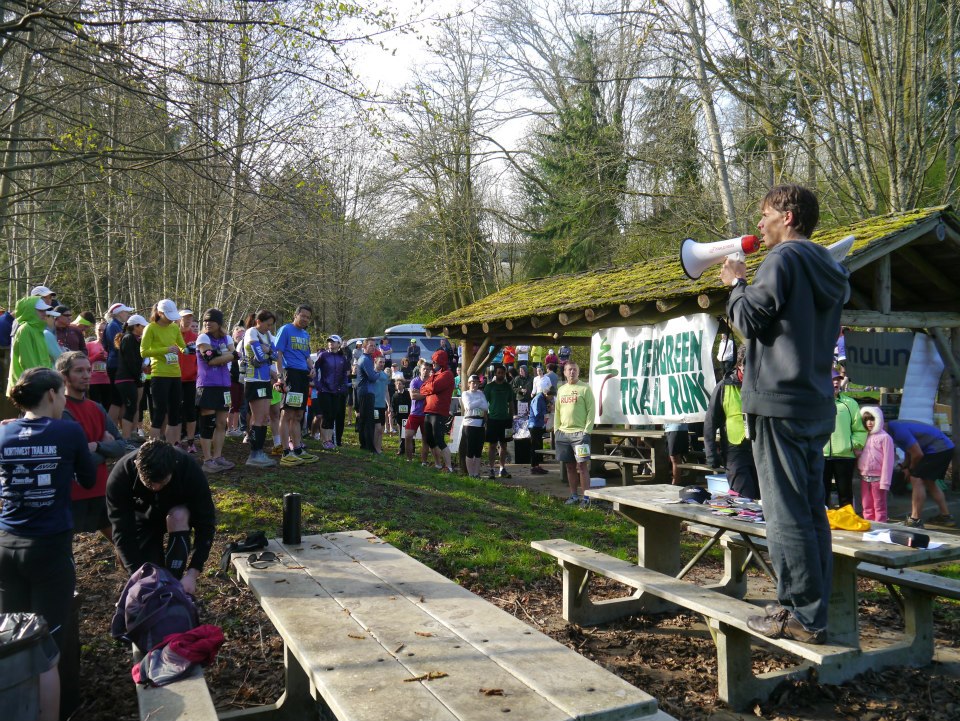 Days before this race, I decided I wanted to push myself harder during this competition and see what I could really do. A wise friend advised against exerting myself too hard for this race because a week and a half earlier I was laying in a hospital bed for 6 hours after blacking out at work due to exhaustion, extremely low blood pressure, and moderate dehydration – advice not heeded.
The Dash Point race was two laps around a 6.6 mile loop through the Dash Point State Park, a web of narrow and easily confused trails. My first lap was strong and I steadily picked up my pace, passing dozens of runners, myself only being passed by one other runner. The loop doubles back on itself for the first/last mile of the course, and when I hit this part of the course I kept expecting to see runners heading my way, on their second lap…but it did not happen. I suspected the leader was a tall lanky 20-something guy with long shaggy hair and short yellow shorts. He began the race fast and in the lead from the start, and I never passed him. But instead, about 1/5 of a mile from the start/halfway/finish line, a purple-shirted runner with an excellent stride came my way and went by.
I hit the aid station and while throwing back a cup of water and jamming a PBJ in my mouth asked the attendant how many people had come through already. "You're in second place!"
"What?!?" I replied (where was yellow-shorts guy?)
"Just the guy in purple is ahead of you" he said smiling.
My eyes wide, I smirked happily, and I took off running, "Thanks!" I yelled behind me and gave a loud and high-pitched yelp, "Huuuuzaaaahhhhhh!"
Two minutes later, the yellow-shorts guy passed by me, heading towards the aid station.  He must have taken a wrong turn at some point and got off course (I never passed him). Two minutes behind me…I made the decision to leave no doubt in my mind or his that I earned my standing ahead of him. I picked up the pace, smiled at the warming sun, took my shirt off, loosened my hips and shoulders and began to fly. A mob of runners were keeping pace behind yellow-shorts guy, but he looked strong…two minutes back.
I attacked hills on the ascent and descent, shuffled quickly around tight switch-backs, and caught my breath on the straights. At the water station, halfway through the loop, the little old lady who worked it hooted and hollered, putting her little fists in the air, "you're doing great! go go go!" I smiled big and threw up a fist. This is fun, I thought.
The final 2.5 miles, I kept expecting to see either purple-shirt guy in front of me, or yellow-shorts guy at my rear. But it never happened. I began lapping people still on their first loop. I would yell "on your left!" to signal my fast approach, but they would often – because of their iPod ear-budedness – not hear me. Not wanting to slow down, I would dash by them through the bushes. On three occasions I went galavanting through stinging nettles, but never slowing down. These last miles were my quickest.
At times though, I would slow down a little while, or become self-absorbed in my mounting fatigue.  During those times, a mantra is very helpful. If my rhythm stumbled or my pace slowed I would say, "eat it up!" This would bring my brain back to the race and to the objective – move move move!  During my last race (the 31 miler) my mantra had to do with sandwiches and was more like a poorly written song; "I feel like a chicken-sandwich. A-What? A chicken-sandwich! A-What!?! A CHICKEN SANDWICH! Curiously, they both have to do with food.
I was nearing the finish, within a mile or so of the checkered line. I saw Carin approaching, working through her second lap. Still pursuing purple-shirt guy, and fearing yellow-shorts guy, I managed to get out a few grumbly, gurgle-ish, words  before I took off again.
I strode across a wooden bridge and onto a boardwalk two feet above a bog. I was not sure if I could catch purple-shirt guy at this point but I was dead-set on putting as much distance between yellow-shorts guy and myself as possible.
I crossed the finish line in 2nd place out of about 150, 1 hour 43 minutes after I started. Purple-shirt guy (Joe) was a little over 1 minute ahead of me. I began counting the clock to see when the third place finisher would cross the line (two minutes was all I was thinking). Nearly 7 minutes later the 3rd place runner crossed the finish line, and it wasn't even yellow-shorts guy! I was very pleased, I took my shoes and socks off and walked over to a nearby creek and sat on the bank, submerging my worked feet in the cold water. "This is fun" I said to myself. I stood up, filled my bottle with orange juice and went back to the finish line to applaud the finishing runners.
During the car ride home, Carin and I discussed what went well and not so well during the race and how we can improve. Our next big race, will be along shores of the legendary Lake Chelan in eastern Washington. I am eager for it. It will be my first attempt at a 50 mile race.
?CURIOUS AS TO WHY I AM RUNNING IN THESE RACES? READ THIS – Cold and Shaken: My Ultramarathon Genesis