When people tell me it's strange that I'm learning Russian because it isn't the most beautiful, glamorous language or anything, I just say "Vy ponimaete po- angliiski, Gaspadin Pitrov!" Not because it's an especially appropriate retort (it may be translated into "Do you understand English, Mr. Pitrov?"), but when your vocabulary is limited, you say what you can.
My Russian obsession began one September midway through college, when I sat next to Olga, a Russian TA, one day at lunch. After introducing ourselves I told her how one of the things I love about the name Olga is the way it's nearly impossible to say without lapsing into a Russian accent of your own, then I asked if she could teach me some basic phrases. We got through privyet (hello), kak dela? (how are you?), and kharasho (well) before it was time to say paka (bye).
I didn't expect to see Olga again, but one of the things about attending a 2,000 person institution is that you don't really have that option. I ended up running into her nearly every day in dining halls or just in passing.
Me: Privyet!!!
Olga: Privyet.
Me: Kak dela!?
Olga: (mildly amused) kharasho. (Says many other things in Russian, things far beyond the scope of my understanding.)
Me: (Nod vigorously. Sense it is my turn to contribute to the conversation) kharasho. (Then, having thoroughly exhausted my knowledge—) Paka!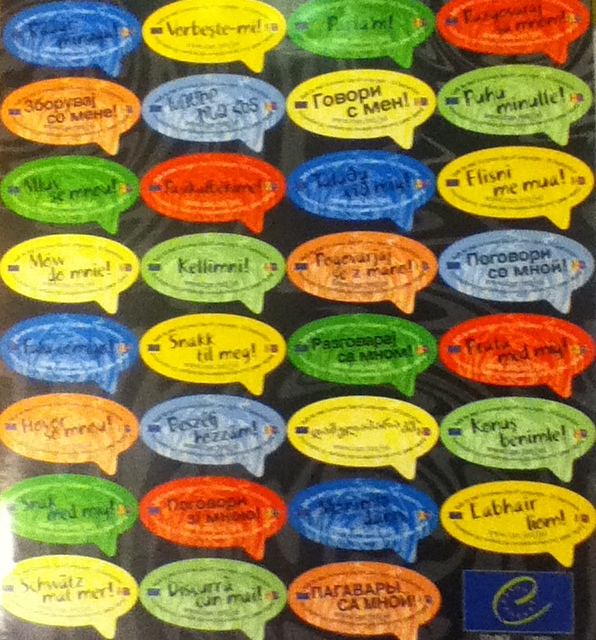 It became a routine. We'd greet each other, I'd ask how she was doing, she'd ask how I was doing—I'd always be "well" due to vocabulary limitations—and then we'd say bye. Our interactions were reduced to jerky exchanges, but I wouldn't let them die. I'd wave a vigorous privyet across the quad; I'd whisper "kak dela" in the library. I could tell Olga was sorry she'd ever sat next to me.
I had to keep it up, though. One thing that always saddens me is what I call the "Tragedy of Language"—the idea that if you don't move to the native country, or at least speak it regularly, then you're going to forget it. "Use it or lose it!" my fourth grade teacher used to declare gleefully, pointing to a poster of the human brain.
After I graduated 8th grade, my grandpa insisted on speaking only Hebrew to me during his weekly phone calls. I had just left a Jewish day school for a public high school and this was his way to single- handedly ensure I retained my language skillz. He thought it was a brilliant idea—and it was, in the beginning. As time went on, though, the few minutes of phone conversation a week couldn't block the relentless deterioration of the near-fluency that nine years of Hebrew class had produced. Each week I found myself stumbling more and more, resorting to cognates and "Hebrewification," long "emmm's and "ahhh's" peppering my blundering speech. My grandpa stubbornly persevered, long after our conversation content had dwindled to not much more than that of my ones with Olga. Eventually, we made the shameful transition back to English.
Russian fared a bit better, though, largely because I became obsessed with it. Each time I saw Olga, I made her teach me a new word or phrase, and I began pursuing everyone on campus who gave the impression of a faint Russian lineage. I accosted Natashas and Borises and Igors with hopes that I could have my same three-or-so phrase exchange. I told each to teach me something new, and then all the others were flabbergasted when I busted out my recently-learned tidbit on them. Maybe not flabbergasted, but certainly impressed. Over Winter Break, I rented Russian tapes from the library—Pimsleur Audio, one of the leaders in the learn-it-yourself language field. As I drove around town, I'd repeat phrases aloud and work on my intonation. I told my family that they could join me; it would be a wonderful family bonding program. Just like how my college was doing a "One School, One Book" unity project, this would be our "One Family, One Language" thing.
"We already have one language," pointed out my mom. "English."
Nevertheless, I was so kind as to include her in Lesson One.
"Do you understand Russian? Vy ponimaete po-russkii?" drilled the tape.
"Vy ponimaete po-russkii?" I repeated dutifully. "Nyet!" proclaimed my mom, with an emphatic pound on the steering wheel. "Excuse me, izvinitye," droned the tape. "Babushka!" shouts my younger brother from the backseat. "Pirogi! Borscht!" I wanted to bring the tapes along on our long family car ride to Lake Tahoe, but they were voted down in a real blow to polyglotism everywhere.
Pimsleur Audio is okay, I guess, but I have a great idea for a rival learn-it-yourself language program. I'll call it "Extrapolation" and I know it will be a big success. Basically, it will completely skip over such trifles as "hello," "goodbye," and "how are you?" Instead, it will begin with highly specific phrases like "Jello amuses me," or perhaps, "Your bowtie is stunning, by the way." You just slip them into your conversation, and people will extrapolate, telling themselves, "Well, if she knows how to say that, then clearly she is fluent." Lesson One will be focused around the translation for, "I'd love to stay and chat, but I have to feed my cat." Sadly, it probably won't rhyme as well in other languages, but, regardless, it will be key to know—an 'Escape Plan' for whenever someone extrapolates that you know more than you do, and begins jabbering away.
As for me, well, I'd love to stay and chat, but, well, you know.