Mayor Phil Mooney is as passionate about golf as he is about Yarmouth, the town and its people.  I had never heard of 'Four on the Shore' but within minutes of meeting the Mayor he had me convinced that if I wanted to play some solid golf in a community that would welcome me as a friend, not just a tourist, I simply had to pack my clubs and head on down to his neck of the woods.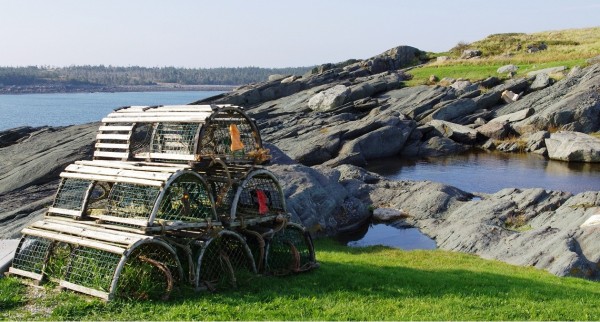 Yarmouth and the Acadian Shores are located at the southwestern tip of Nova Scotia, stretching north along the world famous Bay of Fundy in Clare County to East Pubnico and the Atlantic Ocean in the south.  For centuries the sea has been the mainstay of this economy and continues to influence all aspects of life here including the golf.  Blessed with the longest golf season on the Atlantic Coast this region, believe it or not, has one of the best climates in Canada due to the warming effect of the Gulf Stream.  The area is also rich in heritage, culture and community spirit that begs to be explored after a round or two.
 Four on the Shore is the moniker for the courses located within an hours' drive of Yarmouth that offer affordable golf at under $40 a round.  It's good golf and if the hospitable Maritimers who own and operate these establishments charged for friendly service, they could triple the price!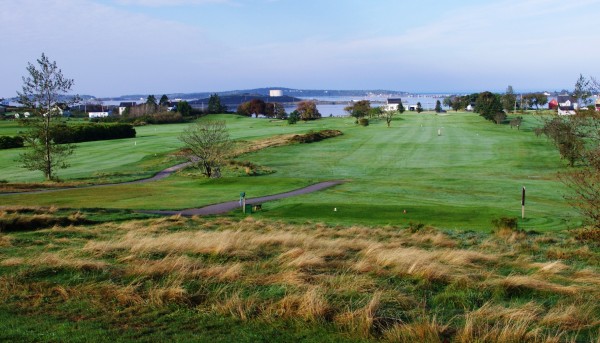 Yarmouth Links is right at the edge of the Town of Yarmouth and is one of the first nine-hole golf courses ever built in the province.  This semi-private club expanded in 1995 to an 18-hole par 72 links-style layout with several ponds and a panoramic view of the local lighthouse and adjacent ocean. Even though this layout only measures 5,897 yards, the unpredictable ocean breezes and the very small but fast greens will test your skills.  18-hole green fees are $35 and if that's not already reasonable enough they also offer a special – two green fees and a power cart for only $68CAD.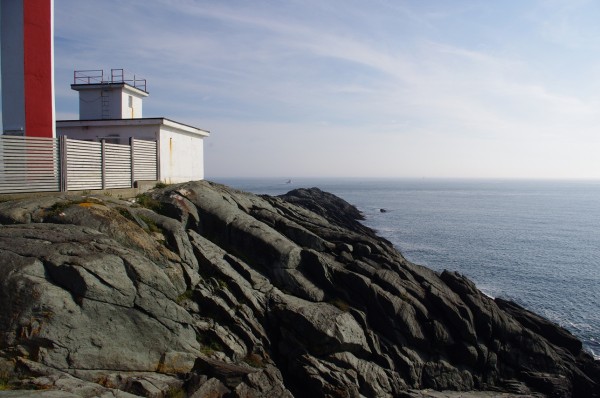 After your round why not head over and check out the nearby Cape Forchu Light Station, the second most photographed lighthouse in Canada.  Rising some 23 meters (almost 76 feet) above sea level, it can be seen from over 30 nautical miles out at sea.  Dubbed the 'Beacon to Canada'  the lighthouse was built in 1840 and later restored so as to continue its legacy of safely guiding sailors and visitors to the harbour.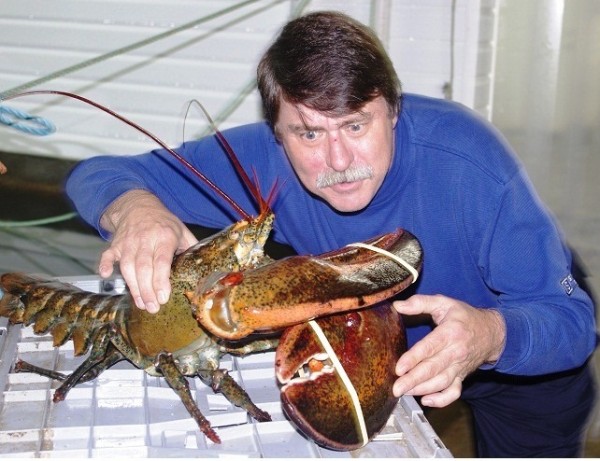 By now the tangy sea air will most likely have whet your appetite and no trip down East is complete without a lobster feast so now is probably a great time to stop by Stanley Lobster in John's Cove just six minutes from Yarmouth, where the catch is always fresh.  This is an active lobster facility where you can pick your own lobster but how do you choose the best of the best?  No worries owners Brian and Ernie Williams will happily educate you and help you pick the ultimate lobster but know that Hugo III their fourteen pound, 50 year young lobster is off limits. Once your lobster has been selected all you have to do is settle into a Neptune chair or wander down to the fire pit to gaze at the sea while your dinner is prepared to order for you.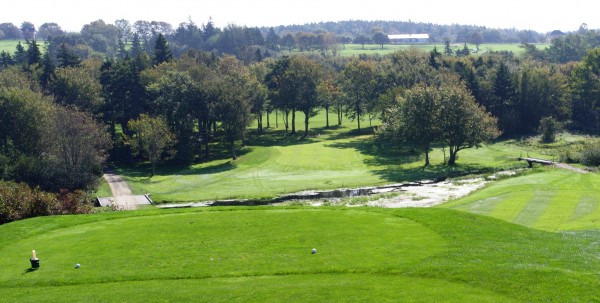 Clare Golf & Country Club is about a 45 minute drive straight north on Highway 101 overlooking St. Mary's Bay.  The first nine holes were opened in 1967 and expanded to 18 in 1986. This 6,146 yard Par 71 (slope of 122 and course rating of 70) is well-conditioned featuring wide fairways with lots of elevation changes, few bunkers and medium size greens.  The cost for 18 holes ranges from $35 on weekdays to $39 plus $14 each for a shared cart on weekends.  From mid-September onwards green fees drop to $25 or two for $60 including cart.
After golf I'd highly suggest that you take the 'long way home' via Route 1. This leisurely route winds along the shoreline of the Bay of Fundy with plenty to see and do.  Drop by the Musée Église Sainte-Marie Church, reportedly the largest wooden church in North America, take a swim and sunbathe at either Port Maitland or Mavillette Beach or simply sit back, relax and enjoy the scenic drive.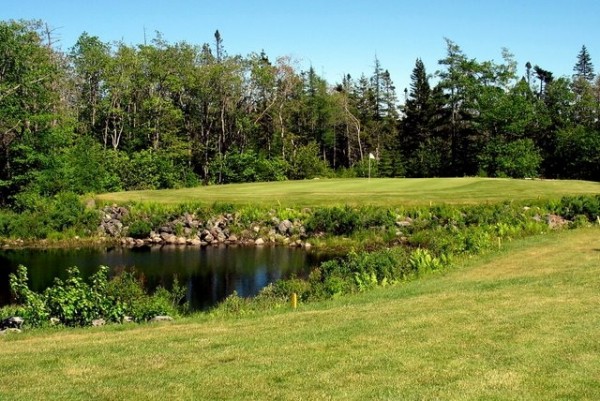 West Pubnico Golf & Country Club is about a half hour drive southeast of Yarmouth on Highway 103.  Their claim to fame is that they're usually the first golf course to open in Atlantic Canada every year, usually in early March.  West Pubnico GC&C opened in 1968 as a nine-hole course and expanded to 18 in 1991. At 6,052 yards (69.7/122) with a par 72, this course has great greens and few bunkers. The front nine is more open with smaller greens whereas the back nine is more tree-lined.  Beware of the water up front on 10, 12 & 15th greens. Their signature hole is probably the 5th.  This is a rather short 446 yards par 5 but you have to contend with an island green on your approach.  The 18th is another great hole.  Mid-summer prices are $33 plus 15% HST and $12.50 for a shared cart.  After November, the cost for 18 holes is only $10 which in actual fact is converted to a donation to a local charity.
Again, enjoy being by the sea by opting to taking the scenic Route 3 and stopping to experience buzz at the Dennis Point Wharf in West Pubnico, the largest commercial fishing wharf in Atlantic Canada on your way back to Yarmouth.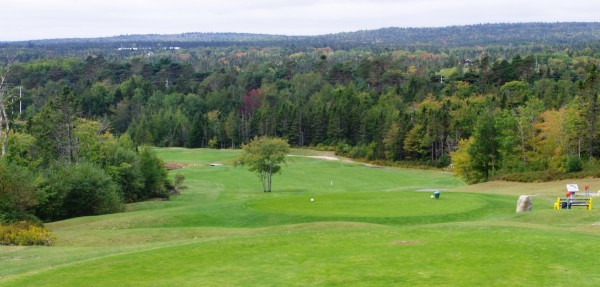 River Hills Golf & Country Club is about a 20 minute drive along Highway 103, past Pubnico on your way Halifax.  This 18 hole par 72 6,567 yards has a slope of 134 and course rating of 71.8 so beware.  The first ten holes are relatively flat as you meander your way through the delta flood plain along the Clyde River.  However, once you cross the road the next five holes are majestic offering huge elevation changes carved out of a wooden forest with ponds and great views.  What is so unique is that they actually pushed the boulders to the side during construction to form magnificent stone walls that line the fairway.   That and the fact that Holes 9, 10 and 18 are all par threes.  Green fees for 18 holes are $35 plus taxes and the course is usually open by April 1 each year.
Yarmouth is about a three hour drive south of Halifax or you can take the Acadia Ferry from Saint John New Brunswick to Digby Nova Scotia and drive south for 75 minutes.  Located within striking distance of the Four on the Shore courses, it's the ideal hub for coordinating your play or exploring the region on day trips and there are plenty of accommodations to choose from including B&B's, inns, motels, hotels and resorts.  At one time, Yarmouth was a major shipbuilding centre and possessed more tonnage per capita than any other port in the world. The prosperity of this era is evidenced by the more than 400 sea captains' houses clustered in and around the downtown.  For something special I would recommend the MacKinnon-Cann Inn a restored Sea Captain's Home where every room has its' own theme and personality.
If you are looking for entertainment off the links then plan your down east golf vacation to coincide with the Acadian Festival celebrated throughout July, the Yarmouth Seafest in late July, the Clare Bluegrass Festival in mid-August or the Coal Shed Musical Festival in late August.  I guarantee you that the Acadians will make you feel more than welcomed.  Indeed, they'll make you feel that this is where you belong!
For more information visit: www.yarmouthandacadianshores.com.
Expert