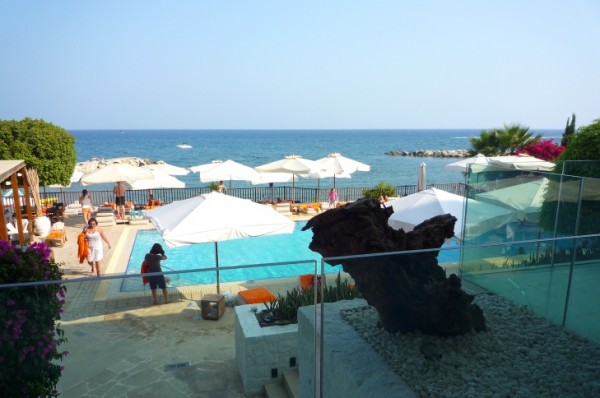 Cyprus is a major tourist destination for Europeans. When I travelled there for a two-day-trip I did not expect much more than a belt of colourful umbrellas surrounding the island's coast and some touristic bars. Well, the umbrellas are there, literally scattered around the land mass and of course beach cafes and bars are present as well but I also learned some new interesting facts about the third largest and populous island in the Mediterranean Sea:
1 – Nicosia is the last divided city of Europe
Parts of the city, together with the northern part of the island, remain occupied by Turkey since their invasion in 1974.
2 – The Banana boat is still en vogue
About two decades ago, when I first went on beach holidays with my parents, a ride on the banana boat was a special highlight. It seems that people still enjoy being pulled behind a speed boat while sitting on a giant floating banana, just to be hurled into the water.
3 – Water scarcity at the heart of the sea
Even though surrounded by the salty waters of the Mediterranean Sea, Cyprus faces serious water scarcity during the summer. Hotel guests are encouraged not to spend more than 4 minutes in the shower.
4 – Kebab, Mezze or Souvlaki?
To be honest, I did not give a thought about Cypriot food before arriving at Larnaca Airport. Yet I was surprised to see Halloum and Hummus listed as national dishes, coming from Lebanon, a country expressing the same claims. Besides this, Turkish Kebab and Greek Souvlaki are on the menu as well. No surprise actually, considered Cyprus' location in the Eastern Mediterranean between Greece, Turkey and the Middle East. Halloum cheese even has its origin in Cyprus and is the island's main export product, I was told.
5 – Traffic drives on the left
Cyprus is a former British colony. There is not much evidence left of that despite one crucial thing: traffic drives on the left, which I just did not have enough time to adapt to in two days. I kept looking out for cars in the wrong direction.
Expert