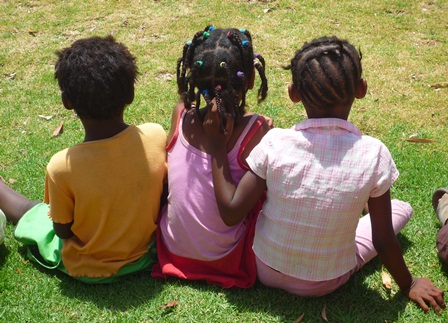 When my plane touched down in Cape Town on a rainy evening in late September it was cold – way too cold for what I imagined Africa would be – and there were by far no elephants or giraffes along the highway which brought me to a home for abandoned children, my new home for a few months.
This was my first journey alone and it took me some time to become accustomed to the naughty children I volunteered for. Outside the premises, in the middle class suburb where it was located, there was not much to see. This was not the great African adventure I had hoped to experience.
Gradually, I started to discover the beauty of Africa's southern tip. I saw elephants, giraffes and rhinos, hiked up Table Mountain and soon I would encounter a man who led the country from its racist Apartheid rule to democracy.
On one of my trips to escape the tough life of the children's home, I visited Robben Island, a tiny island off Cape Town's shore that used to serve as a prison for Apartheid detainees. On the boat trip to see the historic location I took pictures of the spectacular view of Cape Town with the backdrop of Table Mountain, but the stunned tourist mood soon faded after I stepped ashore the former prisoners' home.
My main reason for visiting this shameful place was that one of the greatest figures of modern history spent two decades on Robben Island: Nelson Mandela. The Apartheid rule deported him there after he conducted acts of sabotage targeting their institution. Standing in the tiny cell where Mandela spent much of his 27 year imprisonment, I remembered that he refused to be released before the regime stepped down. Mandela rather worked in a quarry and let himself be humiliated by prison guards while being away from his wife and children than to surrender to an institution that had declared his race inferior. What kind of person has such a strong will to put all personal and physical desires aside in order to serve his people, I asked myself bashfully.
Besides historic expeditions I saw vast national parks and beautiful beaches along the coast, met hospitable locals and crazy backpackers and had traditional braai, the local barbecue. But these experiences are not what I kept deep in my heart. It was Nelson Mandela's ubiquitous presence, this beacon of hope for a nation and an icon to the whole world that touched me the most.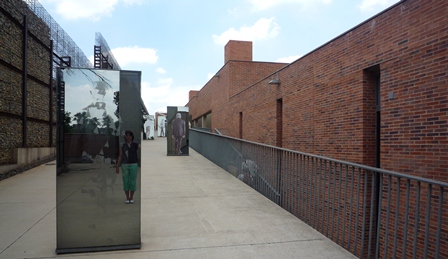 I visited other sites centered around the Apartheid and Mandela's rise to becoming the first black president in 1994 such as the Apartheid museum in Johannesburg (picture above), which gives a detailed chronological insight to the country's recent history. Finally, I visited Mandela's birthplace Umtata, which hosts a museum for the former president. There, in front of the photograph of Mandela's release from prison, tears suddenly filled my eyes. I cried for everything this man had endured to save his people from a brutal white rule and I cried because I knew that I could not imagine the full meaning of such a sacrifice. If only the world knew more individuals like him to create bridges of tolerance instead of spreading hatred.
Until this day, Mandela still inspires the South African youth, if not the world. His legacy, this unbreakable will for justice without seeking revenge, will stay alive for many generations to come. It will inspire abandoned children to become role models, travelers who seek the extraordinary and statesmen who try to find a bit of Mandela's greatness in their own acting.
Though, the past weeks made us realise that even an icon like Nelson Mandela is not immortal. When the inevitable will happen and we have to say goodbye to the fragile old man in a hospital bed he has become, I will cry for him a second time along with 53 Million South Africans, although this time for him finding peace. It is the time for a new generation to take over, bearing Nelson "Madiba" Mandela's legacy of the creation of the rainbow nation in mind.
But today, on Mandela's 95th birthday, we celebrate life. Thank you for being such an inspiration to my own life, Madiba.
Expert