Beirut's latest hotspot for fine dining is Villa Clara in the Mar Mikhael area. In an unglamorous neighbourhood, an old villa was transformed into a high-end French cuisine restaurant including a hotel of seven rooms on the first floor. Its interior is an eclectic mix of luxurious furniture with some Asian influences. The one who obtained the accolades for this venue is its French owner Olivier. He runs the business together with his wife and operates as head chef at the same time. It was his long term dream to open this boutique hotel and now he does not compromise about it – at least not when it comes to his cuisine.
The gastronomy feels like time travelling back to the golden age of heavy French cuisine, for the dishes are served in copper pots and elegant soup bowls. Listed on the menu are Fois gras, Filet de boeuf, Ile flottant and Steak tartar, which he cuts on a mobile wooden bench at the guests' dining table. The Lebanese upper-class clientele adore the charming Frenchman for entering the restaurant, deftly cutting the raw meat with two knifes, chatting meanwhile and handing out forks to taste the tartar. A similar show takes place in the hall when guests order the chicken - oven baked with vegetables in a salt crust – and lately with the duck press. The duck press is a relict from the Haute cuisine, too, used to press the blood and juice out of the leftovers of a duck. One might find this disgusting, however Chef Olivier loves it. His face resembles a child's in front of a Christmas tree while he is cutting the duck "en salle" and pressing the duck's liquids into a pan to heat it up before serving it as a sauce along with the fowl.
It seems, the much acclaimed chef does not care about how long another table has to wait for their next course, as long as he provides an attraction to every guest and he can supervise the preparation of all dishes leaving the kitchen. Luckily, there is another relict of last century's cheffing, which helps to keep chef Olivier's table side extravaganza warm, while the guests wait for the less spectacular dishes to be prepared in the kitchen: the cloche.
Bon appetit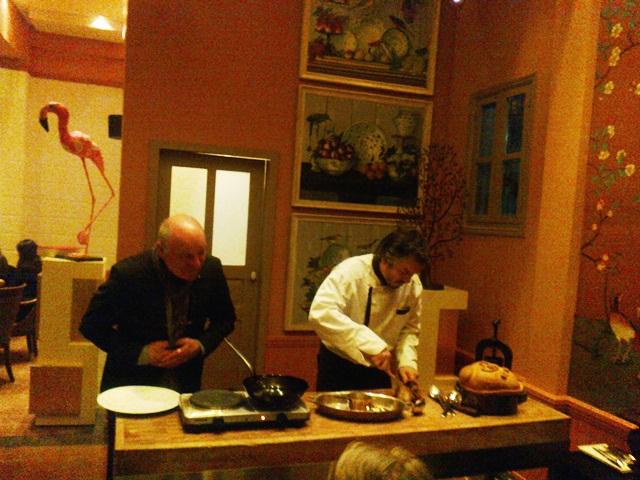 Expert