There is one annual event, when anyone in Beirut becomes a sports fanatic: Beirut Marathon.  The 10th edition of the race took place last Sunday. Most of the Central District, together with the Gemmayzeh and Hamra neighbourhoods, were closed off for cars. The streets belonged only to the runners. Though it would not be Lebanon if it weren't for the soldiers with the finger on the trigger of their fire weapons who lined the sides of the streets and the military helicopter patrolling over the runners' heads. It would not be Lebanon either, if the people hadn't turned the occasion into a big party. There was a category "10 km – Fun Race" where the Red Cross employees started in their uniforms, some clowns could be spotted in the crowd and cheerleaders danced beside the track.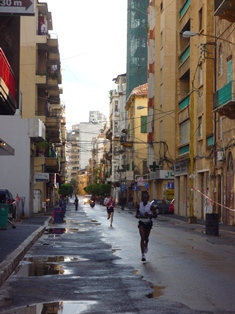 It was a perfectly organised day, despite the weather's vicious performance who almost spoilt the game. At 7.00 am, when the real marathon of 42 km started, torrential rains were falling which even turned into hail at one point! Therefore, when the ordinary sportsmen - me included – gathered for the 10 km race, everyone was already wet from tip to toe and the starting area was flooded. But the skies showed mercy and at the signal for the start the rain had stopped.
In the 10 km race, the participants could run for a cause, which was either their own company or a local NGO, in order to support their aims. In addition to the Red Cross team started several UN teams, hotel staff and some runners wearing T-shirts in support of the various refugee groups residing in Lebanon. Besides this, people in wheelchairs and whole families were racing for fun as well.
Despite the harsh circumstances, reaching the finish line and receiving a goodies bag afterwars, including a medal for the participation in the run, made up for the strain of the race. To me, it was a true pleasure to be part of this event and I believe it makes evident, that Lebanon has got more to offer than political disputes. Keep running in good cause, Beirut!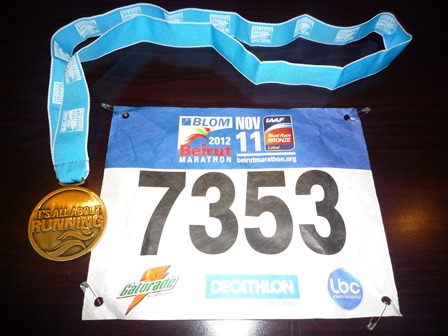 Expert