Hanging out in Beirut usually means going to a restaurant or café, but the nice locations are very expensive, even compared to western European standards. So I decided to spend a day out of town and to discover the city's surroundings. This time of the year is perfect for day trips, most days are sunny but the temperatures are not too hot to get in action yet.
The lowest-cost possibility to leave the city is by bus. There are several stations within Beirut such as Cola or Charles Helou. The buses leave regularly, but a general schedule is missing as far as I know. The best method is just to go to a bus hub and ask for the next connections. From Charles Helou, busses are frequently leaving towards Tripoli, the main city in the north. A ride costs 3500 L.L. or 2.33 USD -no matter where you want to get off. The drivers are more than happy to take care of you and help you to get on and off in the right place – this is Lebanese hospitality!
After a ride of about 30 minutes depending on the traffic, you reach Jounieh, a lovely town in the greater area of Beirut. Get off there for a fun ride on the famous "Teleferique", which takes you up to a hilltop with a great view over the Bay of Jounieh. The cable car consists of small carriages in bright colours with panoramic windows, which already offer a nice sight on the way up. They are a little outdated for sure, but very charming and apparently safe, even in a country with regular power cuts such as Lebanon. A return ticket costs 9000 L.L. or 6 USD, including an insight view of private apartments and balconies, as it passes – closely! – by residential houses before moving further uphill. On top, there is a walking path to "Our Lady of Lebanon", a shrine for Christian pilgrims and a look out for tourists alike. It overlooks the coast from Beirut in the south to the northern hills and the deep blue Mediterranean Sea.
For the hungry and the thirsty, there is a clean, well-run food court with panoramic views that offers various meals under 10 USD including Lebanese mezze. I had a bottle of water and a crèpe with banana and chocolate sauce at 6000 L.L. or 4 USD in total. The locals come here also to smoke nargile, the oriental water pipe, on the terrace, while their kids are frolicking on the playground.
After a smooth ride down to sea level, I took a stroll through the village close to the shore. Besides the "Teleferique", Jounieh is also famous for its bars and "Super night clubs", a synonym for strip clubs/brothels. However, during the day the town has a calm and friendly touch and offers many affordable cafes and restaurants. When I had decided I had seen it all, I hopped on a bus to get back to Beirut. All the busses which drive southwards will take you there eventually for another 3000 L.L. or 2 USD. I enjoyed the ride back with the last sunbeams of the day in my face and a nice breeze in my hair, which came from the door that the driver kept open while driving on the highway.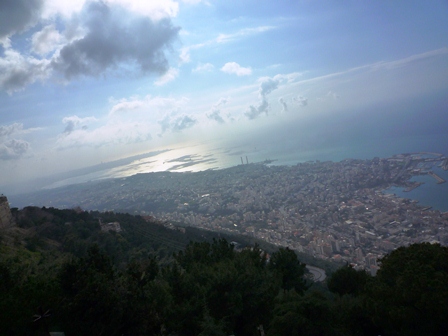 Expert