Palestinian Life Dispatch 1: the Right to return
I was on my way to the Shatila camp as it was raining heavily in Beirut. (The areas where the Palestinian refugees live are still called camps, even though the initial tents were replaced with concrete buildings decades ago.) On my shoulder I had a heavy bag of clothes which I intended to donate for the thousands of people arriving from war-torn Syria, who seek shelter with relatives and friends in the already overcrowded camps in Lebanon.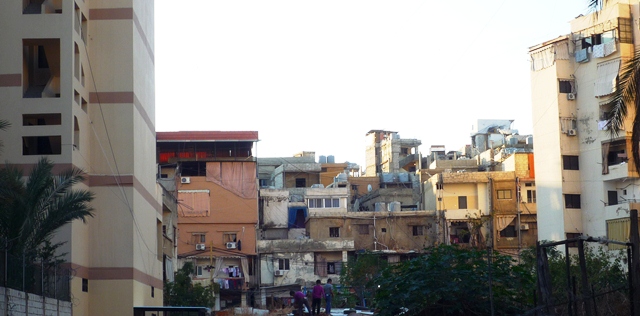 The drainage system in Shatila is even worse than in the more pretentious parts of the city and turned the narrow alleys into canals that day, the garbage that usually piles up on the floor floating on the water. Braving the rain and the sewage in my rubber boots, I stumbled along the market street marking the entrance of the camp past clothing shops, vegetable sellers and butcheries displaying different parts of slaughtered animals.
When I arrived at the Family Guidance Centre inside the camp, I received a very warm welcome and a cup of sweet tea. The lady in charge, a Palestinian woman living in the camp herself, thanked me for the donation and told me about life in the camp. One thing she reiterated several times was the "right to return". It describes the hope of the Palestinian people to finally return to its territories free from Israeli occupation.
Then we toured the classrooms and the dental clinic included in the centre. One kindergarten class we visited had been set up for kids who had arrived from the neighbouring country recently, both Syrian and Palestinian nationals. I had a hard time maintaining my smile when these toddlers told me one after the other the cities they had come from in Syria. The places they named sounded familiar to me, usually heard in news coverage that included terms such as "sniper fire", "suicide attack" or "dead civilians".
In another room, children's drawings covered the walls. Many of them showed a key symbolizing the right to return to Palestine, a homeland the young camp generation has never seen and even most of their parents never have. Another common theme was bombs, rifles and explosions. I remembered drawings from my own childhood, featuring flowers, birds and rivers. But flowers and birds don't live in the concrete jungle of the camp while rifles carried by police or private camp security are part of the daily life. And sadly, explosions seemed to be more present in these kids' minds than exploring a river and the environment.
Social workers and teachers try their best to maintain the children's innocence and let them grow up in a safe environment.  But one of the headmistresses main struggles are to fight monetary and material shortfalls, while more and more people arrive from Syria every day.

Expert